Experts On Our Own Lives
Listening to girls' experiences of leadership and agency
Over the last four years Plan International has conducted various studies with girls and young women on the many ways in which girls and young women are taking on leadership roles and exercising their agency all over the world. This report presents insights gained from these studies.
By redefining what it means to be a leader, girls are challenging systems and behaviours that benefit the few and often ignore the issues impacting on girls' and young women's everyday lives. Only by listening to girls and ensuring the dissemination of their voices, will action towards gender equality be effective and lasting.
In 2019, Plan International launched its report 'Taking the Lead: Girls and Young Women on Changing the Face of Leadership' that took a deep dive into girls' aspirations to lead and the realities that girl and young women leaders face.
In the four years since then, Plan International has continued to strengthen its active listening of girls and young women through research to understand, document, and amplify their experiences of leadership and agency. By centring the voices of girls and young women, this research has shown that they are the true experts on their own lives and must play a core role in decision-making on issues that impact them.
Girls know what it takes to create lasting change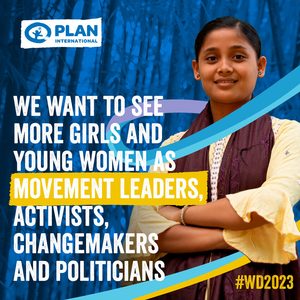 Girls and young women all over the world demonstrate that they are leaders, have agency, and know what is needed to create real lasting change in their communities and societies. They do not underestimate the barriers in their way to participating and leading, rather they identify both the social and structural obstacles they face as well as strategies to dismantle them. It is clear that there is a need to shift power and resources to girls and young women as part of a wider centring of youth in action towards gender equality and social change.
Plan International deliberately seeks to understand the nuances of girls' agency and experiences of leadership and is led by insights gained through research that centres the voices of girls and young women. By carrying out this type of research, it is possible to demonstrate the diverse ways in which girls express their agency and lead in their communities, countries, and on the international level. In some cases, girls and young women use traditional or more formal routes to lead and affect change, by taking on recognised positions to speak to power.
In other cases, their acts of leadership challenge the traditional definition of a 'leader' which often obscures or diminishes girls' and young women's actions and decision-making power.
This report presents insights from Plan International's research with girls and young women on their experiences of leadership and their agency.
There are four key findings from the synthesis of evidence:
Girls are taking on formal and informal leadership roles
Girls express their agency in diverse and nuanced ways
Girls identify persistent barriers to their leadership
Girls identify solutions to the barriers they face and call on others to help dismantle them
Plan International engages young people in its work on leadership and agency, and is guided by their experiences and perspectives to develop clear actionable recommendations for governments, civil society, and the development sector.
The recommendations presented in this report were drafted by youth delegates collaborating with Plan International for the 2023 Women Deliver Conference.
Download and read the report:
Experts on our own lives – english
Experts On Our Own Lives – French
Experts on our own Lives – Spanish