Around her way, people think Waw Coumba is a bit of a rebel.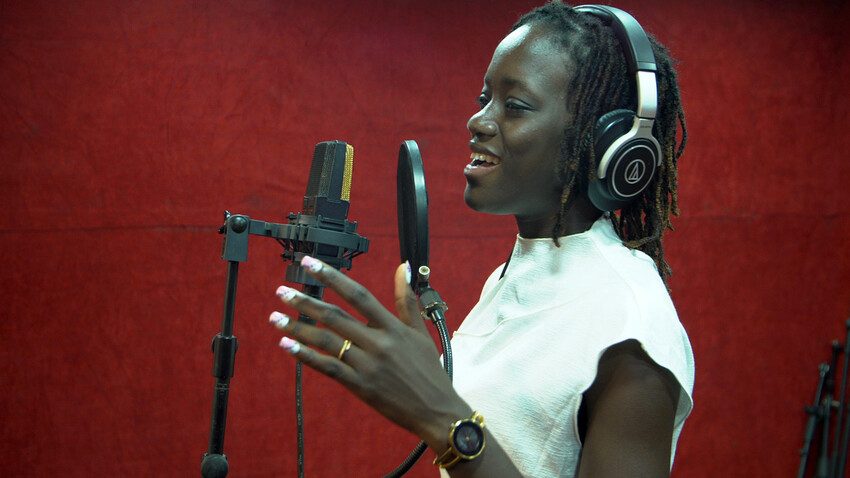 Every Wednesday and Saturday evening, the 20-year-old rap artist and singer slips out of her home in Guediawaye to take the bus to a music studio, where she writes and jams with other girls her age about Senegalese politics, society and girls' issues. Others come to paint and make art. The group is called Sisters Create.
"We go out, we see everything that happens in society and sometimes we see things that we consider wrong," explains Coumba. "We try to write on these themes to raise awareness, to catch the public's attention."
Making change through music
Sisters Create is a project in urban Dakar run by Plan International, giving girls from poor neighbourhoods the opportunity to make art and music – specifically hip hop – to help make change in their communities.
It's run by well-known Senegalese rapper and slammer, Babacar Niang – stage name, Matador – who for nearly ten years has been working with young people from the suburbs, coaching them to write music, express their ideas and record.
Babacar Niang, or Matador, a well-known Senegalese rapper who was part of the original Y'en A Marre political movement in 2012.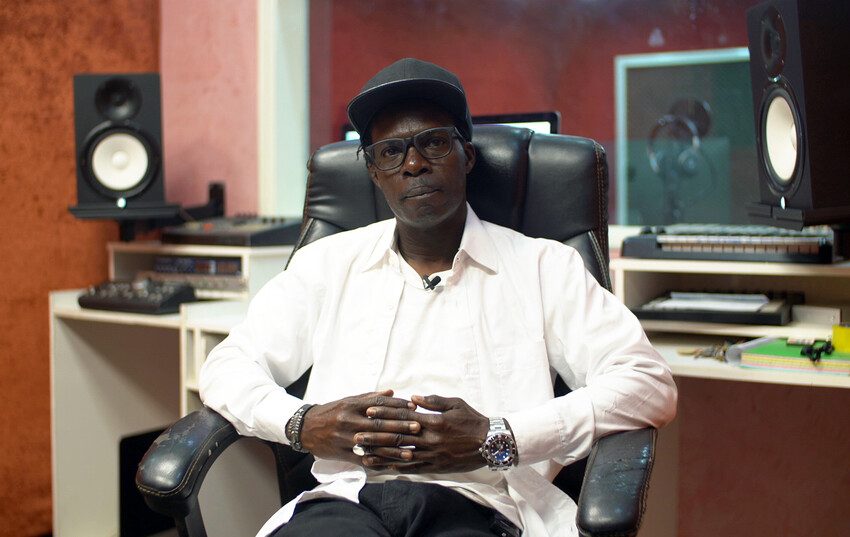 Matador and his fellow artists had noticed that there weren't that many girls in the hip-hop and urban music scene.
"For the past four years we've run Sisters Create, which is 100 percent female," the rapper explains from his producer's chair, surrounded by speakers and screens. "It allows us to mentor the girls and get them thinking about leadership, as that's the issue that really concerns girls. We push girls to think, engage, speak up, and fight for girls' rights."
Growing up in one of Dakar's deprived suburbs, Matador knew only too well the limitations faced by young people there – especially girls.
"These are areas where young people, or children and women, are left to their fate, because they come from very poor families. They have no opportunities or luck. Often, they quit school very early and they don't get a second chance to find their place in society. And this is what the project offers to these young girls."
Expressing ideas
Maguette, 25, whose stage name is Maguy, got involved with Sisters Create from the start, and is now forging a career as a solo artist, using rap and song to fight for political change and express her views on rape, domestic violence, menstruation, intergenerational conflict and other issues affecting girls.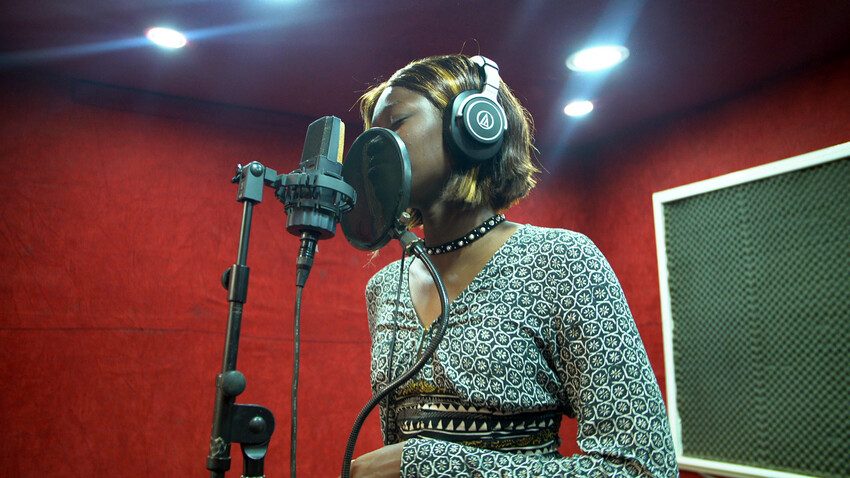 Maguette, 25, sings about empowering women in the studio
"Every woman should feel free, should feel comfortable, should not be stigmatised, should not be abused," says Maguette. "As a voice artist, every time I encounter an issue, I talk about it in my songs, because that's the only way I can condemn it and make it heard."
Maguette has just completed a music project about periods, addressing the taboos that surround menstruation in Senegal. "Its called 'Gizmar', which means menstruation. We also spoke about rape, and the journey and affirmation of a young girl, a teenager."
"Hip-hop changed something"
Senegal has a lively traditional of artists disrupting the political landscape.
During the 2012 elections, when then president Abdoulaye Wade threatened to change the constitution to allow himself a third term in office, hip hop artists led widespread protests via their movement, Y'en a Marre – meaning 'we've had enough'.
This year, during the 2022 elections, rappers again campaigned via their songs to get young people to vote.
"I and the first hip-hop generation used music to change something," says Matador, who was part of the original Y'en A Marre movement. "It was not about getting rich, there were a lot of political problems and there wasn't this democracy.
"We fought," he says. "We came from the suburbs and some young people followed us, and that made us strong. We attacked hyper-sensitive subjects. We received death threats, but we had to do it. And hip-hop changed something."
The idea behind Y'en A Marre still stands today – reflected, Matador believes, in projects like Sisters Create. "Here we are defending the rights of girls. At the same time, we show that they too could be leaders," he says.
Girls in politics
Sisters Create offers an important opportunity to girls wanting to address the issues they and their peers face at school, at home, and in society.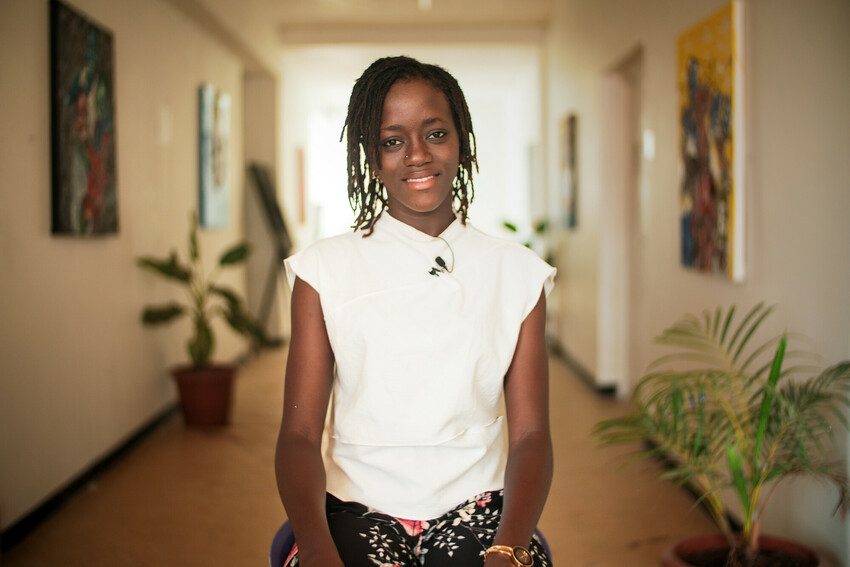 "I would say that girls or women in Senegal aren't included in society," says Coumba. "In the eyes of society, our opinions and decisions don't matter. We have to get more girls into politics. First of all, we have to give them the information, because if we don't have the information, we can't know what to do, and we think we have to stay silent."
"There are many problems," agrees Maguette, "like rape, violence against women, problems in the workplace, and we are fighting to get justice, to get equality."
Maguette wants girls to have the right to a voice in the political arena. "It's girls who live with these rules, so it should be up to them to decide," she says. "It's not a matter of age, and I think we should start by making them aware of this. They'll know that they can fight for what they want, to have a better life."
Maguette makes a heart shape with her hands. "Equality for girls!" she grins.
As for Coumba, she's not going to let the neighbourhood gossips stop her from making music. "Society doesn't accept that a girl can rap. We are artists, we are writers. We want to change things though our art."