Ukraine war exacerbates vulnerability of girls and women
24 May 2023
We're working with partners to prioritise the specific challenges facing girls, young women, and youth in all their diversity, blogs Plan International's Ukraine Crisis Response Gender Specialist Yeliena Dudko.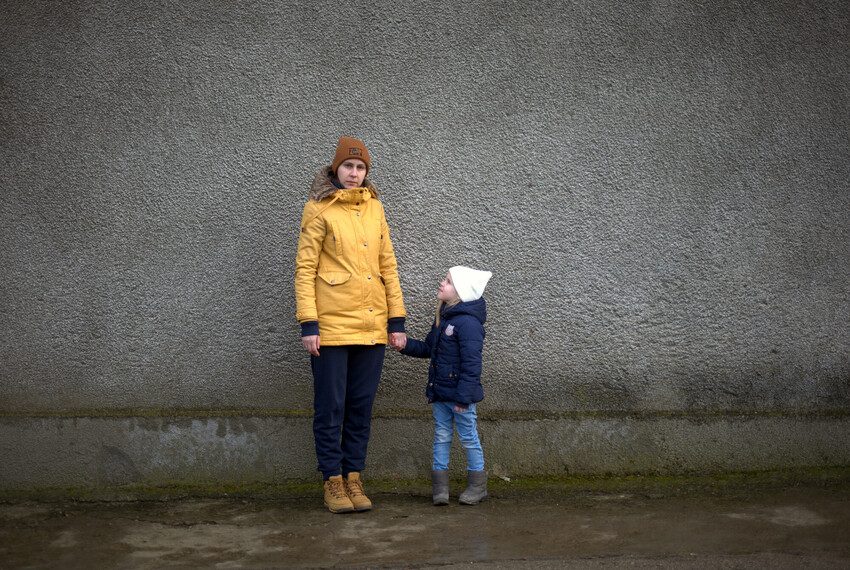 Research shows that the war experiences of girls, young women, and youth in all their diversity are complex, multi-layered, and often overlooked within and over the Ukrainian border.
This means that civil society, especially women and youth-led organisations, have a crucial role to play to ensuring an inclusive humanitarian response.
Working alongside local partners, including women- and youth-led organisations, Plan International is paying tribute to their important work across the Ukraine humanitarian crisis response.
Implementing gender-responsive education in times of war and displacement
Edcamp offers an integrated gender-responsive approach to Ukraine's educational system. The organisation has trained over 25,000 teachers in gender-responsive and anti-discriminatory methods and practices of teaching.  Edcamp is also organising children's educational camps, where the organisers and speakers are girls and boys themselves, with teachers being the mentors.
Edcamp Deputy Head Olena Masalatina notes: "Often, adolescent and young girls and boys in Ukraine are the ones initiating bottom-up changes at schools and universities. They have redesigned spaces in a more inclusive and democratic manner, led activities to commemorate the national Dignity and Freedom Day, conducted human rights education classes, and initiated the use of gender-sensitive language".
The Foundation for Women and Family Planning (FEDERA) has been working in Poland to promote safe and dignified access to sexual and reproductive health and rights (SRHR) for more than three decades. After the escalation of the war, where millions of people – most of whom women and girls – fled to Poland, FEDERA started running a Ukrainian-speaking gynaecological hotline for refugees.
FEDERA also works with Ponton – an informal group of volunteers active in the field of sexuality education and youth counselling – to conduct comprehensive sexual education activities targeting adolescents from the host and refugee communities.
FEDERA's Advocacy Coordinator Antonina Lewandowska notes: "As topics related to sexual and reproductive health are still taboo in Poland, we are always sensitive with our comprehensive sexual educational activities. We try to be even more careful now working with refugee communities, taking into account their mental health while making sure that they can access all support needed."
Supporting adolescents and youth in all their diversity
The National Youth Foundation in Romania – Centrul de Tineret – is providing a safe space for youth in Romania and those fleeing the war in Ukraine. Plan International's youth partner implements non-formal education activities that include human rights, gender equality, and diversity and inclusion education.
Speaking about their activities with youth from the host and displaced communities, Julia Culicigno from the Bucharest youth centre notes: "I am very inspired by every young person that comes to our centre. Young people are so open to evolving, growing, and learning something new. It is incredible to see how many young people open their eyes to the questions of gender equality and how they want to engage more on it".
In Moldova, Plan International works with GenderDoc – the first national LGBTQIA+ rights organisation in the country. The organisation is providing LGBTQIA+ adolescents and youth from the refugee and host communities with a safe space, as well as conducting non-formal education on gender equality and inclusion.
Currently, teenagers, many of whom are non-binary, are the most active participants in the activities. GenderDoc is also an important actor in Moldova's feminist movement organising the annual feminist festivals such as the feminist march on International Women's Day.
This year the march was devoted to solidarity with women and girls from Ukraine. As Anastasia Danilova, Head of GenderDoc, notes: "Women and girls from Ukraine continue to fight for gender equality despite the war, we want to express solidarity with our sisters whom we are so proud of. We stand with them, and we will continue doing our best to help them here."
Standing with girls in a humanitarian crisis
All local partners we've interviewed highlight the importance of a better-integrated­­ gender and age approach across the humanitarian response system. They also draw attention to the needs and empowerment of girls in crisis situations.
Women and youth are organising online and in person to evacuate families, raise funds, and deliver humanitarian aid, while promoting community cohesion and resilience.
Plan International is working with over 40 partners across Ukraine, Poland, Moldova, and Romania to ensure that gender, age, and diversity perspectives are taken into account by humanitarian actors, decision-makers, and donors. Supporting women's organisations, women and youth activists will continue to be at the heart of our work to ensure they can continue their vital work while also shifting traditional gender roles.