Getting Ukraine's children back to school must be a priority
11 May 2023
Ukraine's children face becoming a lost generation if we don't get them back in school, blogs Sven Coppens, Director of Plan International's Ukraine Humanitarian Response.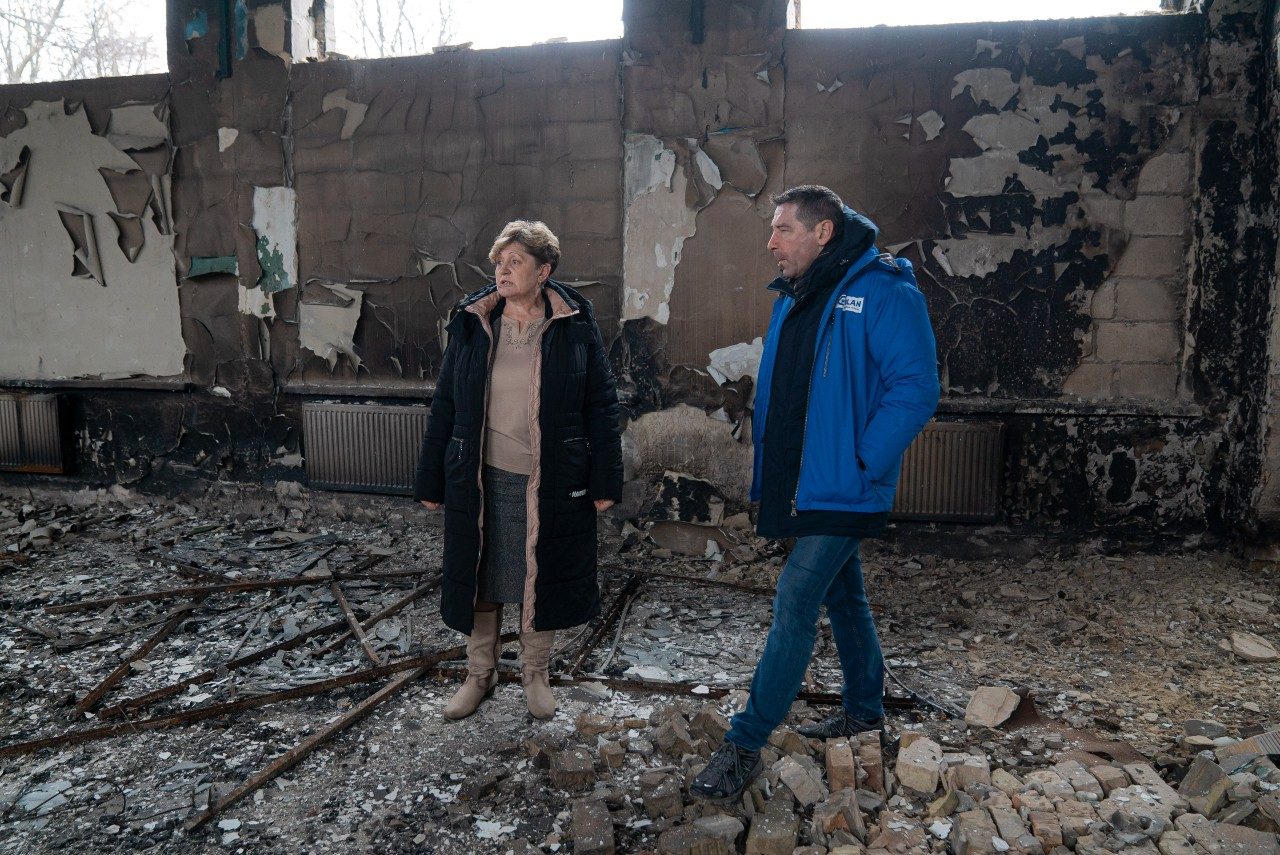 Since the escalation of the war in Ukraine, the education of millions of children has been significantly disrupted. Whether internally displaced or having found safety in neighbouring countries, children and their families are facing numerous challenges which make the continuation of education difficult.
As part of the Ukraine Humanitarian Crisis Response, Plan International is working alongside local partners in Ukraine, as well as in Moldova, Poland and Romania to provide child protection services, education and mental health and psychosocial support. 
Keeping schools safe
Across Ukraine, face to face education is becoming nearly impossible. By early January 2023, 2619 education facilities had been damaged and 361 completely destroyed.
In the region of Kyiv, I visited a school where one building had been destroyed after it had been used by Russian forces as an ammunition depot. The headmaster, Ludmila, walked me through the gutted-out building which once housed the school gymnasium, a small museum and several classrooms. Now, all that remains is blacked walls, broken glass and burnt desks.
What happened to this school shows that the safety of students and teachers must remain the priority, and schools must never be a target or used for military purposes. Upholding the Safe Schools Declaration is vital to ensure schools and other educational buildings are not a risk of being considered military targets.  
Going back to school can be a lifeline
Against all odds, the school I visited in the region of Kyiv is now back to in person teaching. One of the pupils, Nastya, 15, explained that she had struggled with online lessons because pupils and teachers were all in different places and often struggled to be online at the same time. At times she said, she got confused because she had to learn on her own.
She said that for her, getting back to school meant getting some normalcy back in her life, and meant that things might not be as bad as they had been and normal life might soon resume.
In times of crisis, the chance to go to school can be a lifeline. But for many children affected by the war in Ukraine, it could be months, or even years, until they are able to return to the classroom.
Online school is not sustainable
During the coronavirus pandemic, children, teachers and families around the world had to adapt to online schooling. After just a couple of months back to school, children in Ukraine had to return to online lessons, this time in the midst of war.
The practicalities of online learning can be ill suited to families' new circumstances. Lessons are being constantly disrupted by missile strikes and resulting power, internet and heating outages and teachers and students needing to take shelter. In the last 3 months of 2022, it is estimated that at least half of all online classes were cancelled.
I met Kateryna, the mother of 11-year-old Kostya, in an IDP accommodation centre in central Ukraine. She said she had to wake up her 11-year-old son to study from midnight to 2am, the only time the power is restored. I also met parents who had to leave everything behind, and whose children had to do online lessons on a mobile phone. One mother explained that when the power is out, she walks in the snow to the outskirts of her village to get mobile data and ensure her children can receive instructions from teachers.
In neighbouring countries, online learning is also showing its limitations. In Moldova, Poland and Romania, school attendance by displaced children remains extremely low and most children from Ukraine are assumed to be taking part in online lessons. However, there is little support to ensure they are making the most of online teaching.
Parents I met in Moldova told me they preferred the online lessons because they were hoping to return to Ukraine as soon as possible. However, as the war continues to rage on, families are likely to remain displaced for longer, and children not attending school in host countries will have long term implications for integration and social cohesion.
Online lessons are not a sustainable solution, and everything must be done to ensure children from Ukraine have uninterrupted access to safe, inclusive, quality education.
Education is a fundamental right
The right to education is a fundamental human right, and it must be protected even in times of crisis. I started my career as a teacher and an education specialist and know how much of a lifeline education can be for children living through emergencies. I also know all too well that missed education, combined with unaddressed trauma, can have lifelong consequences for children and their families.
That is why it is vital to make sure children can continue their education and process the traumatic events they have been through to avoid a lost generation.