Gender Transformative Change in Emergencies
Frequently Asked Questions
Plan International's Global Disaster Risk Management Technical Team is introducing a Frequently Asked Questions (FAQs) guidance document on Gender Transformative Change in Emergencies.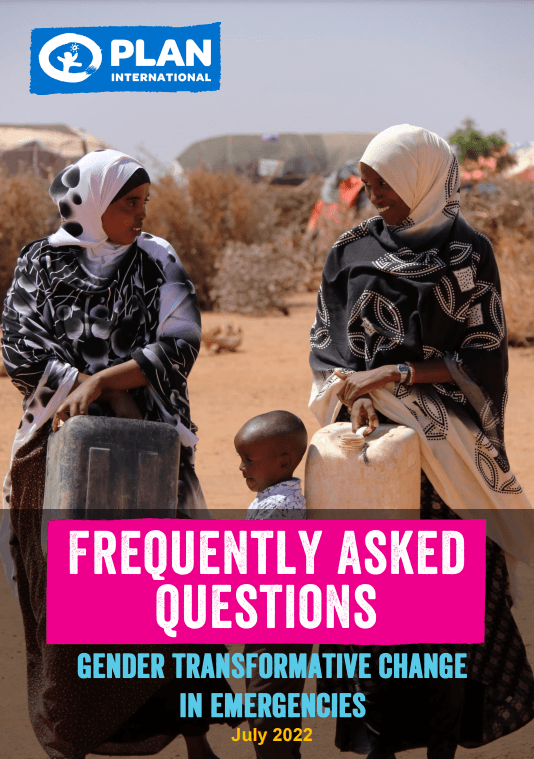 Our Gender Transformative approach focuses on tackling the root causes of gender inequality and exclusion and reshaping unequal gender and power relations to realise girls' rights and equality between all children, young people and adults regardless of their gender and other intersecting identities.
Plan International recognises that humanitarian action and response has evolved over the last two decades. Complex and protracted crises are acknowledged as the norm, the lines between humanitarian, development and peacebuilding contexts are blurred, and the average length of displacement is over a decade.
The move towards more rights-based, transformative action responds to this changing context. This guidance document has been developed to support Plan International's leadership, staff and partners in identifying and utilising opportunities for Gender Transformative work in humanitarian settings.
GLO-FAQ_Gender_Transformative_Change_in_Emergencies-Final – English
GLO-FAQ_Gender_Transformative_Change_in_Emergencies-Final – French
GLO-FAQ_Gender_Transformative_Change_in_Emergencies-Final – Spanish
GLO-FAQ_Gender_Transformative_Change_in_Emergencies-Final – Portuguese