Winner of Plan International-supported One World Media 'Women's solutions reporting' award announced
22 June 2023
Sanket Jain has been named winner of the One World Media 'Women's solutions reporting' award for a story about Indian healthcare workers using WhatsApp to reduce maternal mortality rates.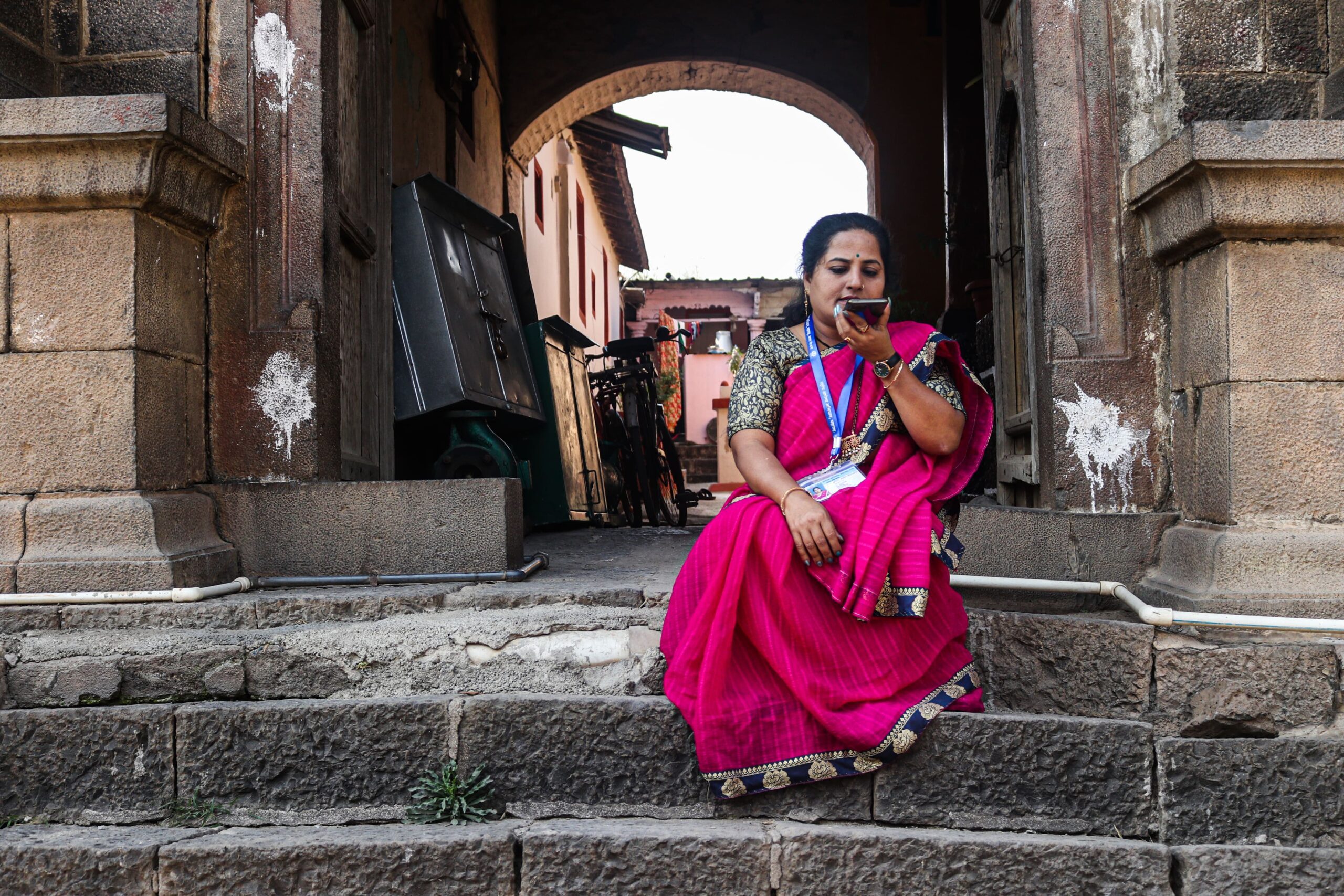 In India, health care workers are using WhatsApp to prevent maternal mortality. Photo credit: Sanket Jain.
Last night, One World Media celebrated the winners of this year's Awards. This Awards season brought a wide range of stories from around the world. A total of 60 judges have made their selections across 15 categories including the 'Women's solutions reporting' award sponsored by the European Investment Bank and Plan International.
Coming from the industry's most distinguished journalists, filmmakers and media professionals, the judges viewed more than 600 entries in total from 110 countries.
EIB and Plan International sponsored the Women's Solutions Reporting award to celebrate stories of girls and women who have successfully overcome challenges faced by women and society at large, whether to better access education, jobs and healthcare or address the impact of climate change and protect the environment.
We are thrilled to congratulate the winner of the Women's Solutions Reporting award, Sanket Jain, for How Indian healthcare workers use WhatsApp to save pregnant women published in MIT Technology Review. His powerful story contributed to fight dangerous medical misinformation and combat India's high maternal mortality rate.
Incredible nominees share inspiring stories
Looking ahead to this year's Awards, One World Media's Director, Gemma Bradshaw said: "We're so excited to present this Award for the second time and spotlight an incredible line-up of nominees. Women are creative and tenacious leaders in their communities and beyond, through this Award we know their stories can have an even bigger impact."
Shiva Dustdar, Director and Head of the European Investment Bank Institute, who was one of the judges of the Women's solutions reporting award said: "I have been extremely impressed by the quality and diversity of the stories that competed for the Women's solutions reporting award. They all highlighted initiatives from inspiring and brave women and girls who work daily to improve the lives of their communities. I am proud that the EIB supported this award together with Plan International and hope that these stories reach and resonate with a wide audience."
Thomas Östros, EIB Vice-President having gender equality in his oversight, added: "At the European Investment Bank, many of our investments are focused on addressing long-standing gender inequalities. Our involvement in initiatives like the 2X Challenge and our own SheInvest initiative have demonstrated that empowering women and girls not only enhances their lives but also benefits society as a whole. We believe there is a need for additional narratives that inspire and guide us in this endeavour".
Shining a light on misinformation
Kathleen Sherwin, Plan International's Chief Strategy and Engagement Officer, said: "Around the world, every day, girls and young women are, against the odds, leading the way in changing their communities for the better. Sanket's reporting shines a powerful and important light on the real-life consequences of misinformation and disinformation, a global phenomenon that we know has a profound impact on girls' and women's lives, and the bravery of a group of women using technology to tackle it. We are proud to work with One World Media and the European Investment Bank to celebrate the work of just some of these inspirational activists, leaders and changemakers".
Sanket Jain's story was shortlisted with 2 other nominees: BBC People Fixing the World –Jobs for girls, by Farhana Haider and La pantalla andina (The Andean Screen) by Carmina Balaguer. Check out other great stories in the Longlist 2023 – One World Media.
The panel of judges for the Women's Solutions Reporting award praised the overall impressive quality of the submissions and expressed appreciation for the diverse range of storytelling formats that catered to various audiences. The selection showcased a remarkable variety of perspectives and inclusivity, with local journalists being prominently featured and acknowledged.
Read our report, The Truth Gap, which explores how online misinformation and disinformation affects the lives, learning and leadership of girls and young women.