State of the World's Girls 2021: The Truth Gap
How misinformation and disinformation online affect the lives, learning and leadership of girls and young women.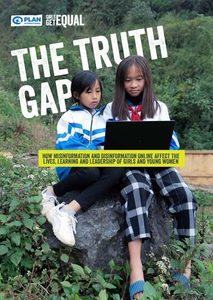 This year's State of the World's Girls report, The Truth Gap, explores how adolescent girls and young women deal with misinformation and disinformation when engaging with political, civic or social topics online.
We interviewed 26,000 girls and young women from 26 countries and discovered alarming findings, including that 9 out of 10 have been harmed by false information and lies online.
The Truth Gap – download options
Executive Summary (English)
Executive Summary (French)
Executive Summary (Spanish)
Technical Report (English)
Girls Get Equal, Protection from violence, Activism, Gender-based violence, Girls Get Equal, girls' leadership, Girls' education, youth empowerment