25 NOVEMBER 2020
Created by activists worldwide, the digital tool builds on Plan International's landmark research revealing that nearly half (42%) of girls lose self esteem or self confidence, or feel mentally or emotionally stressed after being exposed to online harassment.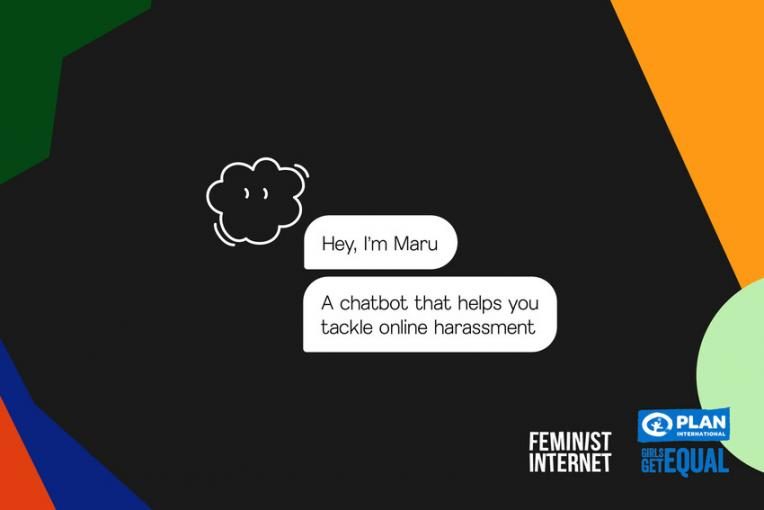 Maru, an anti-harassment chatbot designed by young people for young people to address abuse on social media, launched on 25th November in a collaboration between girls' rights organisation Plan International and technology collective Feminist Internet.
The chatbot is designed to support girls and women who are experiencing, witnessing or tackling online harassment by providing real advice and resources from experts and activists. Maru users engage in a conversation with the chatbot, which has a series of language responses that offer advice on:
Reporting mechanisms,
Staying safe online
Links to resources.
Better protection urgently needed
Anne-Birgitte Albrectsen, CEO of Plan International, said "With the COVID-19 pandemic moving our lives increasingly online, girls are more at risk of online harassment than ever and better protection is urgently needed. We know from our research that online abuse dents girls' self confidence, but it can go even further than that. Online violence has led to nearly one in five (19%) of those who have been harassed stopping or significantly reducing their use of the platform on which it happened. In this way, girls' voices are being silenced."
The chatbot is a continuation of Plan International's work shining a light on the harassment and abuse girls and young women face on social media. In the organisation's landmark survey on online abuse, including 14,000 girls from 22 countries, more than half (58%) revealed that they had been harassed or abused online.
Plan International collaborated with Feminist Internet on a series of multilingual workshops with young activists around the world to design a creative tool to address the issue of online harassment. This process brought together young activists from Benin, Ghana, Cameroon, Nepal, South Africa and Germany who are passionate about promoting internet freedom and safety.
Vital support for girls facing online harassment
Sarah Carson, Plan International's Head of Campaigns, said "Shutting girls out of online spaces is disempowering, limiting girls' potential to thrive and become leaders. We created Maru at the height of this pandemic, to help provide vital support to girls facing and witnessing online harassment."
Maru means 'cloud space' in Sesotho, a name chosen by one of the activists.
Sessi, one of the youth co-creators from Benin, said "We showed people the problems we face online and in our lives, then we offered a solution: Maru. We all have different backgrounds and contexts, but think Maru will be appreciated across all contexts for its fluid and functional experiences."
Feminist design principles
Charlotte Webb, Feminist Internet Co-founder, said "The youth activists who co-designed Maru were an inspiration and it was incredible to work with them on such a creative response to the increasing problem of online harassment."
"They provided us with a concept and direction that reflected their real concerns about harassment and steered the conversation design so that Maru would speak to a global community. It is so exciting to see technology development being guided by feminist design principles to help make the internet a safer place for everyone."
When creating the chatbot, Feminist Internet encouraged the youth activists to make sure:
Language used was empathetic and inclusive
Maru represents global perspectives
Barriers people may face in accessing Maru have been addressed
Maru's appearance doesn't reinforce stereotypes.
Another of the co-creators, Arouna from Cameroon, said "Girls and women need to feel safe when they are on social networks. Gender-based violence against them on digital platforms must be condemned."
The Swedish brand Monki, a long term corporate partner of Plan International, will be supporting the launch of Maru, through hosting an Insta Live with a young activist involved in its creation on the 3rd December, 1pm CET via @planinternational.