Education in emergencies
Education is a fundamental right, yet in times of conflict and disaster it is often significantly disrupted, denying millions of girls and boys the opportunity to have a quality, safe education.
Schools are, in many instances, occupied by armed groups or used as evacuation shelters, making education impossible.
Globally, 35% of all out-of-school children of primary age, 25% of all out-of-school adolescents of lower secondary age, and 18% of all out-of-school youth of upper secondary age live in conflict-affected areas.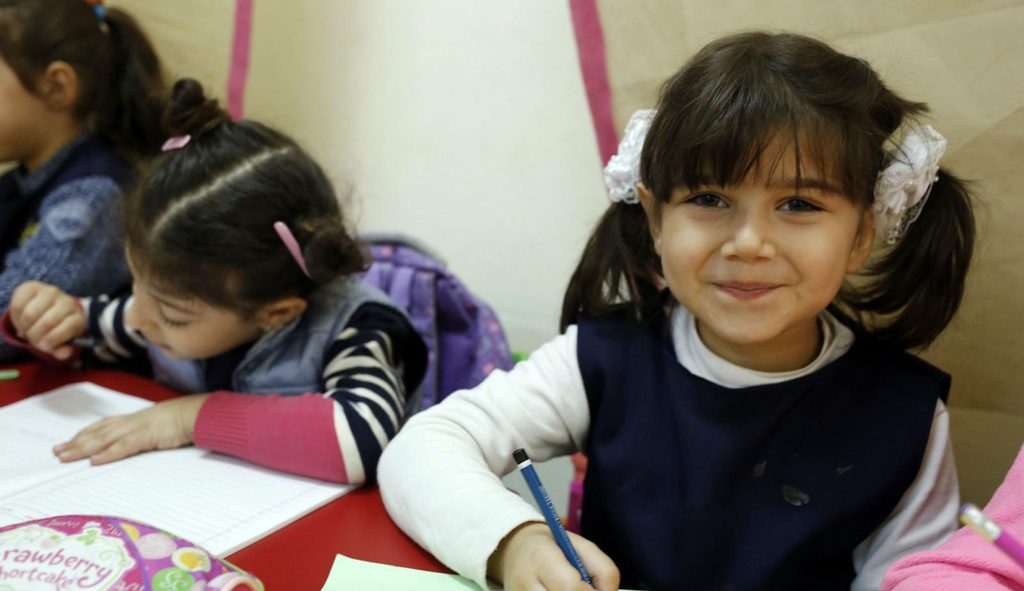 Keeping children in school
Education is an urgent priority in emergencies because it:
Saves lives and provides a safe space for children, where they are protected from physical harm, early marriages, prostitution, child labour and being recruited as child soldiers.
Is a key vehicle through which children can learn about preventable diseases, nutrition, hygiene and other life-saving topics.
Provides space to teach new skills and values, such as peace, tolerance, conflict resolution, democracy, human rights, environmental conservation and disaster risk reduction.
Brings routine, stability, structure and hope to children's lives, and improves psychosocial wellbeing.
Continues children's learning, to ensure bright futures for them, their families, communities and countries.
Safe education
Plan International's education in emergencies programme strives to provide quality formal and non-formal education opportunities that meet the needs of girls and boys affected by humanitarian crises. Our work has a particular focus on adolescent girls who are among the worst affected by disasters. As part of our work we ensure they receive the emotional support they need to recover from their experiences.
Our education in emergencies work involves being prepared before an emergency – including teacher training and ensuring buildings are safe. We also implement the programme immediately following an emergency, and through all phases of the response.
Plan International provides support in conflict-affected fragile states, refugee situations and in countries affected by other types of emergencies. Current responses include work with refugees in Cox's Bazaar in Bangladesh, the ongoing conflicts in the Sahel, South Sudan and Tigray (Ethiopia), and the migrant crisis in South America.
School gives hope to vulnerable children in jordan
To address the biggest violations of children's rights, Plan International began work in Jordan in 2016. We are supporting young children to overcome emotional distress from the war in Syria and get an education.
Plan International is an active member of the following inter-agency groups:
Global Education Cluster Strategic Advisory Group and Cash for Education in Emergencies Task Team
West and Central Africa and Latin America and the Caribbean Regional Education in Emergencies Working Groups
Inter-agency Network for Education in Emergencies (INEE) Standards and Practice Working Group and other INEE technical collaboration groups
Education Cannot Wait Education Technical Reference Group
Global Coalition to Protect Education from Attack Strategic Advisory Group
UNHCR Secondary Education Working Group and Accelerated Education Working Group
We use the INEE minimum standards for education, preparedness, response and recovery and the Child Protection in Humanitarian Action minimum standards as the our guiding frameworks.