25 AUGUST 2017
To address the biggest violations of children's rights, Plan International began work in Jordan in 2016. We are supporting young children to overcome emotional distress from the war in Syria and get an education.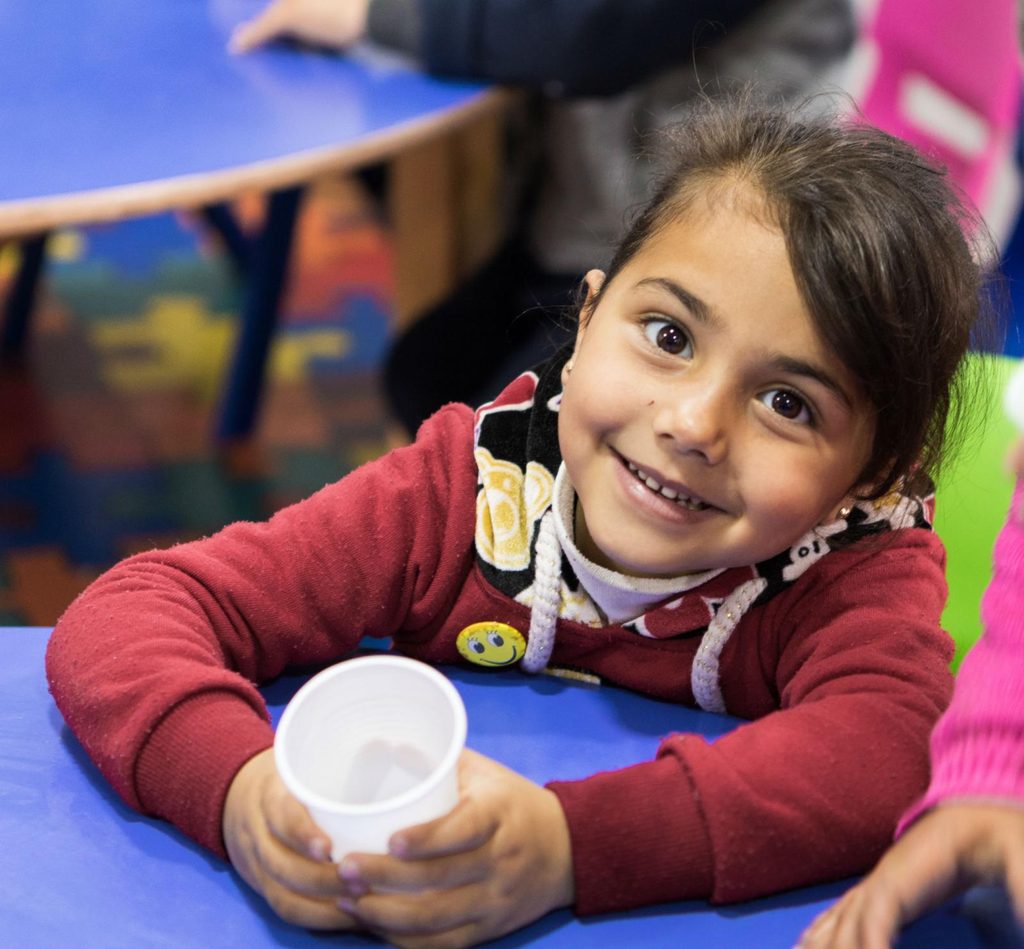 Early childhood care is helping children in Jordan whose lives have been impacted by war in Syria to believe in a better future. "When I grow up I want to become a police officer," says Nadir*, 4, at one of our pre-school centres.
Education: a critical need in Jordan
Around 90,000 Syrian children are currently out of school in Jordan.
With a huge number of people forced to flee conflict and live far from home for many years across the Middle East, gender inequality, abuse, child labour and a lack of education have become rife and the international response has struggled to keep up.
In answer to this growing trend, Plan International began operating in Jordan in 2016 to address the biggest inequalities and violations of children's rights.
By focussing on the key issues faced by the most vulnerable children, especially girls, among refugee and host communities, we are working where we are needed most and can have the biggest impact.
Addressing the biggest needs
"An assessment carried out last year revealed large needs in the area of early childhood care and development for children below 5 years old," says Muna Abbas, Plan International's Head of Mission in Jordan.
Most Syrian under-5s living in the country have no access to early-childhood services. This can result in them not being ready for school and being less likely to complete primary education or even go in the first place.
At the pre-school centres children play, learn the skills they will need at school and recover from the distress they have experienced.
"As the conflict continues, Syrian refugees in Jordan do not have clear prospects for the future," says Abbas. "Education continues to be very critical. Latest figures show that almost 90,000 Syrian children are out of school. Many are engaged in child labour and girls end up in child marriages."
In order to keep children safe and prepare them for education, Plan International has established a number of pre-school centres so young children are able to learn, develop and get ready for school.
Pre-school education essential
"Children in refugee situations often are left behind in development and are not ready for school when it comes to their cognitive and social skills. High-quality early education helps with this. The basis for a person's self-esteem and identity is laid in early childhood," says Abbas.
Abdel and Alia are glad to be able to send their children to one of the pre-school centres.
Nadir and his sister Hiba*, 2, both attend one of Plan International's pre-school centres in Jordan. Their father, Abdel, has not been able to find work in Jordan due to a lack of jobs and restrictions placed on refugees.
With only enough money to meet their family's basic needs, Abdel and his wife Alia are glad to be able to send their children to the pre-school centre. "That my children can learn and be happy means the world to us. My son asks me every night when the next class is," says Alia.
"I stopped going to school after sixth grade. I wish my children can study for as long as they want."
Emotional support for children and parents
In the pre-school centres, children play, sing, make crafts and learn key literacy and numeracy skills needed when they go to school. Crucially, the centres offer children a sense of normality and the opportunity to overcome the distress they have experienced as a result of the crisis.
"The safety nets and routines of refugee families have been torn apart. Hard experiences and insecurity affect parents' ability to bring their children up," says Abbas.
As a result, the pre-school centres offer parents information and support about raising children as well as counselling services.
Layla* fled from Syrian with her 1-year-old daughter Bushra*. She witnessed distressing scenes that still haunt her.
Layla*, 35, is among the parents we are supporting. Two of her children attend our pre-school centre in Azraq refugee camp. "I still have nightmares. Sometimes my children see me crying and ask why I am so sad when we're safe now," she says.
"I don't even have the words to describe the joy I feel when I see my children happily playing and learning new things at the centre. We have had our share of grief and hardship. They have the right to just be happy, smiley children."
*Names changed to protect identities
Emergencies, Child protection in emergencies, Education in emergencies