Ukraine: ONe year on
One year on from the escalation of conflict in Ukraine, girls, boys and their families are still facing a humanitarian crisis each day.
Almost 15 million people have been forced to flee their homes, making this Europe's largest refugee wave since WWII.
An estimated 17.7 million people, most of whom are girls and women, are in need of humanitarian assistance; that's more than 40% of the population.
Critical infrastructure has been destroyed across Ukraine, including schools and hospitals. Attacks on energy infrastructure have left over six million people without electricity.
Many refugees from Ukraine have been welcomed into neighbouring countries, but at the same time, the cost of living and energy prices are skyrocketing. Household finances are increasingly under strain, while the need for continued support for families who have fled their homes remains.
As part of our work responding to the conflict, it's crucial to focus on building social cohesion and integration between host and refugee communities.
While we don't know how long the conflict will last, we know it has devastated the lives of countless children and families.
Plan International and our partners will continue to be there – through conflict and as they rebuild and recover.
Here are some of the ways we've been supporting girls, children, young people, and their families over the past year.
Protecting children and families
Getting children back into school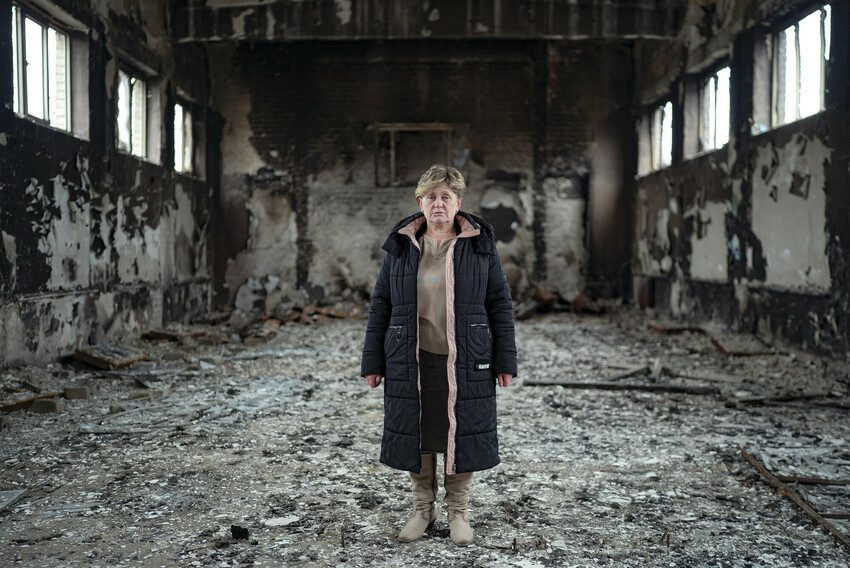 In times of crisis, the chance to go to school can be a lifeline. But when war breaks out, education is often one of the first services to be interrupted, and one of the last to resume.
For children in Ukraine, the road back to school is still long and arduous.
In a school in a small village in the region of Kyiv, children have gone back to the classroom against all odds. When the war escalated in Ukraine, one of the school buildings was entirely destroyed after it was used to store ammunition by Russian government forces.
Getting children back in school and learning is critical to providing a sense of safety and normality. Ludmila, the school's head teacher, made it her mission to make her school fit for pupils to return.
"I painted the walls in the corridor myself," says Yulia, a maths and IT teacher. "The paint was purchased by the parents and I chose bright colours so it would lift the spirits of the children."
Even though school is now back on, the effects of the war are still being felt every single day. Several times a week, sometimes for hours, students have to rush to the school's bomb shelter for protection.
For Nastya, a 15-year-old pupil at the school, getting back to school in person was a relief and gave her hope for a better future.
"Before I came back to school in person, it was very difficult to study online because we were all in different places and could not all get online at the same time. I was also very worried about my friends who stayed in the village. It was very difficult to study this way," she says.
"For me, getting back to school meant getting some normalcy back in my life," she adds.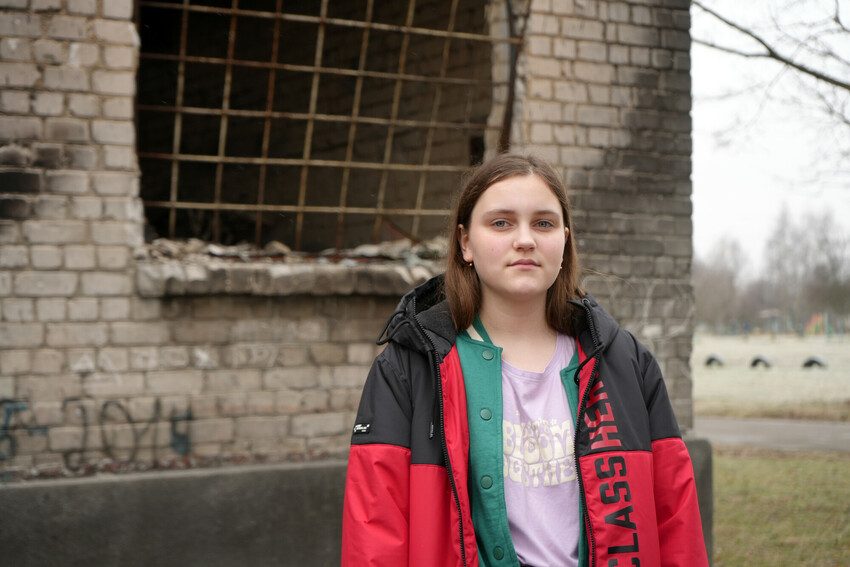 "Being able to return to school meant that things might not be as bad as they were and that we may be able to go back to normal life soon. When I was younger I never knew what I wanted to do when I grew up, but now, after everything that has happened, I know for sure that I would like to become a doctor."
This school is the only one in the region that has gone back to face-to-face learning. Yet, for too many children across the country, going back to school in person is still out of reach.
Plan International and its partners are working in Ukraine to support the rehabilitation and reconstruction of schools and shelters, including by providing heating appliances and generators, to ensure children affected by the war have access to safe, inclusive and quality education.
Addressing tackling gender-based violence
Supporting children and families through trauma
Natalia is a mother of three from the southeast of Ukraine. An English teacher and translator, she left Ukraine with her mother and children in March 2022. Her husband had to stay behind. She takes her youngest son, five-year-old Pavel, to the HumanDoc refugee integration centre in Warsaw, one of several in Poland supported by Plan International.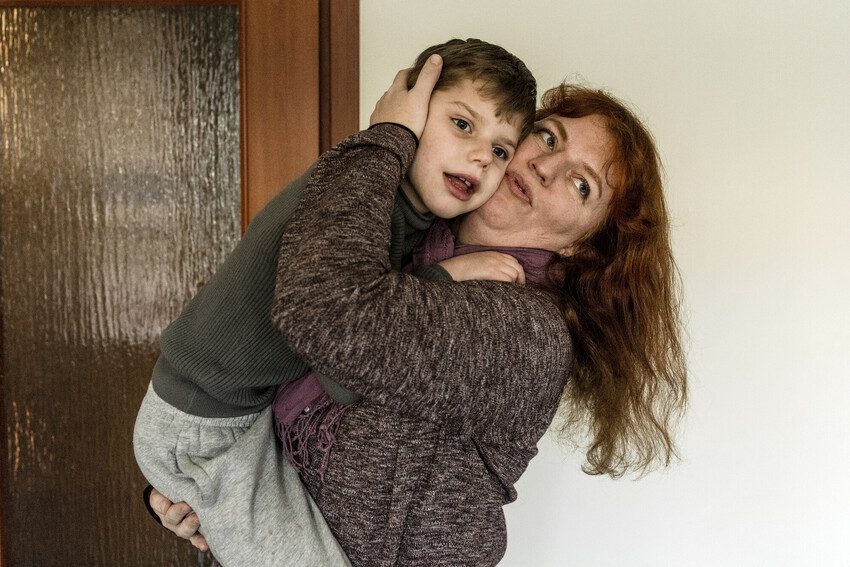 The centre, which is bright and comfortable, provides integration and support services for refugees in Warsaw. Specialists trained in post-traumatic stress disorder provide therapy sessions for children and adults. Most of the therapists are Ukrainian, making it easier for them to communicate with the mothers and children seeking their help.
"When our home area was under Russian control, we had to evacuate to a bomb shelter. This was very difficult for my children, in particular my youngest son, Pavel, who is autistic. When we fled by train to Poland, the difficulties continued as we travelled across Ukraine in crowded trains. My son was very scared and could not sleep at night due to the loud sounds of the air sirens.
"I have noticed that in the short time since he was enrolled, he has shown a lot of positive progress…Pavel's speech therapist gives him homework and shows me how to help him too.
"On behalf of Ukrainian women with special needs children – I would like to say that we are incredibly grateful. Because of your generous hearts, and desire to help and share, we have all these opportunities. We are looking forward to a better future for our children."
You can make a difference to Ukrainian children and families during this crisis
We need support as urgently as ever so that we can continue scaling up our life-saving programmes.
Since the escalation of the conflict, we have been working alongside local civil society partners to support children and families in Ukraine, Moldova, Poland, and Romania.
We are supporting thousands of families during the harsh winter by providing food, blankets, warm winter clothing, heating appliances, and safe spaces for girls and boys to continue learning.
In Moldova, Poland and Romania, Plan International is bringing decades of experience in protecting children in emergencies: we have set up teams and provided training to local staff to ensure children from Ukraine remain safe, can continue their education, and are getting the mental health and psychosocial support they need.