Hunger forces Guatemala's girls and young women to search for a better life
11 March 2022
Hunger, and the lack of education and job opportunities which often cause it, are causing countless Guatemalans to leave their country in search of a better life abroad.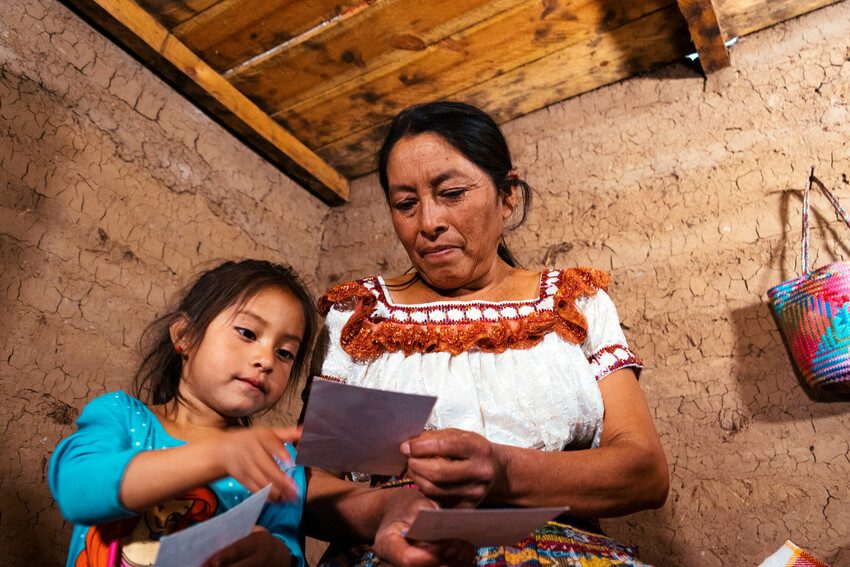 "Sometimes we don't eat because there's no work. There's nothing to eat right now because of the weather we are having: the rain is scarce and so we have to buy corn because there's been no corn harvest. When there is rain there is a harvest to eat, but now it's scarce," says Alicia, 50, who is taking care of her daughter's three children while she is away working.
"My daughter left so her children would have breakfast, lunch and dinner," says Alicia, 50. In the border district of Santa Cruz del Quiché, where she lives, more than two in three children (69%) are chronically malnourished, significantly higher than Guatemala's already devastating national average of 47%.
After a slowdown due to COVID-19, 2021 saw a record number of Guatemalans leave the country as the pandemic and climate crisis pushed even more families into poverty. Many of those making the journey, including children and unaccompanied minors, are from border districts such as Quiché.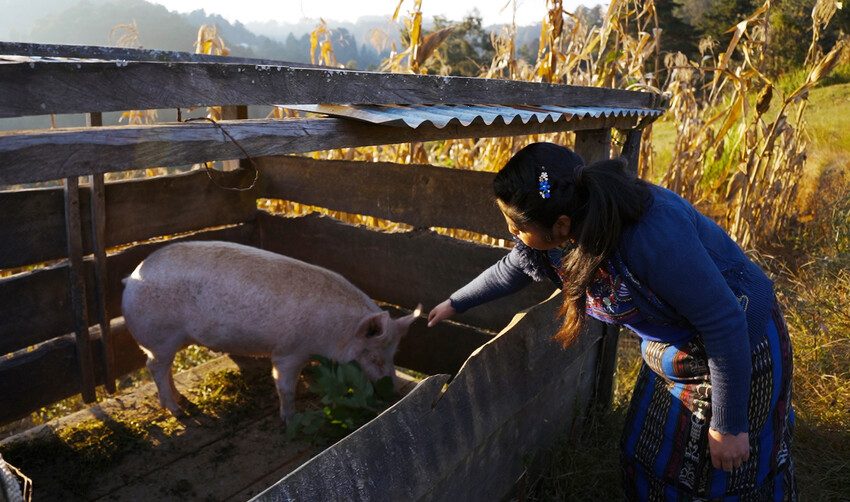 Before the pandemic, Alicia's family used to earn money by picking up days of casual agricultural or domestic work. Now, raising and selling chickens is her only source of income. "We can't go out and earn a living and that's what's different this year," she explains.
Her daughter now works in another part of Guatemala, earning the equivalent of 90 euros a month. This is barely enough to cover her living expenses so she hopes to soon make the journey to the United States.
Paulina, 24, and also from Quiché, has a brother and sister in the United States. She made the journey there herself at the age of 16, but returned home after falling ill.
Violence and the prevalence of patriarchal, exclusionary gender norms are another reason why women and LGBTIQ+ people in particular are leaving Guatemala, as well as the lack of access to education, quality healthcare and employment opportunities for young people, especially girls and young women.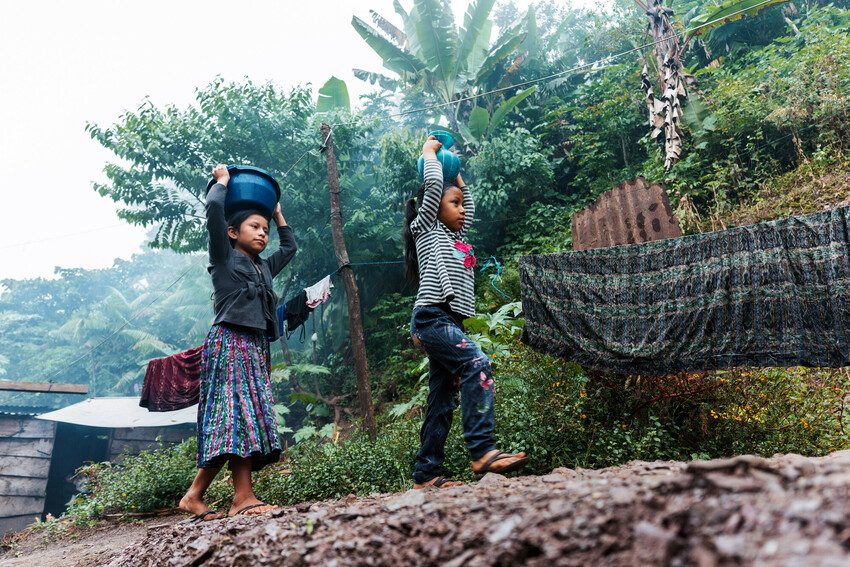 Paulina says a skills training programme run by Plan International was critical in giving her the confidence to set up her own business, a neighbourhood shop where she bakes and sells bread. She also earns additional income by sewing and keeping sheep. "I understood that I am worth a lot as a woman, which helped me a lot. After that I started my business," she says.
Plan International is currently supporting 4,000 refugees, migrants and people seeking asylum in Guatemala – 40% of whom are children and adolescents – with cash transfers and programmes to strengthen child protection and support former migrant children to attend school and re-integrate into their communities. As well as being a top country of origin, Guatemala is also a common country of transit for refugees, migrants and people seeking asylum from other parts of Latin America, and is also home to a growing population of returned migrants.
In the mountains of Alta Verapaz, more than half of families (53%) rely on subsistence farming to survive. A Plan International survey, funded by USAID, found that two in every three households (65%) here are either moderately or severely food insecure. Many are over-reliant on staples such as beans and corn, which lack the variety of nutrients needed for a healthy diet. The climate crisis is also taking its toll. More than half (60%) of families lost crops as a result of Hurricanes Eta and Iota in 2020 – a year in which more hurricanes were seen in the Atlantic than ever before.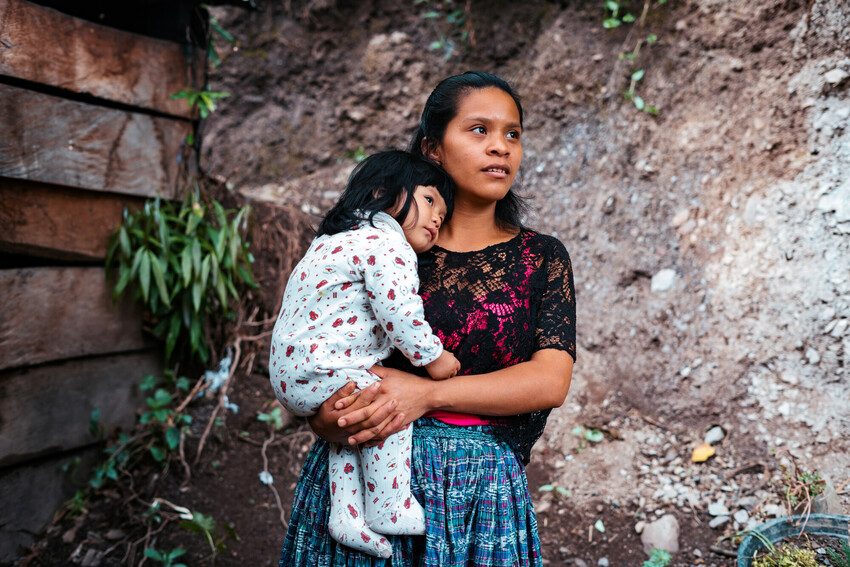 Petronila, 22, lives with her one-year-old daughter and four-year-old son in a rural village. She makes a modest income by selling embroidered tunics, while her husband has gone to Honduras to work after successive failing coffee harvests. The family receive cash transfers from Plan International, which they use to buy food.
In Guatemala's rural communities, it is often believed that boys and men should eat more because they perform heavy work while girls and women carry out domestic responsibilities at home. In addition to providing cash and vouchers, and empowering households to generate new sources of income, Plan International is also working to strengthen knowledge of maternal and child health, nutrition, hygiene and the prevention of violence. In total, Plan International Guatemala is providing life-saving support to more than 6,000 rural households at risk of moderate and severe food insecurity, in both Alta Verapaz and the 'Dry Corridor'.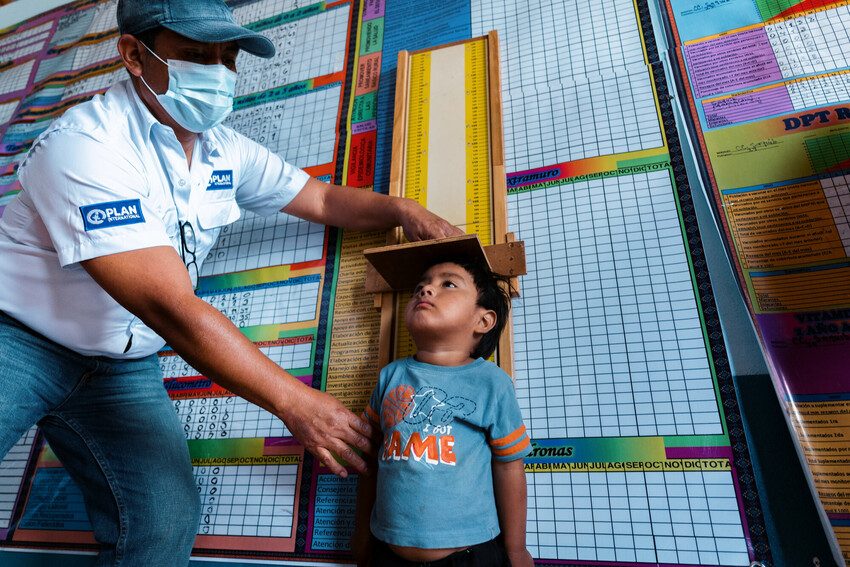 Oscar Caal Quej, 35, works for Plan International as an agricultural technician. "The economy was in a critical situation even before the pandemic but what with the pandemic and then Hurricanes Eta and Iota, there really has been a crisis among the poorest families in the country," he explains.
"Hunger is due to a lack of job opportunities, without work there is no food. Without job opportunities for men and women, there will be few resources with which to buy food.
"Plan International has provided support to people with really low resources in this community. And this is creating a lot of opportunities for men, women and children."