Forward-thinking response to migrant crisis saves lives and provides a brighter future for girls
7 December 2022
People move for different reasons, but it's our collective responsibility to ensure that children and their families, no matter their status are protected and can live up to their full potential, blogs Enzo Mauro T. Cruz, Girls in Crisis Advocacy Officer.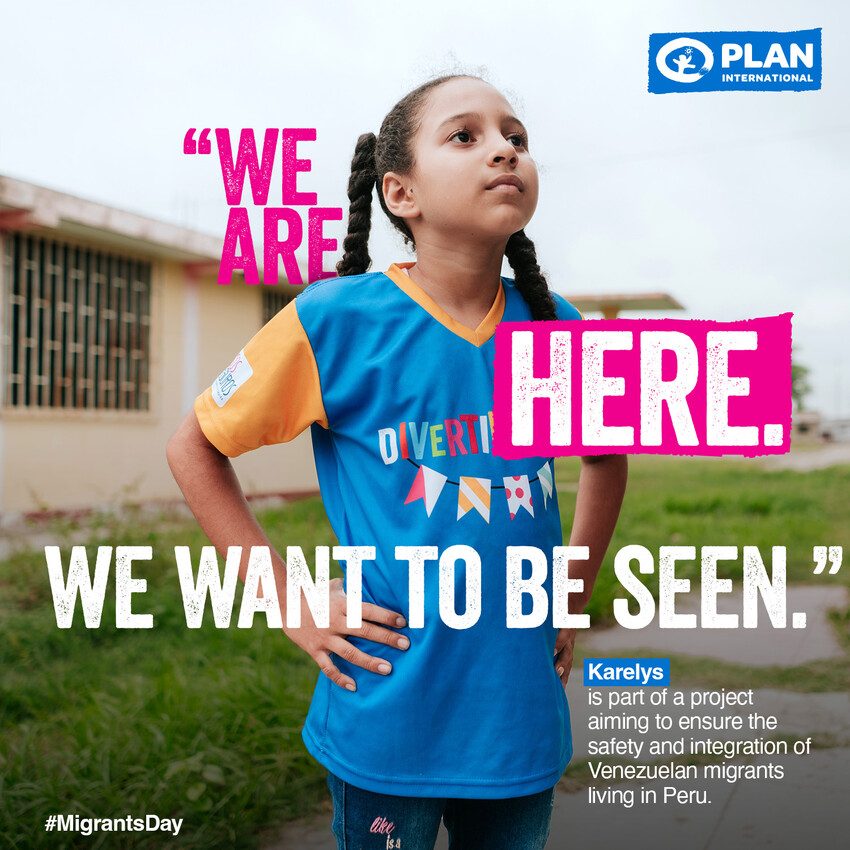 People may move across borders for a variety of reasons. Some people move in search of work or economic opportunities, to join family, or to study. Others move to escape conflict, persecution, terrorism, or human rights violations. With the increasing number and intensity of conflict, political turmoil and deep economic crisis more and more people have been forced to move within and between countries.
Forced migration is a moment of vulnerability for families and their children either trying to move or after reaching their destination. Several countries, including the biggest economies in the world, offer few – or no – options for migrant families to move through safe and regular pathways. This situation often leaves migrant children exposed to violence and exploitation, often missing out on education and proper medical care or subject to xenophobia. Girls in particular are more likely to be victims of human trafficking or pressed into early marriage, leaving them with lasting physical and psychological effects.
When migration becomes a humanitarian crisis
During times of unrest, migration rates can accelerate, becoming full-scale humanitarian crises. The Venezuelan migration crisis, for instance, represents one of the biggest displacement crises of our time. According to the Inter-Agency Coordination Platform for Refugees and Migrants from Venezuela, more than 7.1 million refugees and migrants have left Venezuela as a result of the political turmoil, socio-economic instability and the ongoing humanitarian crisis. Plan International is currently present in Colombia, Peru and Ecuador, the three countries most affected by this crisis, supporting displaced children and their families, particularly girls to access education, be protected against violence, exploitation, abuse and xenophobia.
I had recently the opportunity to visit Colombia and was able to see first-hand the impacts of the migration crisis in local communities. Despite being a country that struggles with the impact of conflict and other natural disasters, the Colombian government has taken a forward-looking approach to protecting migrant children and their families. Since 2021 Venezuelan nationals and their families were given the right to work and their children the ability to enrol in schools, and access health services and social protection in the same way as Colombian nationals.
However, in reality, implementing progressive policies has proven to be a challenging task. Often, migrant families and their children fleeing the Venezuelan crisis settle in areas with already precarious infrastructure, in some of the most vulnerable, urban communities. Overcrowded classrooms, xenophobia, and lack of health infrastructure are some of the challenges that both local communities and local authorities are struggling with daily.
Responding to migration with dignity must include everyone
Despite the challenging environment, there is life-changing work being done by individuals, local groups and organisations to help girls, young people and their families to thrive. For instance, Plan International has been finding innovative ways to support migrant children and their families. We provide legal assistance for migrant families, mobile protective spaces for children and support their access to quality education that tackles harmful gender norms, and empower girls to become leaders and innovators. We are also supporting community leaders and school staff to champion activities to promote protect and empower migrant children in their communities, whilst not neglecting the needs of host communities, who against all odds have opened their doors to welcome migrant families in.
The experience in Colombia has shown that with political will and support it is possible to transform the lives of migrant children, their families and the communities hosting them. It is key that the international community build upon the efforts of governments, local organisations and children themselves in championing programmes which support migrant children and their families to live up to their full potential.
One must not forget that anyone can inevitably become a displaced person at any time. It's of utmost importance that we work together to ensure that migrants are welcomed and host communities supported to give everyone the best chance of a brighter future ahead.