Our new global strategy stands with girls and young women
4 July 2022
Plan International's strategic ambition to 2027 is to see All Girls Standing Strong Creating Global Change, writes Plan International CEO Stephen Omollo. c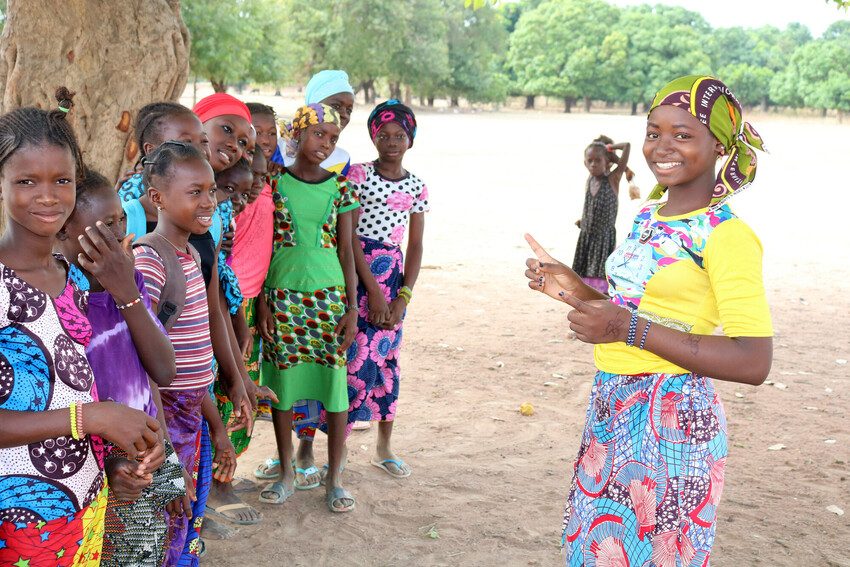 'Unprecedented times' – a term that has been used so frequently in recent years that it seems to have almost lost its meaning. Every generation believes that they are facing 'unprecedented times' and in a way, I think that they are. Every decade presents new challenges, new crises, and new ways of dealing with them. We at Plan International firmly believe that young people are critical drivers of change – that the talents and energies of the world's youth are needed to face these unprecedented times together.
Especially now, in 2022, as we continue to cope with the ongoing effects of the global COVID-19 pandemic, rising poverty levels, and an increase in conflict and fragility amongst other challenges all compounded by the impacts of the climate crisis. To keep up with this fast-changing world, Plan International, and indeed the entire humanitarian and development sector, must adapt at local, national and international levels. We must challenge our existing ways of working and be bold in creating new approaches to achieve maximum impact in a rapidly changing global environment. Children and young people, especially girls, must be at the centre of everything that we do as we work together towards a better future, one in which they will be able to learn, lead, decide and thrive.
Focusing on girls' rights
And so, Plan International is evolving. Over the next five years we will build on the many successes of our previous strategy 100 Million Reasons as we continue to strive for a just world that advances children's rights and equality for girls. 100 Million Reasons kick-started our organisation-wide focus on girls. Our new strategy will enable us to deliver on our ambition from now to 2027 to see All Girls Standing Strong Creating Global Change. Working together we will create:
A world where all girls know and exercise their rights and live the life they choose.
A network of supporters, communities, staff, partners, and donors, all supporting girls and young women to stand strong as they learn, lead, decide, and thrive.
Global change through breaking down the barriers and discrimination girls and young women currently face every minute, every hour, every day.
We aim to improve the lives of 200 million girls in the next five years because we know from experience that when girls thrive in a more equal world, we are all stronger for it. We strive for a world where all girls can claim and exercise their rights and live the life they choose.
Youth at the centre
Together, the Plan International family is passionate about ensuring that girls and young people have a seat at the decision-making table when it comes to outcomes that will affect their lives and their futures. Not only will our work continue to deepen its focus on girls' rights but Plan International will be bolder in our youth-centred approach to ensure that we meaningfully co-create change together with girls and young people in everything that we do. We will consistently engage them and their organisations in decision-making processes at all levels. Over the next five years Plan International will intensify initiatives where youth are active drivers of change in their communities, their countries and globally.
Scaling up our work for girls in crisis
Our experience shows that youth-centred collaboration is particularly important in times of crisis. Emergencies often set back advances in girls' and young women's rights, yet conversely, they can also be catalysts for positive change. By 2027, Plan International wants to be the world's leading international NGO for girls in humanitarian crisis. We will be the NGO partner of choice for promoting equality for girls and protecting children's rights by working across the humanitarian-development-peace nexus – a holistic blend of development and humanitarian interventions – through principled and locally led humanitarian action. Plan International will be an organisation that responds quickly and efficiently to crises– we will be a trusted rapid response support for girls where they need us most.
I am truly excited for this new chapter for Plan International and the changes it brings. We will continue to build on our many strengths, be brave in examining and addressing our weaknesses, and will be transparent and open as we do so. This will mean playing a more active role in decolonising the sector. Plan International will continue to shift away from centralised decision-making, giving more power to colleagues, partners and girls to make decisions at the point of impact.
I wholly believe that our new strategy will guide our organisation on the right path to ensure that everything we do leads us towards a just world that advances children's rights and equality for girls. And so, Plan International calls on partners, boys, men, and local communities, to join us and to work alongside us to support girls in all circumstances, especially in fragile contexts, fighting injustice or facing crisis. Together, we will break down the barriers and discrimination that girls face and help shift the power towards achieving gender equality. The time is now. Together, we will be led by girls for girls.