Adolescent Girls in Crisis: Voices from the Lake Chad Basin
Despite the challenges they face, adolescent girls in the Lake Chad basin demonstrate resilience, entrepreneurial skills, a commitment to hard work, a desire to help others, optimism for the future and insightfulness, attributes essential for any society if it hopes to transition towards a peaceful, prosperous and secure future.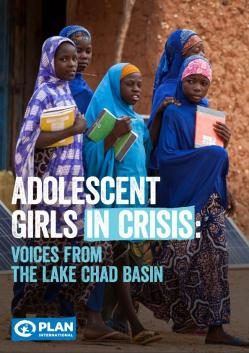 The crisis affecting the Lake Chad Basin is one of the most severe humanitarian emergencies in the world, having displaced more than 2.2 million people, half of whom are children. Most are refugees, but this number also includes internally-displaced people and returnees.
More than 10.8 million are in need of humanitarian assistance across North East Nigeria, Cameroon's Far North, Western Chad and South East Niger. While civilians face multiple forms of insecurity, adolescent girls are impacted by this protracted crisis in ways that are different from adolescent boys and from women, and in ways that are often overlooked.
This report seeks to highlight both the sites of insecurity for adolescent girls, as well as the ways in which they respond and continue to strive towards building safer communities for themselves and those around them.
Emergencies, child marriage, Child protection in emergencies, Education in emergencies, Gender-based violence