Urban Research Series: Violence in the City
Insights from young people across six cities
This report, the second in the Urban Research Series, examines young people's experiences of violence across six major cities.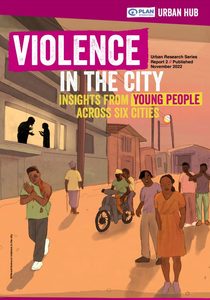 Urban violence is an increasingly frequent and complex issue which disproportionately affects young people, particularly women and girls. Little comparative evidence exists on how violence manifests in cities from the perspective of young people, and little is known about how safe young people, especially girls and young women, feel in urban spaces. There are also gaps in knowledge about how best to address the violence that young people face in cities.
This report examines the evidence generated as part of the evaluation of Plan International's Safe and Inclusive Cities programme.
The programme worked with young people aged 15 to 29 living in informal settlements in major cities across four countries – Ethiopia, Kenya, Uganda and Zimbabwe. Activities were implemented with the help of local civil society and community-based organisations. They targeted violence reduction, strengthening young people's skills, as well as their potential for gaining decent work and for civic participation.
This report draws on analyses of this large-scale representative survey and aims to answer the following questions:
How do young people witness and experience violence in cities? What incidents do they witness or experience?
How safe do young people, and particularly young women feel in cities? What influences these feelings?
What is the overarching effect of the Safe and Inclusive Cities programme on violence reporting and feelings of safety?
Report 2: Violence in the City – English
Report 2: Violence In The City – Spanish