State of the World's Girls 2018: Unsafe in the City
11 October 2018
Research into the everyday experiences of girls and young women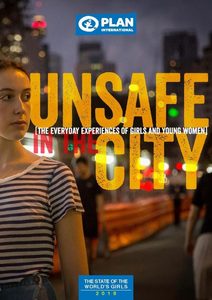 Through this ground-breaking research, thousands of girls and young women have shared their stories of harassment and violence for the first time, providing a never-before seen glimpse of what happens to them in their cities and the impact this has on their lives.
Based on research in Delhi, Kampala, Lima, Madrid and Sydney, Unsafe in the city reveals relentless sexist and sexual harassment and abuse and calls for specific actions to allow girls and young women to live without experiencing fear or discrimination on our streets.
---
Free to Be
Research was carried out through Free to Be a map-based social survey tool designed, with the help of girls and young women, to enable them to identify, without fear of recrimination, the areas in their city where they feel safe or unsafe. The tool was first piloted by Plan International Australia in Melbourne in late 2016. The findings highlighted inequalities in the city which caused many to sit up and take notice.

Learn more
Download the local findings of the Free to Be research to understand more about girls' realities in their own contexts, in their own words.
Girls Get Equal, Safer Cities