Rewrite Her Story
How film and media stereotypes affect the lives and leadership ambitions of girls and young women.
Read the report
The world's most popular films are sending the message to girls and young women that leadership is mostly for men. Women leaders – be they presidents, CEOs or business owners – are far more likely to be portrayed as sex objects, shown in revealing clothing or even naked on the big screen.
These findings appear in Rewrite Her Story, the latest research from the Girls Get Equal campaign and the Geena Davis Institute on Gender in Media. The research analysed the 56 top-grossing films in 20 countries.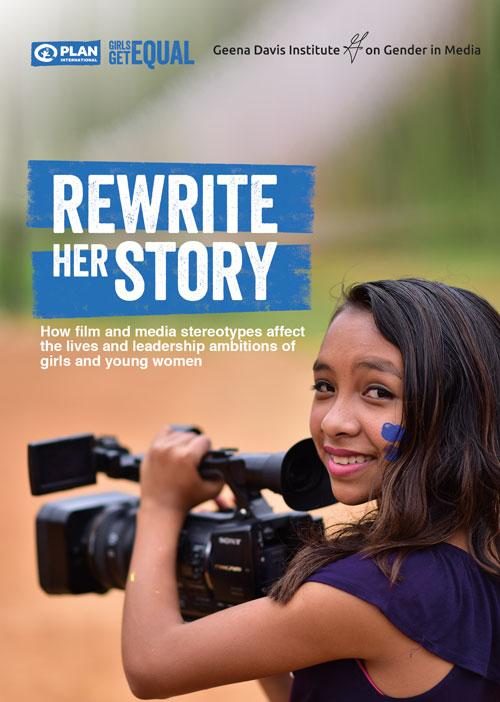 Films' impact on girls
"The findings in Rewrite Her Story are not surprising when not one of the top 10 films in 20 countries in 2018 was directed by a woman," says Anne-Birgitte Albrectsen, CEO of Plan International.
"A woman 007 or superhero is welcome news, but our research shows that they are exceptions and not the rule. The bigger picture is that gender discrimination and harmful stereotypes still dominate on screen and behind the scenes."
What needs to be done
Girls and young women need role models on screen: they need to see themselves in the stories that surround them if they are to achieve gender equality, and their capacity for leadership is to be recognised and encouraged.
To be it, girls must see it. Make stories about female leadership visible and normal.
Stop the sexualisation and the objectification of women and girls on screen.
Fund female filmmakers, programme makers and content producers and address harassment and discrimination in the workplace to encourage girls and young women into the entertainment industry at all levels
Rewrite Her Story on social media
Find graphics and gifs to help #RewriteHerStory.
Download options
Executive Summary – Spanish
Exective Summary – French