Understanding Young Women's Pathways to Economic Empowerment and Resilience in Rural Contexts 
An Exploratory Qualitative Study of Rural Communities in Ethiopia, Malawi, and Nepal.
Women's economic empowerment is crucial for inclusive and sustainable development.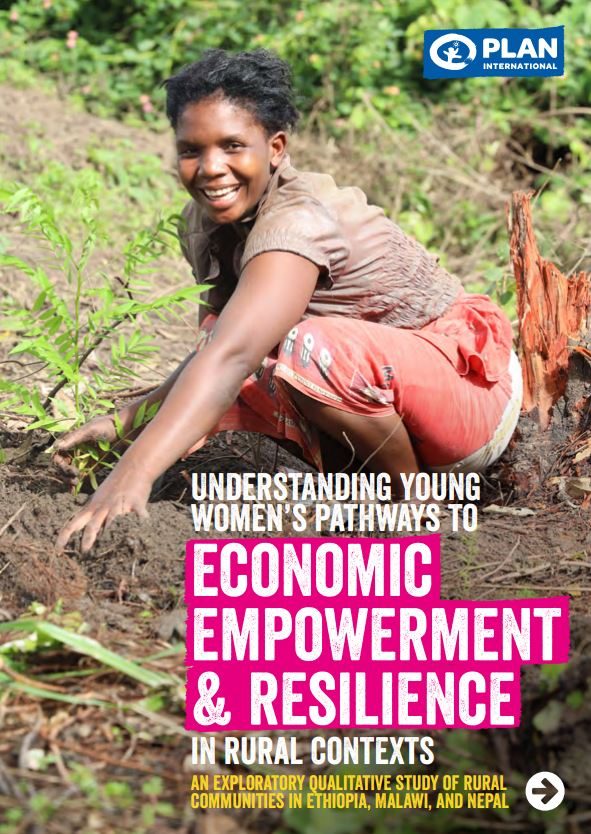 Yet, women, particularly living in rural areas of low-and-middle-income countries (LMICs) still encounter significant barriers to accessing economic opportunities and fulfilling their potential. Gender norms, limited access to credit, healthcare, education, resources and technology, compounded with weak market systems, overall hinder their ability to engage in productive and well-paying work.
This report was commissioned by Plan International's Skills and Opportunities for Youth Employment and Entrepreneurship (SOYEE), a key priority thematic that focuses on ensuring that vulnerable and marginalised youth, especially young women, are resilient and actively engaged in decent work of their choosing.
This study aims to better understand the economic development and resilience of young women (aged 15 – 24) in rural contexts through a holistic analysis of personal, social and economic factors in Ethiopia, Malawi and Nepal. Thus, the report explores which factors facilitate and hinder rural young women to access and retain themselves in labour markets and self-employment, while gaining insights about economic resilience from their experiences and perspectives. The report also contributes to bridge the evidence gap on rural female youth as a demographic group in the literature dedicated to women's economic empowerment and resilience, which is pivotal to guide programming and policymaking to advancing economic development and gender equality in these contexts.
Key Findings
The insights from 42 Key Informant Interviews (KIIs) and 20 Focus Group Discussions (FGDs) involving young women, their families, community members and local economic stakeholders revealed how women's economic empowerment and resilience are critical for achieving gender equality in rural settings, specifically:
Financial independence can transform social structures and gender roles, and give rural young women increased power over their own lives, in their families and greater community.
Rural women still face significant barriers to economic empowerment, including limited access to education and training, restricted access to land, accessible sexual and reproductive health services.
Rural young women also face other barriers such unpaid care/domestic burdens, gender roles, and other social norms and cultural beliefs that are restrictive and thus limit access and retention in economic activities.
Factors contributing to rural young women's economic opportunities are less understood and more difficult to identify than the challenges/barriers.
Gap in existing data and knowledge on the diverse groups of rural young women, especially in intersecting vulnerabilities (disabilities, gender-based violence, child marriage, etc.) requires further targeted research.
Download full report
Download the executive summary
Executive Summary (English)
Executive Summary (French)
Executive Summary (Spanish)