Our Voices, Our Future
Understanding risks and adaptive capacities to prevent and respond to child marriage in the Bangsamoro Autonomous Region in Muslim Mindanao
This study, undertaken by Plan International and the Women's Refugee Commission, and implemented in-country by Transforming Fragilities, sought to understand the risks, drivers, and consequences of child marriage among adolescent girls in 4 provinces in BARMM, whose communities have long been affected by environmental hazards, conflict and related displacement. These provinces are: Maguindanao, Lanao del Sur, Basilan, and Sulu.
Globally, approximately 1 in 5 adolescent girls is married before they turn 18. This means that 12 million adolescent girls enter into child marriages each year.
Despite progress being made globally to tackle child marriage, child marriage rates are still increasing in some parts of the world, in large part due to crises and displacement. Moreover, the United Nations Children's Fund (UNICEF) predicts that due to the impact of COVID-19 on girls' physical and mental health, access to education, and household and community economic instability, 10 million more adolescent girls face the risk of child marriage by 2030, bringing the global total to more than 100 million girls entering into marriage by 2030.
Child marriage is a human rights violation that intersects with other rights violations that disproportionately affect girls throughout their lives. These include, but are not limited to, the right to a life free of violence, the right to the highest attainable standard of health, and the right to education. It also has implications for a broader economic, social, and political development, as it curtails girls' freedom and decreases their likelihood of contributing to these spheres. A growing body of evidence also shows that the risk of child marriage increases as a result of conflict and displacement.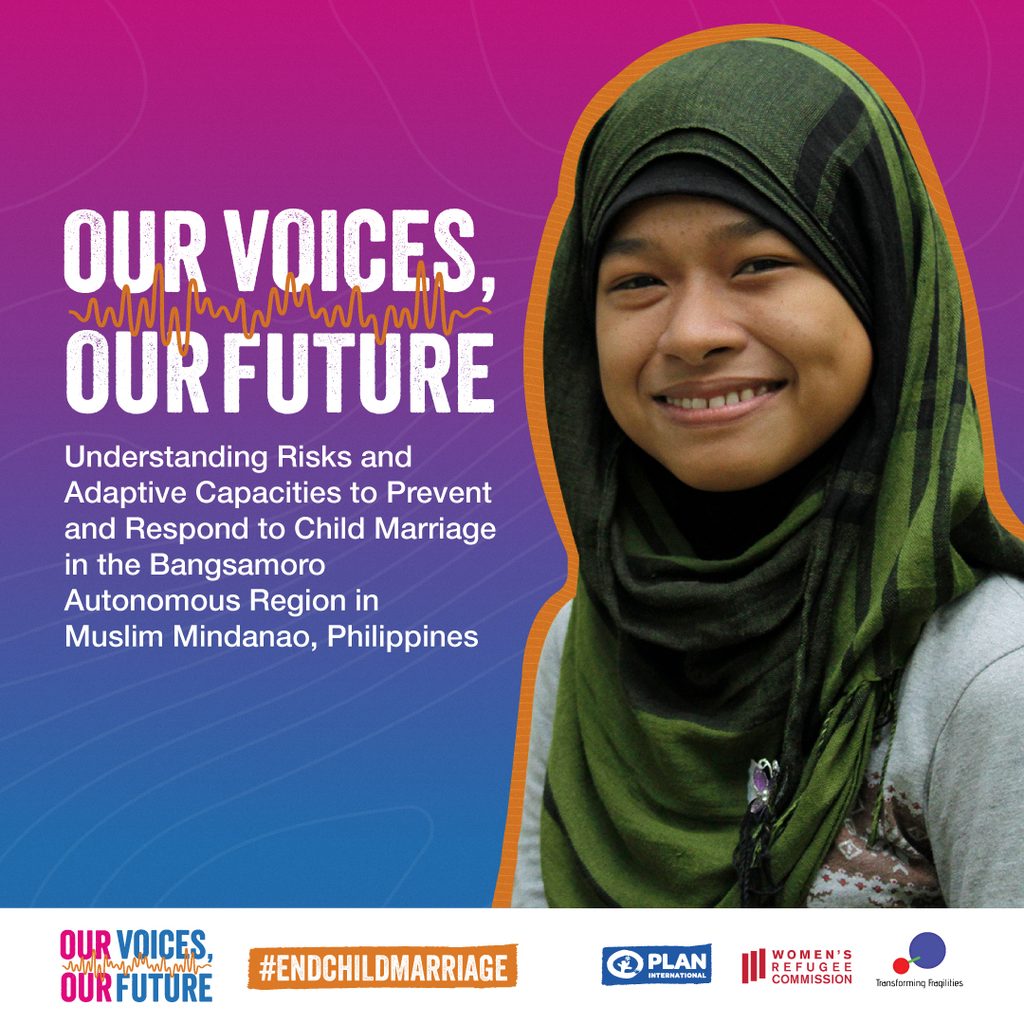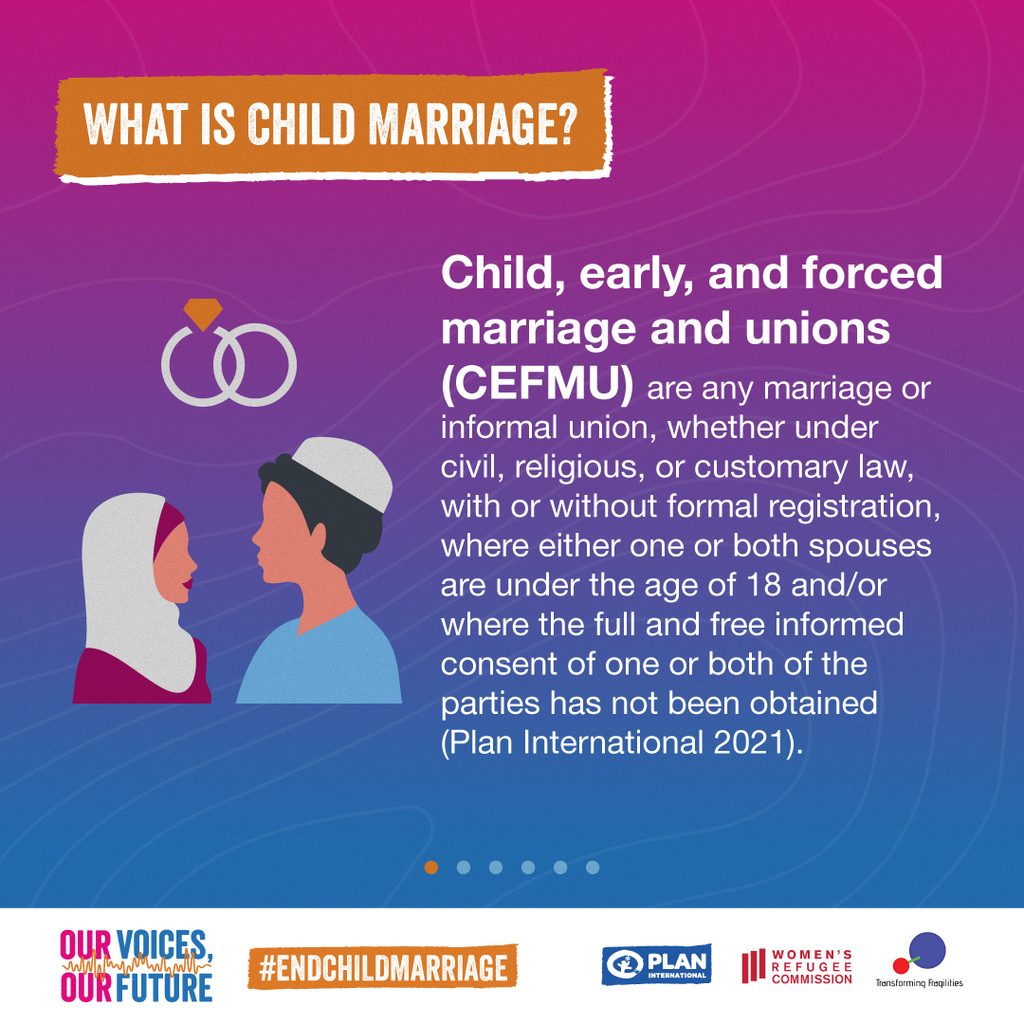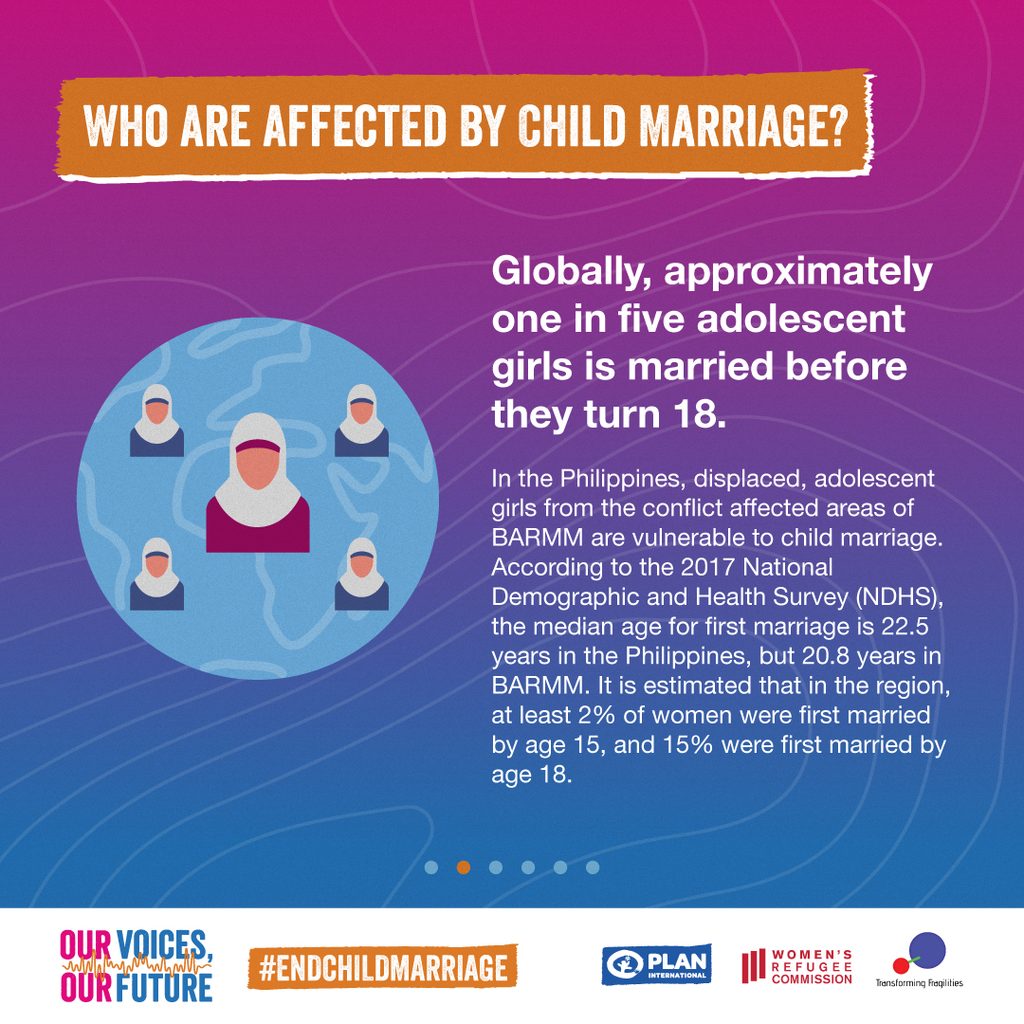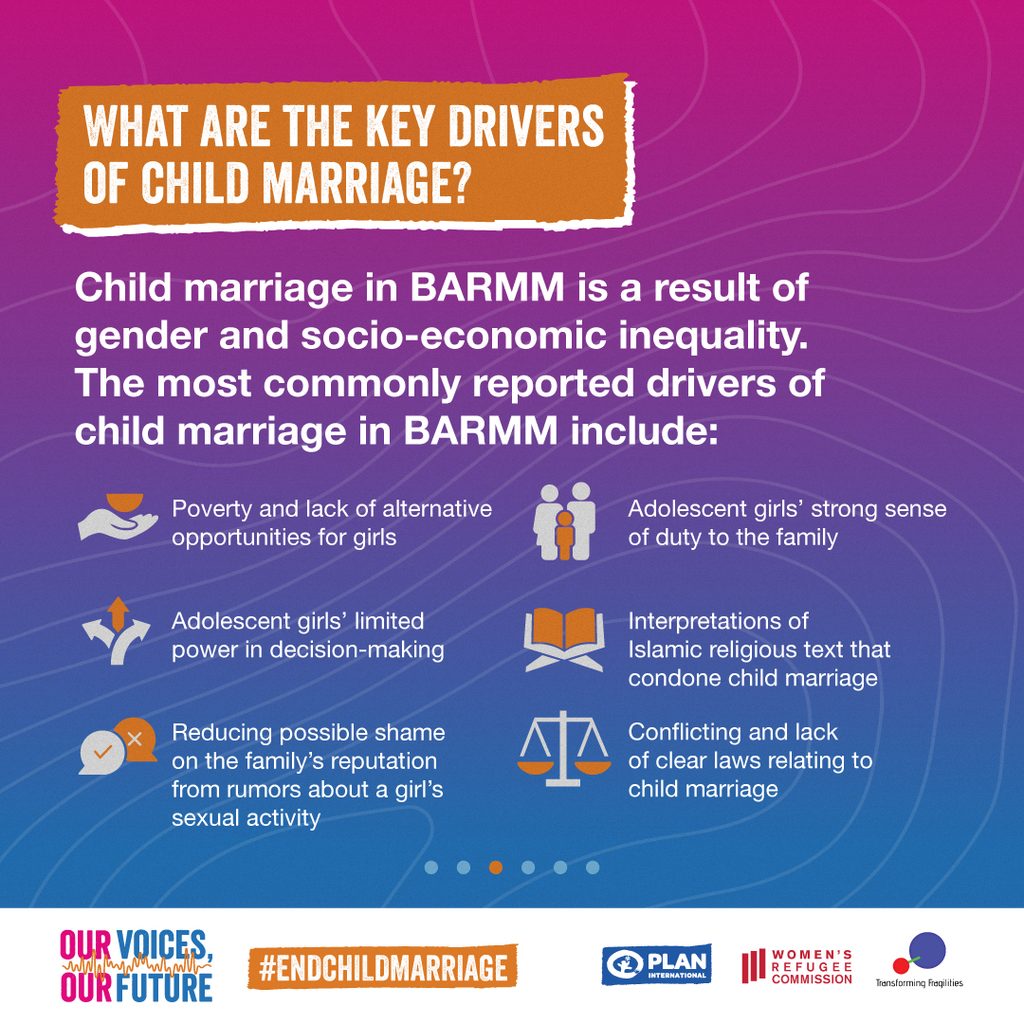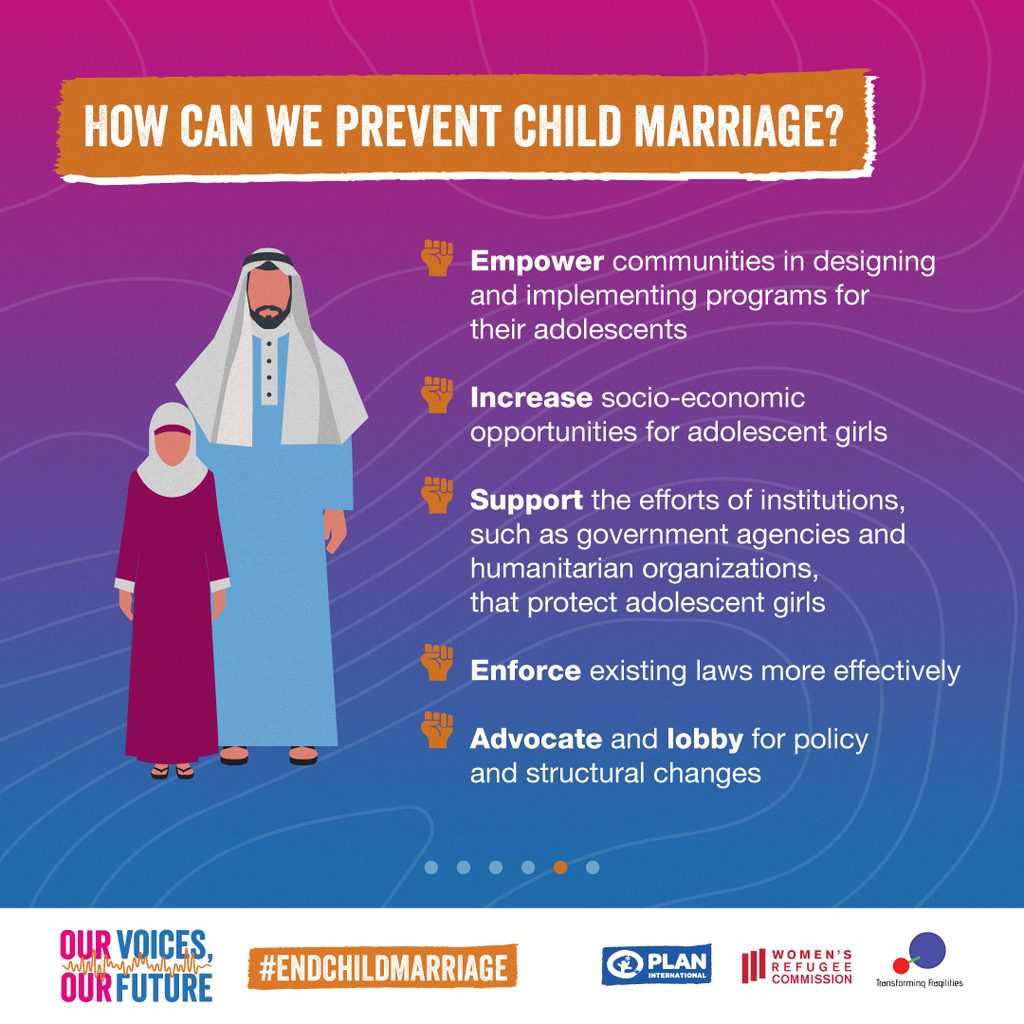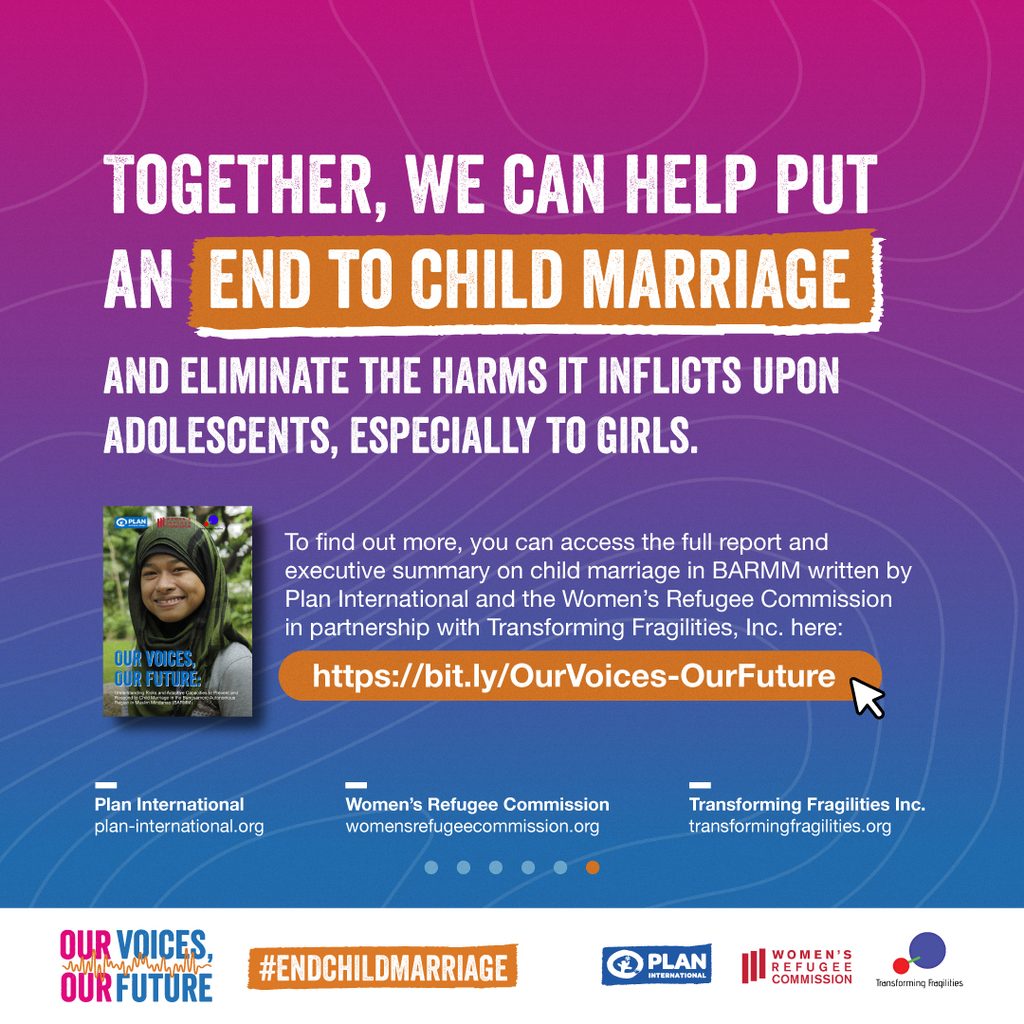 This study, which is part of Plan International and the Women's Refugee Commission's (WRC's) multi-country Child Marriage in Humanitarian Settings Initiative, is an effort to investigate the needs and priorities of adolescents in diverse humanitarian settings to inform evidence-based and practice-informed programming to prevent and respond to girls at risk of child marriage and meet the needs of girls who are already married. The research also investigated the extent to which the existing ecosystem of support, care, and protection for adolescent girls (e.g., family, social workers, teachers and institutions and services) protects girls from child marriage, and meets the needs of married girls.
---
Our voices, Our future: Zimbabwe
Understanding child marriage in food-insecure communities in Chiredzi District, Zimbabwe
The aim of this study is to understand the drivers of child marriage and the existing support and resources available to adolescents living in food insecure communities in Chiredzi District that help them live healthy lives free of violence.