Gender inequality and early childhood development
8 June 2017
Right from birth, gender discrimination affects girls disproportionally. In this report, we describe why gender equality and early childhood development matter. We also explain why early childhood programmes engaging parents, caregivers, community leaders and educators are fundamentally important so girls have the chance to realise their rights and live a life of dignity.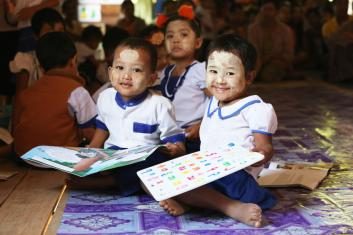 This report examines the impact of gender inequality and discrimination on the survival, healthy growth and early years' development of girls and boys and the rationale for investing in gender-transformative early childhood programming in order to break the cycle of gender discrimination, promote the rights of girls and boys, and advance gender equality.
Gender-transformative programmes have the explicit intention to transform unequal power relations. Their focus goes beyond improving the condition of women and girls: they seek to improve the social position of girls and women (how they are valued in society) as well as the full realisation of their rights.
Early childhood is the most important phase of development of a person's life. This is when cognitive, social and emotional skills are learned, influencing lifelong educational achievement, health and wellbeing. When young girls and boys are denied access to the opportunities, care and services they need to thrive and develop to their full potential, this affects the rest of their lives.
In many communities, gender inequality is one important root cause of children's poor development in the early years.
Gender discrimination and women's low status are at the root of women's limited autonomy and of the denial of their rights to health and bodily integrity: when women suffer poor mental and physical health and limited decision-making power this, in turn, impacts negatively on their children's survival, healthy growth and development.
Gender discrimination together with son preference mean that young girls receive less nutrition, opportunities to play and access early learning than young boys.
Furthermore, it is during their first years that girls and boys learn gendered attitudes and expectations, from parents, caregivers, other family members and teachers, about how girls and boys/women and men should behave, their social worth and what their role is in society. As our research shows, in many countries and communities, right from the earliest age boys are prepared for their future role as provider and protector, and girls as mothers and caregivers. Learning these rules and expectations in terms of behaviours and roles can be limiting for all children, but is likely to be particularly limiting for girls.
Programming that supports young girls and boys to develop to their full potential while also working to transform unequal gendered power relations, challenge "traditional" gender socialisation processes, and improve the social position of girls and women offers a key opportunity to break this unjust, inter-generational cycle of gender discrimination, and to advance children's rights and equality for girls.
Early childhood development, Girls Get Equal, Child protection in emergencies, Gender-based violence, girls' leadership