Real Choices Real Lives: Climate Change and Girls' Education
Barriers, Gender Norms and Pathways to Resilience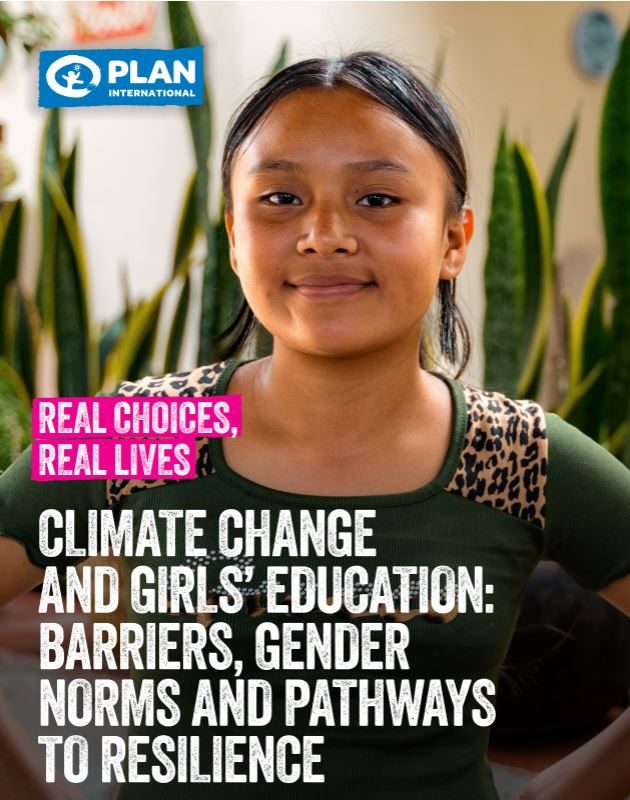 Since 2006, Plan International's Real Choices, Real Lives study has been following a cohort of girls and their families from nine countries in three regions.
This unique longitudinal and qualitative study conducts annual data collection with girls and their caregivers, offering valuable insights into experiences of girls during childhood and adolescence, including the decisions and realities that shape their lives.
This year's research explores the relationship between climate change and girls' education: what are the direct and indirect impacts of climate change on girls accessing school and completing their education? How do these impacts intersect with existing gendered barriers to education? And how is their education supporting girl to respond and adapt to climate change in their communities?
By hearing from the girls directly about their experiences of climate change, we also learned about their ideas for mitigation and adaptation: they are demanding safer schools, improved climate change curriculum, and better conditions for climate change adaptation and education.
Read our report and executive summary here.
Download the full report
Synthesis Report – English
Synthesis Report – French
Synthesis Report – Spanish
Download the Executive Summary
Executive Summary – English
Executive Summary – French
Executive Summary – Spanish
Key findings
Girls are missing school because of direct impacts of climate change: their schools are damaged by extreme weather events, closed for repairs in the aftermath, or inaccessible due to damaged or obstructed roads and pathways.
Climate impacts on girls' access to education are also indirect as livelihoods are lost and deprivation worsens. Family incomes are falling, and food prices are increasing as unpredictable weather patterns make earning a living particularly difficult for the sort of agricultural and fishing communities in which many of the girls live. As climate change takes its severe toll on livelihoods, the girls report that their parents are struggling to pay for their school fees or for their travel to and from school. Some girls are seeking paid employment outside of school hours to help contribute to their family income, thereby sacrificing their time to study. Girls' educational prospects are abandoned as families struggle to find food and fund their daily lives.
Education and information, whatever its source, is key to the girls' climate change adaptation efforts.
Where schools have a strong climate change curriculum, the girls demonstrate more knowledge about climate change, greater confidence in applying adaptation strategies, and provide more detailed recommendations. Yet, the girls in these countries still feel their curricula could be improved to further develop their climate knowledge. In countries where climate change education is limited, the girls report having less understanding and confidence about the topic.
Many of the girls are using the green skills that they learned in school so far – such as recycling and participating in youth collective action groups – which demonstrate that girls are exercising leadership in their everyday lives because they are keen to do what they can to combat climate change.
Girls' recommendations for systemic change
The girls have recommendations for systemic change which ask action of their schools, wider communities and governments, the report proposes a set of recommendations:
Make Schools Safe: by repairing infrastructure damage as quickly as possible and having robust gender-and age-aware disaster planning in place, as to minimise disruption to learning by having continuity plans for lesson delivery.
Improve climate change curricula: by embedding gender-transformative climate change education into school curricula and improving the knowledge and teaching skills of the staff who deliver it.
Create better conditions for climate change adaptation and education: by providing financial support for families whose incomes have been affected by climate change so that increased poverty does not threaten girls' education. And ensuring that the voices of adolescent girls are heard in climate change decision-making at all levels.
For further detail on the findings and research itself, see the technical report here.
Download the technical report
Technical Report – English
Technical Report – Spanish
Technical Report – French