Adolescent Programme Design Consultations
In 2022, Plan International held programme design consultations with adolescents affected by humanitarian crisis in eight countries: Ethiopia, South Sudan, Cameroon, Niger, Nigeria, Colombia, Ecuador and Peru.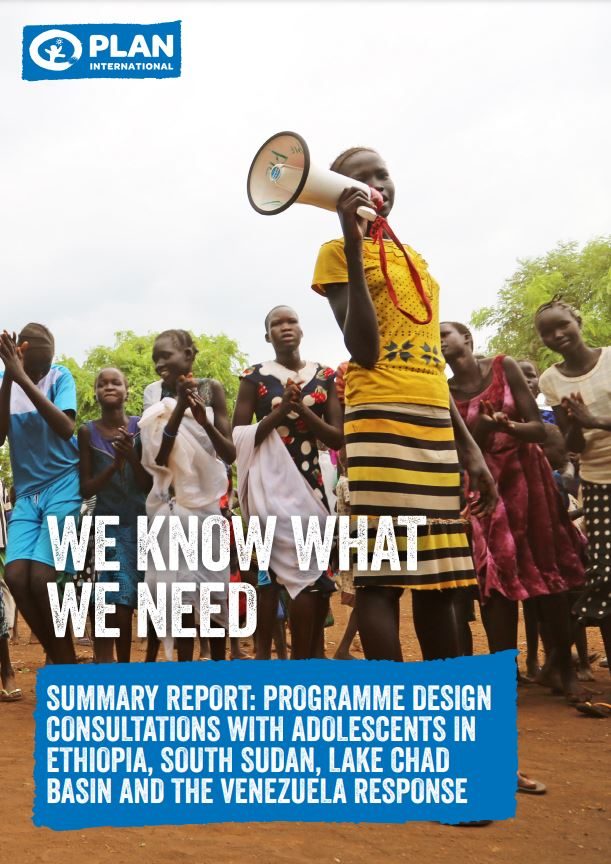 During the consultations, 680 younger and older adolescents, including married girls and young mothers, highlighted what activities and services they would prioritise in the humanitarian response, which barriers they face in accessing services and support, and what should be done to overcome these barriers. Their voices and experiences have shaped clear programme recommendations for Plan International's humanitarian response.
Summary of findings and recommendations
The consultations in eight countries found that:
1. Adolescent girls face a multitude of protection concerns including child marriage
Adolescents face specific risks including family separation, child labour and psychosocial distress, whilst receiving limited parental care and support. Married girls experience sexual violence and social isolation whilst having limited access to education and health care.
2. Adolescents have limited access to SRHR information, supplies and services
Adolescent girls and boys have little to no access to information about sexual and reproductive health and have limited access to services. Married and pregnant girls and young mothers do not feel welcome due to negative attitudes of service providers.
3. Cash and voucher assistance can play a vital role in improving adolescent wellbeing, but adolescents prioritise long-term economic opportunities
Adolescents feel that cash and voucher assistance can help in meeting their short-term needs. However, adolescents, particularly older adolescents and married girls, prioritise long-term, sustainable economic opportunities over short-term assistance.
4. Adolescent needs are multi-sectoral and complex
Adolescents highlight how failing to meet their basic needs and education, negatively affects their sexual and reproductive health, protection and well-being. They call upon humanitarian actors to address food insecurity and lack of economic opportunities as key drivers of health and protection risks.
What needs to be done?
Adolescent girls and boys, and married girls, are clear about their priorities:
1. Meet our basic needs and empower girls with information and skill-building opportunities
Girls and boys want better access to information, education and supplies to promote their protection, health and well-being. Adolescent girls need tailored support to access information, social networks and services.
2. Engage with our families and communities to transform practices and norms that harm us and limit our opportunities
Adolescents emphasise the need to engage with their parents, caregivers, spouses and community leaders to address norms and practices that are harmful to them.
3. Improve our access to services especially in rural and displaced communities Adolescents call for better availability and quality of health and protection services for adolescents, especially in hard-to-reach communities. Service providers should address stigma against adolescents, particularly girls and survivors of violence.
Download options
Summary Report – all countries
Summary Report for Colombia, Ecuador and Peru
Regional Summary Report – Colombia, Ecuador, Peru (English)
Regional Summary Report – Colombia, Ecuador, Peru (Spanish)
Country reports
Cameroon – Adolescent Consultation Report – English
Cameroon – Adolescent Consultation Report – French
Ethiopia-Metekel – Adolescent Consultation Report – English
Ethiopia-Tsore – Adolescent Consultation Report – English
Niger Adolescent Consultation Report – English
Niger Adolescent Consultation Report – French
Nigeria – Adolescent Consultation Report – English
South Sudan – Adolescent Consultation Report – English
Peru – Adolescent Consultation Report (Spanish)
Colombia – Adolescent Consultation Report (Spanish)
Ecuador – Adolescent Consultation Report (Spanish)