Teens Take Over – Girl,17, becomes President in Malawi
11 October 2023
A teenager has taken over the highest position of power in Malawi, becoming President for a day.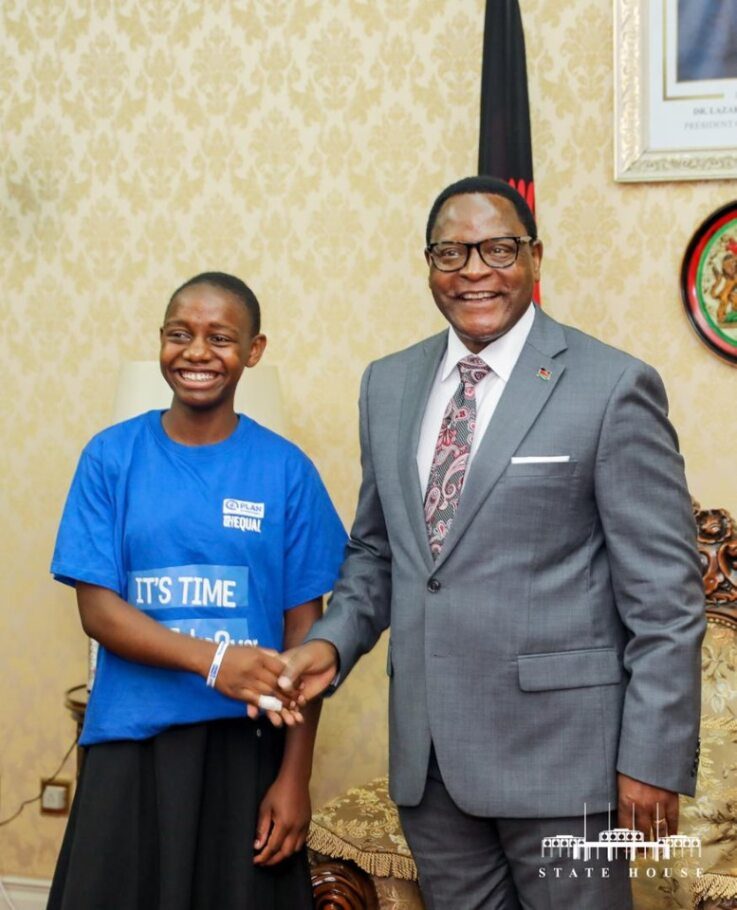 Ahead of International Day of the Girl, 17-year-old Patience spent the day in the highest office in her country, taking over Lazarus McCarthy Chakwera's role as President of the Republic of Malawi.
Patience took the opportunity with Plan International Malawi to discuss President Chakwera's commitments to education in rural areas of Malawi he committed to ensuring his government will improve education standards.
"My government has set aside funds to ensure that girls from the most disadvantaged backgrounds should get a chance to access quality education" he promised.
Reflecting on her day as President Patience was enthused by the President's commitments; "I had a great day at the State House, in the Office of the President, I have been inspired and motivated and I am looking forward to the changes the President promised."
Leadership in Timor-Leste
On 11 October, when International Day of the Girl is celebrated globally France in Timor-Leste, aged 16 years-old will Takeover the from the first woman Parliament President of Timor-Leste; Her Excellency, Mrs Maria Fernanda Lay.
In her spare time France enjoys soccer and dancing but also attends sessions on leadership and public speaking and is involved in projects in Timor-Leste with Plan International and partners to understand her sexual and reproductive health and rights.
Each year, girls' rights INGO Plan International supports girls and young women around the world to take their seat at the table and 'take over' positions of power across politics, businesses and other institutions, in an effort to raise the voices of girls in their fight for gender equality.
In Switzerland, President of the National Council, Martin Candinas is also stepping aside and passing the reigns to 19-year-old Elma for the day.
During the Takeover Elma gave a speech to European skilled young professionals, hosted a visit from one of the countries city Mayors and enjoyed lunch with Mr Candinas where she was able to discuss her views.
Elma has ambitions for a future in politics, "I want to see a world where girls and young women are heard equally in the corridors of power, at decision-making tables and in the media."
In the USA the former US secretary of state, presidential candidate and First Lady Hillary Clinton has had her Instagram page taken over by 15-year-old Nora. With an audience of 6 million followers, it is an enormous opportunity to raise the issues she is most passionate about.
Dr. Jill Biden has honoured a group of girls which includes Plan International USA youth activist Mona, who at 15 years-old leads a team of student who run a campaign to spread awareness about how to stay safe on social media and prioritising mental health online.
On the occasion of the European Week of Action for Girls, EU Special Envoy for Afghanistan Tomas Niklasson will be meeting with Ehitemedhin, an 18-year-old education advocate from Ethiopia. During a symbolic take-over of the Special Envoy's responsibilities, the two will exchange on their respective priorities and the universality of inclusive and quality education for all.
Supporting girls pushing for gender equality
On the 11th International Day of the Girl, Plan International is standing with girls and young women from around the world as they call for governments, donors, and civil society to play their part in tackling gender inequality.
Marking the yearly occasion and in celebration of girl activists the organisation's annual State of the World's Girls' report spoke to over 1,000 girls aged between 15 and 24 from 26 countries about their experience of activism and campaigning, taking a deep dive into the subject. The report, one of the biggest of its kind, found that one in five (17%) of activists have feared for their safety whilst carrying out their work.
"Girls and young women have the right to be heard and to shape the decisions that affect their lives. Despite the significant hurdles they have to overcome, they have accomplished great achievements, showing great courage.  
We remain a long way from achieving gender equality, so it's critical that we all play our part in supporting the work of girl activists. We need to tackle harmful norms and welcome the next generation of girls and young women to join the conversation by creating an enabling environment. We must widen participation and access in key decision-making processes", says Kathleen Sherwin, Plan International's Chief Strategy and Engagement Officer.
We must not leave future generations behind
 "This year we have over 100 Takeovers planned around the world in Governments, NGOs, Banks, Embassy's, and businesses. We believe these moments are vital in ensuring that girls are meaningfully engaged and to make sure that our future generations aren't being left behind."
To support the work of girl activists around the world, Plan International is calling for:
Increased funding for girl and youth-led activist initiatives and groups.
Governments to support girls and young women to engage meaningfully in all areas of public life. This should include regular access to decision-makers and creating mechanisms for girls to engage in civil society, and formally within institutions.
Quality education on gender equality, human rights and democratic governance to build girls' understanding of activism, and skills training in areas such as organising and public speaking, to build confidence in girls' ability to campaign and have influence on the topics they care about.
All power holders to play their part in tackling age and gender discrimination, and the threat of violence, and to create safe, open spaces, to remove the barriers to girls speaking out.
Plan International CEO, Stephen Omollo will also be handing his role over for a Takeover, alongside Kathleen Sherwin, and Global Director for Programmes and Operations, Damien Queally.