18 JULY 2018
Every hour a girl or woman is trafficked in Nepal. That's more than 8,000 every year.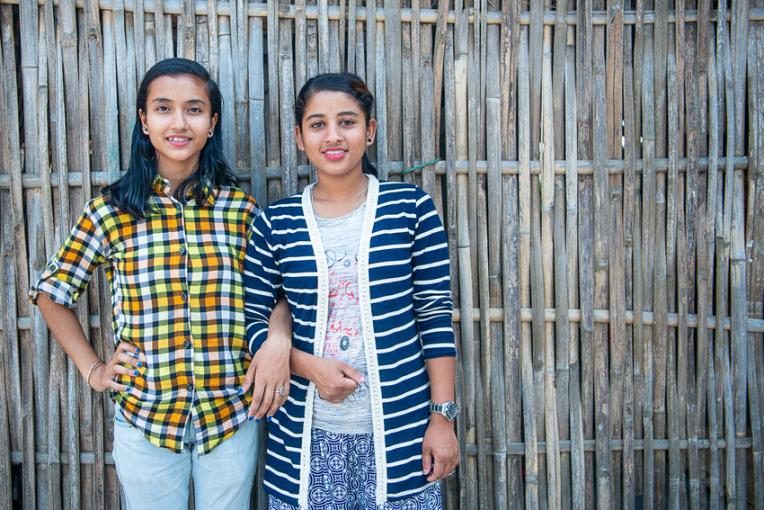 Girls are being trafficked within Nepal and across the border into India, every day. They're being forcibly taken, coerced, targeted by men posing as boyfriends, sold by family members and lured with the promise of work and a new life.
We spoke to girls in Nepal, some who have experience of the horrors of trafficking, and others who are determined to bring an end to this exploitation for good.
Laxmi – trafficked for the sex trade
Laxmi's* story of being trafficked began with the simplest of things: a missed call on her mobile phone when she was just 15 years old.
"I told the man I didn't know him, but his calls kept coming and we started talking," she explains.
The man introduced Laxmi to a girl he said was his sister and together they travelled to India, where he said there would be plenty of jobs.
When they arrived in India, the couple took Laxmi to a woman's house, where she was locked in a room. It was only later that she discovered the woman was selling girls to work in a brothel.
"I asked [the woman] what work I would have to do, and she told me I would have to do bad things with men. I told her I wouldn't do this kind of work, but she didn't listen me.
"I was so helpless. I spent my days crying, I couldn't escape. I had to stay there. I asked for help to get out, but no-one could help me."
Eventually, police raided the brothel and Laxmi, now 20, was freed. She is now back in Nepal living with her sister and her daughter.
"I never expected this could happen to me. I was devastated. I would like to tell other girls, do not trust a person you don't know."
Sharmila – trafficked into domestic slavery
For Sharmila*, 21, it was the possibility of getting a job, earning money and helping her family that encouraged her to say yes when her sister's friend asked her if she wanted to go abroad.
"She told me she would arrange everything," says Sharmila, who was 16 at the time. "She made me promise not to say anything to anyone. I trusted her and said ok."
Sharmila was taken, via a chain of trafficking agents, to Dubai, where she was forced to work in a family's house as a maid.
"I cried and told the wife of the older brother I wanted to go home. But she said I couldn't because she had bought me for 8,000 dirhams (£1,600). Until I paid that money, I couldn't go anywhere. I had to work for her.
"I thought going there was my mistake, so I needed to stay until I paid her money and then I would go. But then the youngest brother sexually exploited me and I became pregnant."
The family Sharmila had been working for sent her home when they found out she was pregnant. At the airport in Dubai, security officers discovered her passport was fake and sent her to prison. Luckily, a kind and generous woman in the cell next to hers bought her a plane ticket back to Nepal.
"If she hadn't paid for me, I don't know if I would have come back by now."
The time has come to end trafficking
Currently, power is being devolved from a national to a local level in Nepal. That means newly-elected mayors have the power to create local laws that protect girls' rights and put a stop to trafficking.
Plan International is working in communities on the open border between Nepal and India, where girls are most at risk. These young people are demanding action from the government, none more so than Sarita and Sabina, who intend to make the most of this opportunity. The two girls want their Mayor to run a public awareness campaign, to make sure every girl in the vicinity knows the risks of being trafficked.
15 year old Sarita has been raising awareness about trafficking for the past year, even participating in street dramas warning girls about strangers who promise better lives abroad and the tragedy that can befall them.
"From the core of my heart, I've always wanted to do something to stop child trafficking.

"In my opinion, if any child is sold within Nepal or internationally then it is child trafficking. When girls are trafficked, they are sexually exploited and forced to labour beyond their physical and mental capacity."
Sabina, 17, feels just as strongly. "I know someone from my community who was taken. She was lured by a man, thinking he would marry her and give her a good education. But later she realised she had been taken away to be sold. She was saved at the border and returned back."
Both girls are adamant that raising awareness of the issue is vital to putting a stop to trafficking.
"We need to educate both children and parents about it. If we can educate girls on trafficking and prevent them from being trafficked, then they can be good citizens of the country and educate other people," says Sabina.
"Our country can only develop and flourish to the fullest if child trafficking is stopped," Sarita adds.
Brave girls working to end trafficking in Nepal
On World Day Against Trafficking, 30th July 2017, Sabina and Sarita handed a petition of over 46,000 names to their Mayor who has agreed to run a public awareness campaign in the region about trafficking.
This is an excellent example of girls' power and the importance of listening to girls about the issues that affect them.
Thanks to everyone who signed the petition.
Great news!! Sarita and Sabina have persuaded their mayor to take a stand on the issue of trafficking of girls in Nepal. He's agreed to run a public awareness campaign to #EndTrafficking – thanks so much to everyone who signed the petition pic.twitter.com/CjvXwy2gQ0— Plan International (@PlanGlobal) July 31, 2018
*Names changed to protect identities
Protection from violence, Gender-based violence