3 MARCH 2020
An innovative training programme is helping thousands of young women from Delhi's slums to get good jobs, break down preconceptions of what women can do and become financially independent.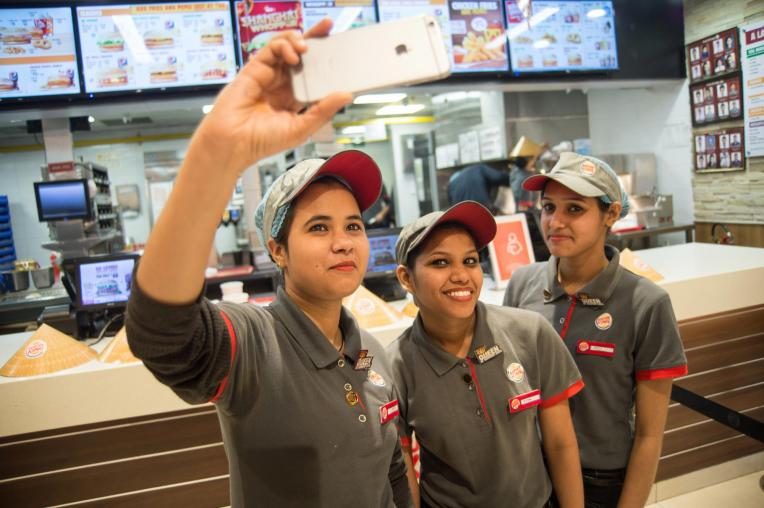 Until 6 months ago, Neha, 19, had no idea what options she had for her future. "All I knew was that I wanted to achieve something. I just didn't want a life sitting at home and getting married," she says.
Living in a slum on the outskirts of Delhi, Neha's circumstances were no different to millions of girls and young women across India. Social attitudes restrict them and a lack of opportunities to gain skills make it impossible to get decent jobs and become financially independent.
Only 9% of the 35 million young women aged 15-24 in India's urban areas are in formal jobs and across India as a whole, only one-third of women are in jobs compared to men.
The Saksham programme
Through the Saksham programme, meaning empowered in Hindi, Plan India is giving girls new opportunities. By changing attitudes towards girls in the slums, combined with giving young women job skills, the programme helps them to find decent work and escape poverty.
Saksham's achievements
5,500 young people, including 3,400 young women have got jobs
Almost all the young people were not in education, employment or training
Within 2 years, over 80% of graduates double their monthly income
70% of graduates are employed at renowned national or multinational companies
In Delhi's slums, the distance to training centres and the cost of courses stop young people gaining skills. Saksham bridges these gaps and brings skills training to disadvantaged communities to support youth who are not in education, employment or training. The main focus of the programme, offered free of cost, is to ensure that young people have the skills to get a job or become self-employed.
Up to 30 students are enrolled in a batch that runs for 45 days with young women forming at least 60% of the intake.
Subjects taught include an introduction to the retail sector, customer relations, IT skills, front office management, basic financial skills, personal presentation, interpersonal skills and English. The curriculum prepares youth to join the workforce at entry level with skills that will continue to support them throughout their careers.
Saksham is flexible and can relocate to a new community and reach out to more youth once demand for training in the existing community has been met.
Preparing for work
"We were trained in all major aspects of employment," says Neha. "This proved to be very useful when I landed a job at the end of the course." Neha is now working for a coffee chain and earns about €140 a month, doubling her family's income.
Alpana, 21, lives with her family in a dense slum in South-West Delhi. She graduated from Saksham a year ago. She says, "Preparing for the world of work was an eye-opener. I learnt so much in a short space of time.
I learnt how to speak to people with confidence. It may sound like an ordinary thing but for many girls doing the training it was an essential life skill having grown up in an environment where girls rarely speak up, let alone deal with strangers, particularly men. Soon after I graduated from Saksham, I got a job and became the first girl in my family to be employed."
Changing perceptions
Saksham's approach is seeing thousands of young women break the mould to become first females in their families to get a job and become financially independent.
Asif Mohammed, Plan India's Programme Implementation Director says "Gender equality is front and centre of Saksham's approach. We educate parents, communities and employers about equal opportunities. A trained female workforce is critical to achieving gender equality. We also engage with local businesses to promote women-friendly work environments."
Combined with the efforts and results achieved by girls themselves, attitudes are changing.
"Our community disapproves of families that allow girls to leave home. Sending them to work is even worse," says Malti, whose daughter Komal is a Saksham graduate and is now working for a food chain.
"A girl's honour is the most prized possession for families so we are extremely careful that nothing tarnishes that. Komal is aware of the huge step we have taken by putting faith in her. She is the first girl in our family to go out and work and she knows she has to be a role model for her sister and other girls in the community."
Lives transformed
For Komal, getting a job has been a life changing experience. "I can't even express how much of a change I have experienced in myself. I used to be so frightened to go out on my own or to deal with strangers. Now, I feel confident to deal with anyone and speak up for myself," she says.
"I always dreamt of having my own money. It felt great when I got my first salary. I treated myself to a new smartphone. Now I can buy things and treat my parents and siblings. I can also support my father to run the household.
"In the last year I have saved up enough to pay for my education. I want to graduate and progress in the retail sector. I know I've got a golden chance to create my own future. I wouldn't change it for the world."
Girls Get Equal, Skills and work, Vocational training