Periods don't stop during emergencies
16 May 2023
Girls' ability to manage their menstrual health is worsening due to the hunger crisis. Sofiana,13, from Haiti and Hamda, 15, from Somalia share their stories.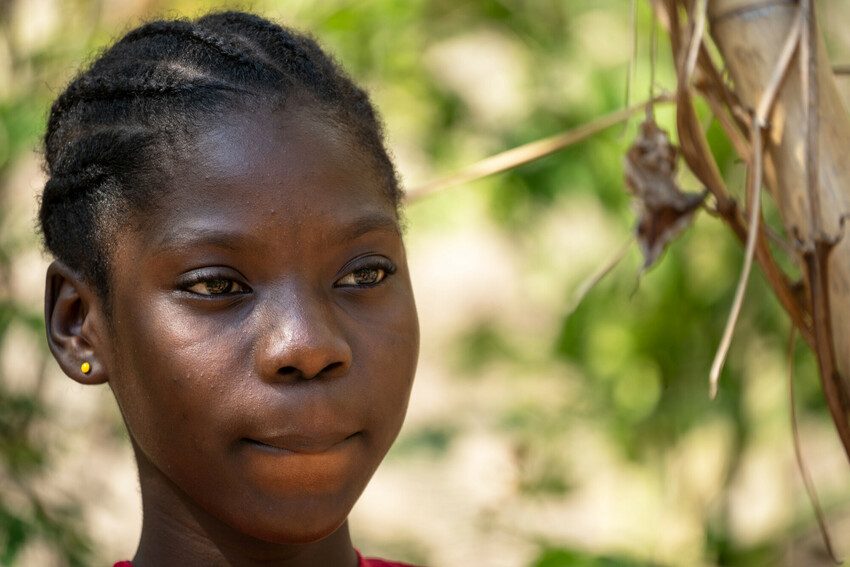 For 13 year-old Sofiana, who lives in the South East department of Haiti with her family and cousin, the hunger crisis has meant that managing her period has become increasingly difficult. 
"I sometimes find it difficult to buy sanitary towels due to a lack of financial means", she says.
Sofiana says accessing basic menstrual health products has become difficult for many girls in Haiti
In Haiti, where widespread hunger and gang violence is having a devastating impact and 90% of the population lives below the poverty line, many families simply can't afford sanitary pads amid skyrocketing prices.
Lacking menstrual health support services and information, many girls face shame and embarrassment at school and at home as a result of their periods.
Sofiana says she has to resort to using what she can for her menstrual health. "I don't feel comfortable when I have my period," she says.
"When I can't afford to buy the supplies, I use clean clothes instead."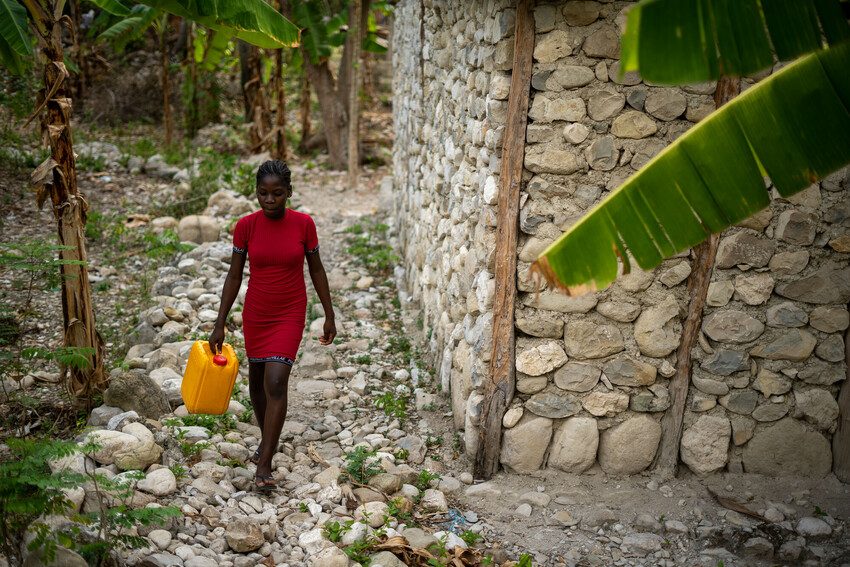 On top of financial challenges, many girls face daily challenges to manage their periods with dignity, including having to take long, dangerous journeys to access clean water.
"It is very difficult to get drinking water in the area. We go to the source to get water to drink, but it is very far away and can take an hour to walk," Sofiana said.
"I believe the crisis has a greater impact on girls since some girls are obliged to seek out men in order to survive. Some become pregnant."
Sadly, Sofiana's experience is not unique.  
One in four lack access to menstrual health supplies
In fact, at least 500 million girls and women globally – around one in four women of reproductive age – are currently unable to access what they need to manage their period, whether it be sanitary pads of access to a clean toilet. 
With the world currently in the grip of the most devastating hunger crisis in history – at least 345 million people across 82 countries facing acute food insecurity and 50 million people on the brink of starvation – girls continue to bear the brunt of the crisis.  
There is widespread evidence that in the world's worst hunger hotspots, where Plan International is scaling up support to girls and their families, menstrual health is slipping even further down the priority list.
In Somalia, where extreme drought is causing particular challenges for women and girls, locating clean water is becoming harder each day, meaning many are unable to access essential health services, including for reproductive health and menstrual hygiene.
Like other countries in the Horn of Africa, the combined impacts of ongoing drought, political insecurity and rising food prices in Somalia are driving the country to the brink of catastrophe.
For many girls, there is a lack of education around periods, meaning false information around periods are common, and often leads to girls, women and people who menstruate being severely stigmatised. 
Lack of menstrual health education is failing girls
When 15-year-old Hamda experienced her first period at the age of 12, she had no prior knowledge of menstrual health.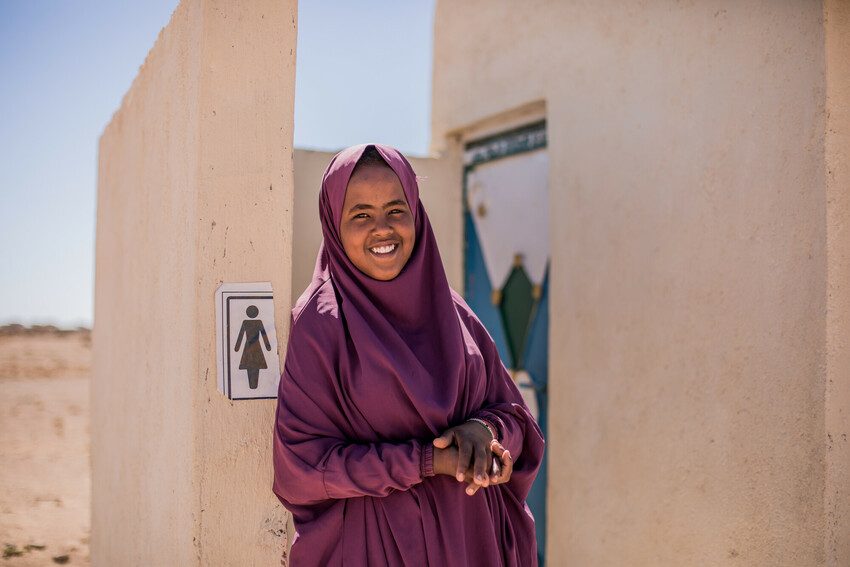 "I got my period when I was 12 years old. I was shocked. I had no clue what it was and didn't expect it. I asked my sister and she explained to me that it is normal and only girls get it. I was also told that now I am a grown-up woman and ready to be married." 
She says she was so embarrassed that she had to miss school as she didn't have anything to clean or manage her period with dignity. "I was using clothes and I'm so happy that I got a dignity kit that I can use now instead of clothes. It contains pads, soap, and things for my hygiene," she says.
She also explained that the toilet facilities at her school had no doors on them so she didn't feel safe using them. "Now we have a separate toilet for girls, it's not close to the boys and it is safe and secure. We can freely, with no fear use the toilet in school. I'm so happy for this." 
Raising awareness of menstrual health for displaced girls
26-year-old Mulki works for Plan International as a community volunteer in Togdheer region, Somaliland to raise awareness of health and hygiene issues amongst displaced people, particularly girls and young women. 
"The drought has had a big impact on hygiene. When people don't have enough water to use on a daily basis… hygiene levels drop," she says.  
Across the Horn of Africa, where devastating drought has increased the barriers girls face in managing their menstrual health, finding clean water is becoming harder each day. Dwindling household incomes and rising poverty is making it harder to afford menstrual health supplies.
When girls' menstrual health needs are not being met, it also increases the risk of girls skipping school, which has a profound impact on girls' overall education.
"If a girl is studying and doesn't know how to manage period-related hygiene, it can affect her education. She might drop out due to sickness related to her period, or her dignity might be endangered and she may not be able to continue with her studies. We see a lot of cases of this," she says.
"In some instances, we provide reusable hygiene kits. But if there isn't water, they end up throwing away the kit. If they can't clean their kits, they won't be able to use it again. That affects girls' health directly because they can develop infectious diseases like any disease caused by infection," says Mulki.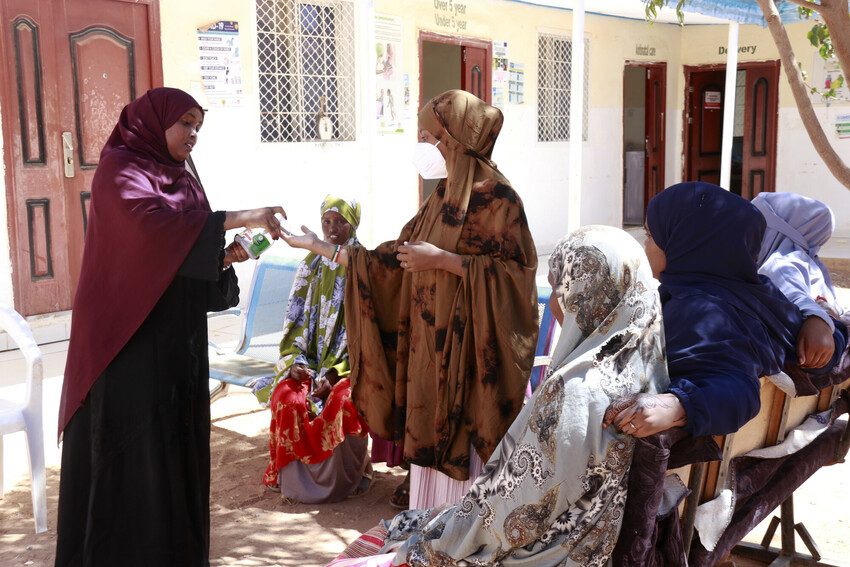 Managing periods through the hunger crisis
In hunger hotspots where Plan is working such as Somaliland, a key focus is on informing girls and removing the stigma around periods so girls know that periods are a normal and natural part of life, as well as distributing hygiene kits to minimise the impacts periods have on girls continuing their education.
"It is so important because every girl faces periods, so it is very important to understand what is happening," says Mulki. "If a girl doesn't know what is happening to her body, she could one day be confused. Girls need to be aware, be prepared and able to plan for their future."