Nester, 24, is a fully-trained expert in sexual and reproductive health and rights, who has helped up to 500 young people access contraception, support and vital sexual health information.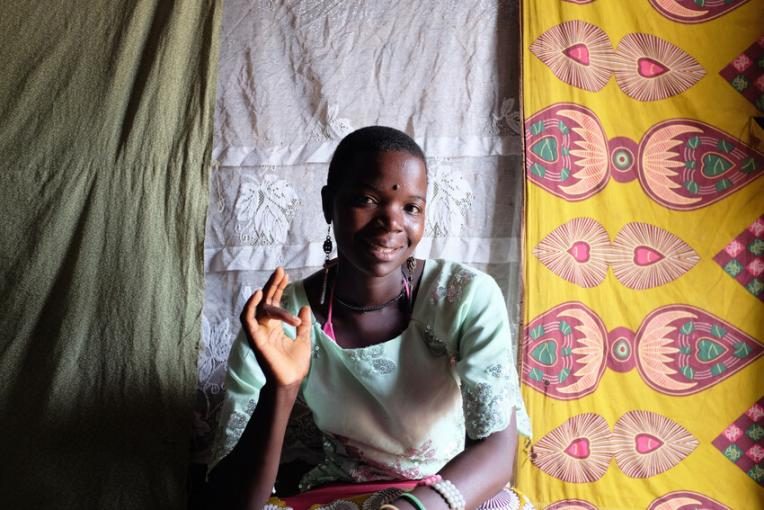 In Kasungu, a district in the central region of Malawi, only 43% of young people make use of youth-friendly health services.
Long distances between rural villages in Kasungu is the main challenge facing people wishing to access health facilities but young people face additional barriers to accessing their sexual and reproductive health and rights.
In Malawi, nearly half of girls marry before they are 18. Only 37% of young women between the ages of 15-19 have completed their primary education with many girls forced to drop out of school to help look after relatives, find work to support their families or because they fall pregnant.
The lack of comprehensive sex education and information about sexual and reproductive health and rights (SRHR) makes it extremely challenging for young people to access their rights to reproductive health services, and achieve gender equality.
Young people must also contend with harmful social norms that control female sexuality, negative attitudes from health workers and taboos preventing them from easily discussing their sexual health.
Training youth to connect with the community
To ensure young people have access to gender-responsive health services and can obtain contraceptives at a convenient location, Plan International trains Youth Community-Based Distribution Agents (YCBDAs) who connect with the community to encourage the use of family planning in line with the national SRHR policy in Malawi.
In 2016, Nester (pictured above) took part in the YCBDA training, and now provides support to young people and couples to help them fulfil their sexual and reproductive health and rights. Nester, now 24, lives in a small village on the western edge of Kasungu, bordering Kasungu National Park. It's one of the hardest areas to reach in the district and the main school and health clinic is about 6km away.
Women in Kasungu give birth to nearly seven children on average and the fertility rates are high compared to other parts of Malawi. Early marriage is also common, with 10% of women married before the age of 15.
The rate of teenage pregnancy is also high. During the 2017-2018 school year, 538 girls in Kasungu district dropped out of school due early pregnancies.
Youth clubs play a vital role in SRHR provision
Nester first got involved with Plan International in 2014 through her local youth club, set up as part of a project funded by the Swedish International Development Cooperation Agency (SIDA).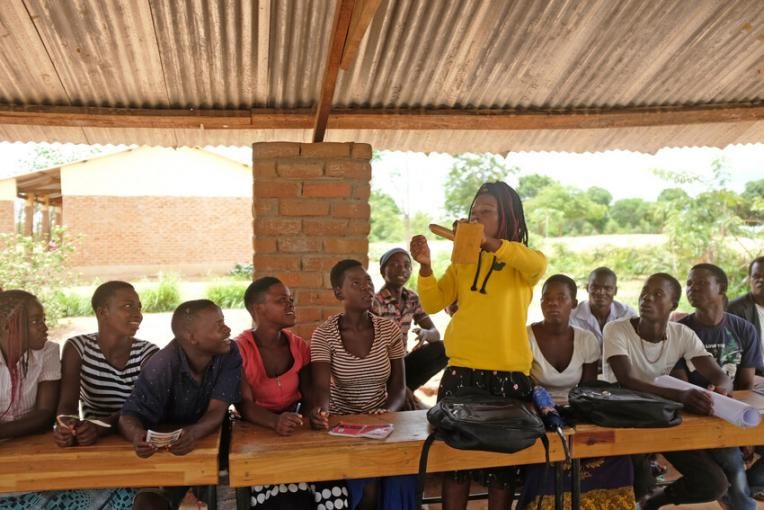 Youth clubs were established in eight communities in Kasungu to equip young people with the skills they needed to take a leading role in providing SRHR information to their peers. Nester joined the youth group as a community facilitator, helping lead discussions and disseminate SRHR information to young people and take part in theatre performances to raise awareness among parents and the wider community.
The training comprises an intensive two-week course led by qualified health workers and covers a broad range of topics related to contraceptives. This includes counselling, basic physiology; understanding the practice and use of various contraceptive methods (including advantages and disadvantages); effective ways to approach and communicate with people in the community; physical assessment; organising supplies and record keeping; and referral of clients to other services.
"I loved the training. I couldn't forget about the content of the manual. The training also taught us to not discriminate, and to be inclusive of disability," Nester says.

Helping girls achieve their full potential
Nester now works with her local health clinic who support her and provide contraceptive supplies. The health clinic also takes care of the referrals Nester sends through which require further assistance.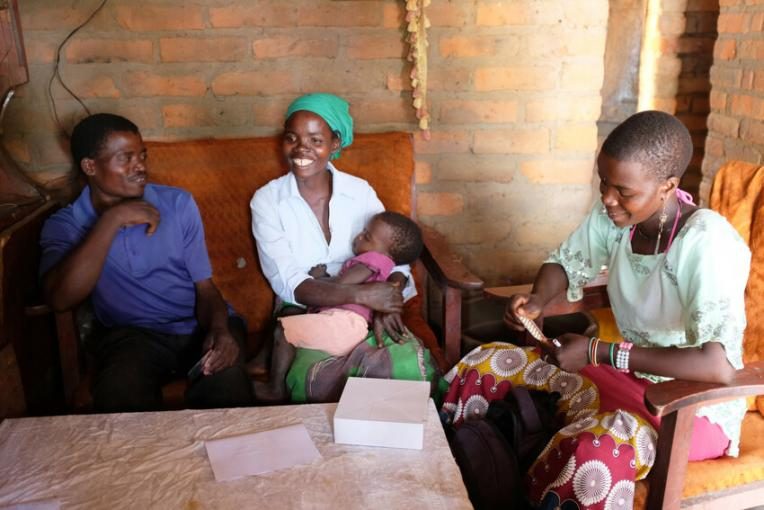 "I'm often the first person they open up to. Sometimes boys and men seek services if they don't feel well in their private parts, and I will refer them for STI screening. Girls face issues with long menstrual periods, and I can advise on using oral contraceptives to regulate their periods," says Nester who has so far helped nearly 500 people.
"Since working as a YCBDA I've provided thousands of contraceptives to girls and women and now maternal mortality rates are low," she says.
"When a woman can get contraceptives, she's healthy. She can develop to her full potential."