Quarantine measures are cutting girls off from essential health services. This Menstrual Hygiene Day it's more important than ever for girls to speak out about their needs without shame.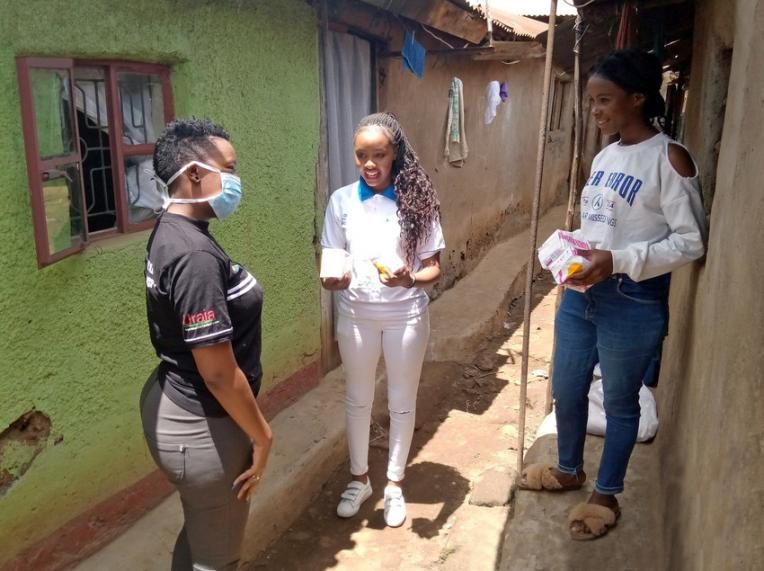 As the world grapples with an unprecedented global health emergency, a small group of girls from Kibera, the largest informal settlement in Kenya and Africa as a whole, gather around to discuss another emergency – the lack of sanitary pads.
Most of the girls rely on free sanitary pads distributed at their school but with the schools all shut to curb the spread of COVID-19, they no longer have access to them.
"I used to get sanitary towels from my school in Kibera. Now that schools are closed, I have to use pieces of cloth, which is very uncomfortable," says 16-year-old Nisera. "I feel sad as I can't do things normally, like household chores or sit down as I am afraid of soiling my clothes."
Quarantine cuts girls off from essential services
Quarantine measures imposed as a response to the COVID-19 pandemic in Kenya are putting girls and women at a disadvantage. Many have been cut off from essential sexual and reproductive health services and social networks.
"With rumours of lockdowns and families stocking up on food and supplies, I can tell you for a fact that the majority of families in my area will not consider sanitary towels. Those are normally considered a luxury. That's why we are always glad to go to school as we can get them from school," Nisera explains.

"It is imperative that quarantine measures be accompanied by support for affected households. Global lockdowns also lock down girls' autonomy, reinforcing the attitudes and practices that regard girls as second class and hold them back," says Kate Maina-Vorley, Country Director for Plan International in Kenya.
"Rigorous protection and safeguarding of all children, and of girls and women from such economic shocks must be emphasised and prioritised in all policies, information, guidance at all stages of the response," she adds.
Distributing sanitary towels with Zana Africa
For Marel, 17, her concern is for adolescent girls who have irregular periods. "A number of us go through menstruation twice a month. Imagine how difficult that can get for us? I have just one packet of eight towels left. We will be left with no choice but to use pieces of cloth."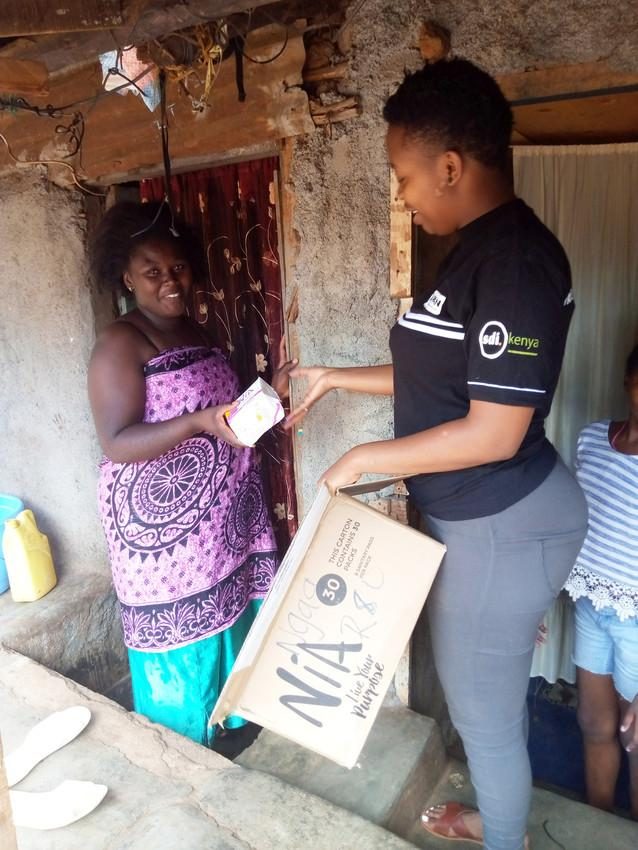 To support girls in crisis, Plan International visited the adolescent girls and young women in Kibera to distribute 2,700 sanitary towels. The distribution was conducted in partnership with Zana Africa, an organisation that we work closely with in Kenya.
Cynthia, one of the youth advocates with the Girls Advocacy Alliance who helped hand out the sanitary towels was taken aback by the reaction she received. "The adolescent girls and young women were elated by the door-to-door distribution. I was surprised though, that in some homes, even mothers of the adolescent girls were desperate for them. I felt pity and gave a number to them. I had not thought that even the older women – the age of our parents – would also be in such dire need."
"There is definitely need for more sanitary towels, not just in Kibera but in other informal settlements and even rural areas. We are a small fraction of what is happening across the country, with millions of girls having been used to accessing sanitary towels in schools." Cynthia says.

Dignity in menstrual hygiene despite the pandemic
Plan International is also looking at ways to work with bathroom owners in Kibera and other informal settlements in Nairobi to enable adolescent girls to use the shower facilities to manage their personal hygiene.
"Other than the sanitary towels, please consider access to bathrooms. It costs Ksh.10 (0.1 USD) per person to use the shower facilities. Imagine a household with seven family members or even three adolescent girls? Washing becomes a luxury because of other competing priorities like food – it could buy vegetables for the whole family, or that same money could buy water for the home for drinking and cooking.
"It's important to complement the distribution of sanitary towels with access to bathrooms," explains Marel.
Supporting girls and young women during COVID-19
We're appealing for €100 million to support vulnerable children, young people and families – including ensuring girls' and young women's unique needs are addressed and not sidelined during the emergency response.
We can't do it without your help. Please consider supporting the COVID-19 pandemic appeal.