7 JANUARY 2022
The strongest typhoon to hit the Philippines last year has left survivors in desperate need of drinking water and food.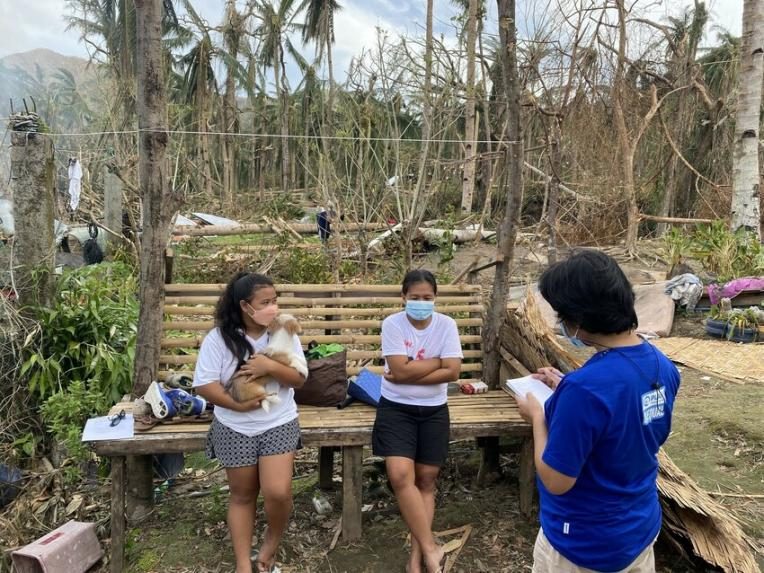 "In my entire life, this is my first time I have experienced such a strong typhoon that has totally damaged our home and other houses in the village, including our source of income – coconut farming and fishing," says Francine, 15, from Southern Leyte in the Philippines.
"Now, every time I hear heavy rain and strong winds, I feel afraid and start to cry."
Typhoon Rai, known in the Philippines as Typhoon Odette, struck the Philippines on 16 December 2021, leaving a trail of destruction in its wake. The strongest typhoon to hit the Philippines last year has left survivors in desperate need of drinking water and food.
Family fled when storm hit
The typhoon hit Francine's community in Southern Leyte at around 3pm, and lasted for three hours. Francine, together with her mother, grandmother, two sisters, and their dog, Snow, fled to a relative's house while the storm raged, tearing their house apart. Her father was on duty at the district hospital where he works as a utility worker.
"After the typhoon, when we saw our house, it was totally damaged," says Francine's mother, Lerma. "At first, we didn't know where to start since all of our belongings were damaged, our clothes were all wet and appliances that were used for our business were also damaged."
Despite all this, their family remain thankful that everyone was safe throughout the storm. "We can find a way to rebuild the house, but lives cannot be replaced," says Lerma.
The challenges faced by communities hit by Typhoon Rai
Challenges facing communities in the aftermath of Typhoon Rai include a scarcity of drinking water, food and hygiene products.
"As a teenager, I'm afraid I will not be able buy things for my personal hygiene needs, since the market is not open and because this will not be our priority in the coming days," says Francine.
To date, (on 5th January 2022), there were 2,022,751 families or 7,261,787 people affected by the typhoon across 11 regions, including at least 2,251,154 children.
Plan International's Emergency Response Team is deployed in affected areas, distributing lifesaving non-food items such as menstrual hygiene management kits, hygiene, shelter, and water kits for families in the most affected areas. Other response work includes the distribution of Multi-Purpose Cash Transfers to impacted families in the region.
Plan International Philippines is appealing for 2 million euros to cover its interventions on WASH, Child Protection in Emergencies, Gender-Based Violence in Emergencies, and Cash Voucher Programming.
Emergencies, Disaster relief, Disaster risk management, Water and sanitation