29 MAY 2018
Lucky was married at 14. Now she is empowering girls to stay in school and become financially empowered, all while busting menstruation taboos!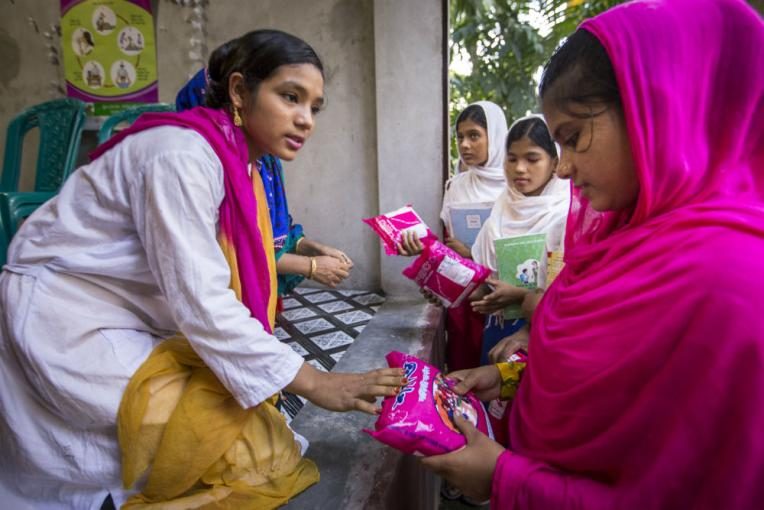 "Most women in our village are not comfortable buying sanitary pads here," says mother of 3, Lucky Begum. "The salespeople are mostly male, so women feel very embarrassed."

"On top of that, many rural women are embarrassed to dry the cloth they use during menstruation in the sun because it is such a taboo subject. This means the cloth remains damp, which often leads to infection." she adds.
Menstruation taboos
In the Barisal district of Bangladesh where Lucky, aged 40, lives, the subject of menstruation is rarely mentioned. Girls and women do not speak about menstrual hygiene and most do not have access to hygienic sanitary pads because they cost too much. Instead, they use old bits of cloth.
As a result, many girls skip school during their period because of the difficulties in managing the bleeding and the embarrassment this can cause. Most schools do not include facilities to assist girls during their period, they do not provide sanitary towels, for example, or a proper place for their disposal.
When girls skip school they miss out on lessons and achieve poor grades. With time they then drop out because they become demotivated. Then they are often forced into marriage before they reach adulthood.
Fighting back against child marriage
Lucky was a child bride who married at the age of 14 but she is determined to help change this cruel practice. She now runs SaniMart, a small shop located in a local bazaar.
As well as providing a hygienic toilet for customers to use, the SaniMart also sells sanitary pads along with washing powder, soap, toilet cleaner, brushes, toothbrushes, toothpaste and first aid items.
The SaniMart not only gives Lucky financial freedom but also inspires local girls to generating their own income, empowering them to continue their education.
Girls manage the shop in shifts, and people from the slum, especially young girls and women, visit the store to buy their sanitary supplies without the shame and embarrassment they used to feel when buying them from men.
As well as selling sanitary provisions, Lucky and her assistants make them on the premises as well. When the shop was set up, Plan International provided Lucky with the start-up materials, an auto plate machine, dryer, cotton refinery machine, sewing machine, and cotton, gauze and bandages and taught her how to use the equipment.
Entrepreneurship and empowering girls
As well as empowering women and girls economically, the SaniMart initiative has also put the decision-making power around women's health back in the hands of women.
The girls who work in the shop are encouraging other shopkeepers, pharmacies, schools and colleges to purchase their sanitary products.
Through their marketing campaign and awareness raising activities, they are now supplying sanitary pads to 138 schools, 12 pharmacies, many shops and clinics, as well as directly to individuals.
"I managed to convince 15 adolescent girls to work with me," says Lucky. "Now we produce 1,700 napkins a week, from which we make a profit of BDT 4460 (US $55). So I make a good income and we are hopeful that one day this small initiative will turn into a large business enterprise."
Getting girls back to school
Since it was introduced, the SaniMart and its sanitation and hygiene facilities have made girls more comfortable going to school during their period. Now that sanitary pads are affordable and accessible, they feel comfortable leaving the house during menstruation, they no longer skip school, and they are performing better in their studies.
They feel confident about their performance in class and are more determined to carry on with their education. As a result, there is hope that eventually the SaniMart will contribute to girl's social and economic independence and will reduce the incidence of child marriage with more girls willing to stay in school.
Sexual and reproductive health and rights, Menstruation