Struggle and resilience of people fleeing violence in Sudan
12 October 2023
People who have fled conflict in Sudan find dire humanitarian conditions in South Sudan but cling to the hope of a better future, writes Omar Sabry, Deployable Humanitarian Policy & Advocacy Specialist.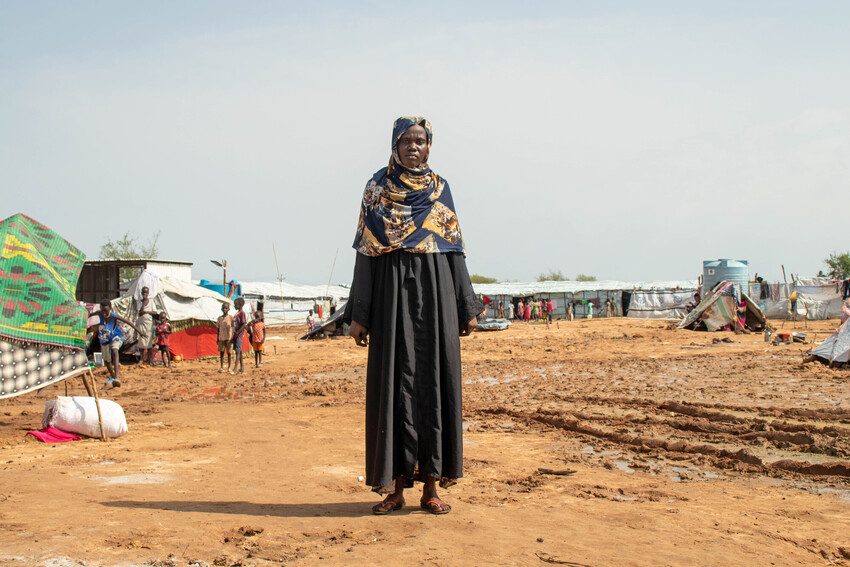 Rania entered with a solemn gaze, her eyes showing both sadness and determination. "Things happened in my life that I never would have expected. I never expected to be in a place like this for so long."
28-year-old Rania, originally from Upper Nile State in South Sudan, arrived in Renk, northeastern South Sudan with her two daughters and two adolescent siblings after fleeing the conflict in Khartoum. They came with nothing but their clothes.
Rania had left Khartoum, Sudan for South Sudan in 2011, but intercommunal violence drove her to leave again for Khartoum in 2014. "I want my voice to reach everyone," Rania told me. "I want all wars to stop. I want the next generations to stop living in conflict. I am an adult – maybe adults can deal better with conflict and violence, but my daughters cannot cope with this."
I recently came back from Renk. Over 240,000 South Sudanese returnees and Sudanese refugees have arrived at the Renk Transit Centre since April. I spoke to almost 40 girls, boys, women and men about their lives before the crisis in Sudan, living in conflict, their treacherous journeys to South Sudan, their current living conditions as well as their hopes for the future. Like Rania, many of them have been displaced by conflict and violence at least twice.
Children told me stories of hearing bullets and explosions darkening the sky from their homes in Khartoum. They told me that when the conflict started, schools immediately closed. A family of nine would all hide together under the bed in fear.
Families seek safety
Many people I spoke to said they paid exorbitant sums of money to drivers of overcrowded buses and trucks just so they could flee and seek safety. Many children spoke of seeing many dead bodies on the road. Some had to sell their phones on the way so they could complete the journey to South Sudan. One person told me an armed group confiscated their belongings, and another told me he was detained for three days.
In Renk, where some of those I spoke to have been for up to five months, the humanitarian conditions are dire. Overcrowding, flooding, communicable diseases, and a lack of adequate shelter and health services. Everyone I spoke to said they didn't have enough food; one woman told me sometimes she spends two to three days without eating. Most sleep outside on the mud, either covered only by a mosquito net or by leaky plastic or bed sheets that don't protect them from the rain. One mother told me she had three tumors that she can't afford to treat.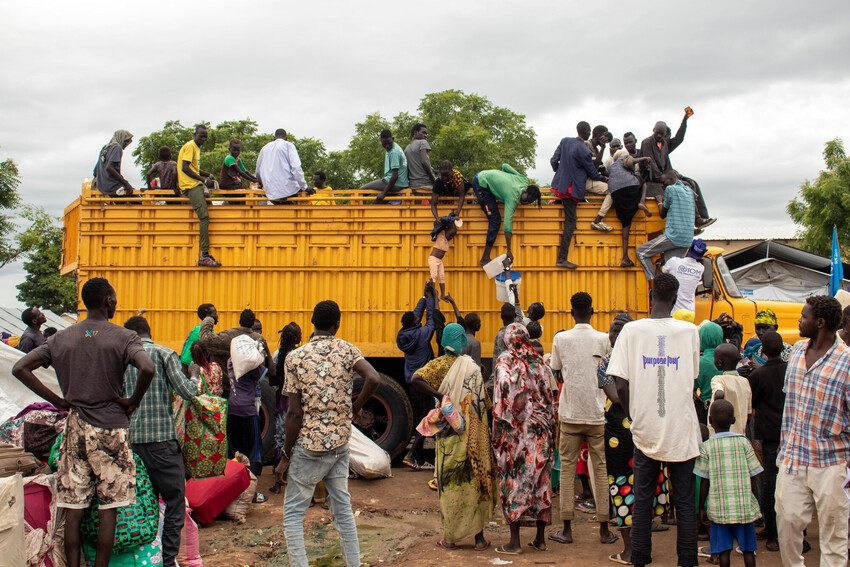 People are desperate for onward transport, but flooding, logistics challenges and funding shortfalls are causing congestion in Renk and in other transit points elsewhere in the country, notably in Malakal.
Plan International's humanitarian response in both Renk and Malakal includes child protection, shelter, education, cash programming, psychosocial support, non-food items and hygiene awareness-raising, with plans to scale up activities further in the next weeks.
Conflict exacerbates humanitarian crisis
The impacts of the Sudan crisis are exacerbating an already urgent humanitarian situation in South Sudan: extreme flooding, intercommunal violence, many and often gendered protection risks, and a fragile health system. One of the highest rates of children who are out of school, some of the most severe food insecurity, and one of the most climate-vulnerable countries in the world.
Despite everything they have been through, everyone spoke to me about their hopes and dreams. They want to study and become doctors, engineers, farmers and ministers. They want to build homes and be with their families. One young woman told me she wanted to go to Malakal, Upper Nile State to treat patients. One boy whose father is paralysed told me he wanted to be a doctor so he could treat the paralysed and build a home for orphans.
Bhan, an 18-year-old who first fled intercommunal violence in Jonglei State alone at the age of 13, told me: "My only demand is to study, because I need my life to change."
After over a decade of protracted crisis in South Sudan, the international community must, in partnership with local and national authorities:
Step up with flexible, multi-year funding to close funding gaps for emergency assistance and protection using gender and age-sensitive interventions, and onward transport for the hundreds of thousands who have fled the crisis in Sudan.
Prioritise the protection of all civilians, including through specific measures for child protection, by mitigating risks, addressing needs and promoting durable protection solutions and respecting international humanitarian law.
Ensure interventions are made in a way that bolsters the resilience of communities, builds local capacities and promotes social cohesion and inclusive peace efforts.
Bolster efforts to improve humanitarian access by ensuring the safety of aid workers, removing bureaucratic barriers and facilitating efforts to access the hardest-to-reach areas of the country due to flooding, insecurity and poor road infrastructure.