Breaking Barriers: empowering adolescent girls through SRHR
25 September 2023
Tiwonge*, 17, from Zambia, and Stephen Omollo, CEO of Plan International, discuss the critical importance of sexual and reproductive health and rights (SRHR) to achieving equality.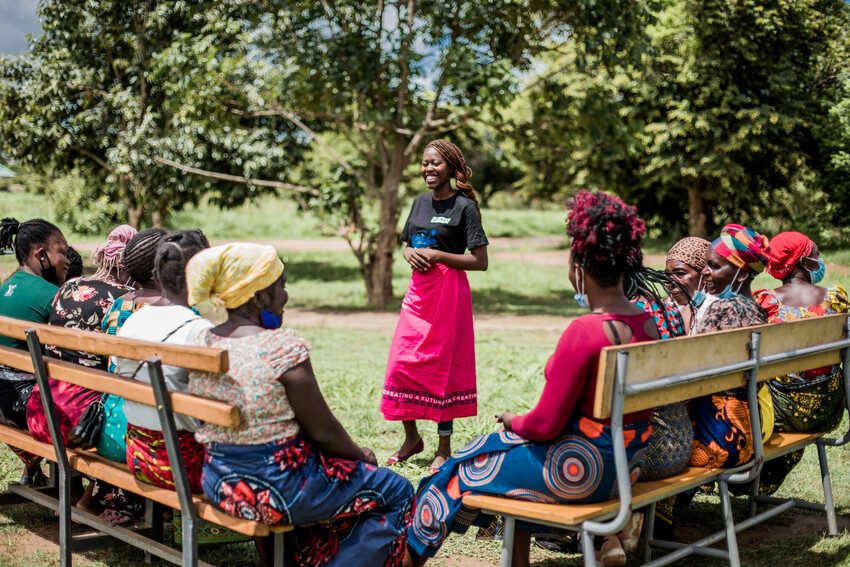 This discussion takes place as a backdrop to the Global Forum for Adolescents, which will see leaders, experts, and youth advocates come together to chart a course towards a world where every adolescent has a healthy and happy life.
Tiwonge on the urgent need for better sexual health education
Stephen, thank you for the opportunity to share my experiences and those of other young people on our sexual and reproductive health and rights.
Young people experience challenges accessing accurate and reliable sexuality education, modern contraceptives, and other health services. We are often denied the right to make our own decisions about our reproductive futures. There are many issues and barriers I have encountered as an adolescent girl growing up in Zambia that I would like to make you aware of.
Firstly, there is the issue of access to services. We often have to travel long distances to reach healthcare facilities, there is lack of transport to health carecenters, and prohibitive costs such as fees for consultations, contraceptives and sanitary products. These burdens deter us from seeking essential services and prevent us from making informed choices.
Another critical issue is the lack of comprehensive sexuality education (CSE). We often receive minimal or no information about contraception, sexually transmitted infections, and healthy relationships. We are not given the information we need to make the right decisions for our bodies. To bridge this gap, we must ensure that CSE is accessible to everyone, regardless of where we live, our income, or cultural background.  
In addition, our families and communities often find it difficult to have open conversations about sex and sexual and reproductive health and rights. This silence leads to confusion, shame, and risky behaviors. We face stigma when we do seek sexual and reproductive health services, often leading to many of us not seeking care, even when it is desperately needed. Harmful practices such as child, early and forced marriages, are also common.
An example of a harmful practices are the initiation ceremonies for adolescent girls like the one I experienced. I was taken to a matrimonial room, taught how to cook and take care of my husband, and prepared for a life without choices, all while I was still a teenager. These sorts of practices must end.
Finally, I want to emphasise that even where we overcome the barriers to accessing services, facilities in rural areas are heavily under-resourced and inadequate. There are shortages of trained healthcare professionals and essential medical supplies such as contraception and other vital medicines. This results in substandard SRHR services, which fail to meet our needs.
So, Stephen, please could you tell me how Plan International is addressing these issues?
Stephen responds with Plan International's action on SRHR 
Tiwonge, thank you very much indeed for telling me about your experiences. You not only gave a very powerful account of your own experience, but also how so many girls like you face similar challenges.
My motivation as CEO of Plan International is to support you and your peers so that you can make your own choices and lead the lives you want to lead. Today, I am reminded more than ever that SRHR is fundamental to all other rights, especially for girls and young women. Without adequate provision of SRHR and CSE, you cannot fulfil your dreams in education, work, or build healthy and fulfilling lives.  
At the core of Plan International's Global Strategy – Girls Standing Strong Creating Global Change – is our desire to create a world where all girls know and exercise their rights and live the lives they choose.  
CSE is a critical part of our work and we deliver programmes in over 30 countries both in and out of schools. We engage parents and communities to build a supportive environment for CSE.
We are also doing all we can to ensure access to inclusive age-and gender-responsive sexual and reproductive health services that meet the needs of children, adolescents and young people. We recently developed a training package for health workers to address the stigma, discrimination and coercion around adolescent sexuality that you have shared.
It is also a passion of mine to provide platforms so young people like you can advocate for change. There are over 1.8 billion adolescents and young people in the world today and you are creating an unstoppable movement to reject harmful gender norms and stereotypes.
Plan International is supporting young people to raise their voices and demand action through the 1.8 Billion Young People for Change campaign, led by the Partnership for Maternal and Child Health. We will join them at the Global Forum for Adolescents (GFA) on 11th and 12th October where young people and decision-makers from across the globe will call for immediate action to ensure the health and wellbeing of adolescents, recognising this is fundamental to achieving gender equality.
This is a critical moment for governments to step up and deliver concrete sexual and reproductive health and rights commitments, investments and action.
Young people will take centre-stage and share their experiences. They must be listened to!
* Name changed to protect identity.