Inclusion is better for everyone but children with disabilities are 6 times more likely to be out of school
2 December 2022
New data shows that shows that children with disabilities are six times less likely to be in school than children without disabilities.
A blog by Professor Hannah Kuper, co-Director of the International Centre for Evidence in Disability research group at the London School of Health and Tropical Medicine.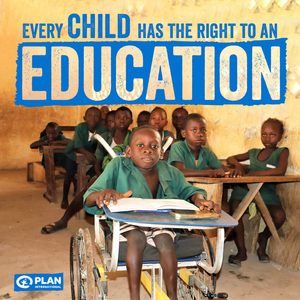 My three young children are at the age where school is everything to them. It is where they find out about Egyptian hieroglyphs and the moon landing. They form friendships and improve their social skills in the classroom and the playground. And it is where they have fun, and can join in with sports, music and art.
This opportunity to attend school and flourish is denied many of the 200-300 million children globally who have disabilities. New data from Plan International's Sponsorship database, which includes over one million children across a range of low and middle-income countries, shows that children with disabilities are six times less likely to be in school than children without disabilities. Shockingly, more than 60% of the children with disabilities who are out-of-school cite their disability as the reason for non-attendance.
These figures add to a growing body of evidence showing that children with disabilities are frequently left out of school. When they do attend they do not progress as well through their schooling as their peers without disabilities. Previous analyses from the Plan international database show that some groups fared even worse, such as children with intellectual disabilities.  Violence and bullying are also more common for children with disabilities, including perpetrated by teachers. 
Children with disabilities have the right to education
These educational gaps matter. Children with disabilities have the right to education, as set out in the UN Convention on the Rights of the Child as well as the UN Convention on the Rights of Persons with Disabilities and the laws of many countries. We will fail to reach Sustainable Development Goals on education and reduced inequalities if we continue to leave children with disabilities behind.
There are further repercussions to their exclusion from education. Children without schooling or qualification will find it hard to get a good job, increasing the chance of a lifetime of poverty. The child's parents may have to care for the child at home during school hours, reducing their livelihood opportunities and perhaps further increasing their high risk of poor mental health. Or if the child is left alone during the day then this raises risks of violence and neglect, which are already commonly experienced by many children with disabilities.
Children with disabilities are also more likely to experience poor health, which could be compounded by exclusion from school. Previous analyses from Plan International's Sponsorship database showed that children with disabilities were around 10 times more likely to report a serious illness. We also know that they experience higher levels of malnutrition and higher mortality. Many health interventions are offered to children in school, such as vaccination, and food programmes operating through schools may provide children with the most important meal of the day. Here too children with disabilities are missing out through school exclusion, reinforcing their health risks. 
Searching for solutions to education gap
The evidence generated by Plan International has helped to document this issue. Now, solutions need to be implemented to allow children with disabilities to attend school and thrive. We will need a multi-pronged intervention- such as providing teacher training on disability, funding specialist staff and resources, making schools physically accessible, and equipping kids with the assistive technologies suitable to their environment. The Plan International analyses have also highlighted the importance of evidence. More large-scale internationally-comparable data is needed to further identify the key issues.
My children's school is inclusive. There are kids there with hearing loss, learning disabilities, physical impairments and more. Of course, those children benefit from being able to have an education. My children also benefit from their presence as they learn about diversity and difference to prepare them for their adult lives. And they have a greater pool of kids to befriend. Inclusion is better for everyone.