Why supporting mothers to breastfeed matters
1 August 2022
A blog by Nicole Rodger, Policy and Advocacy Lead for Early-Childhood Development at Plan International.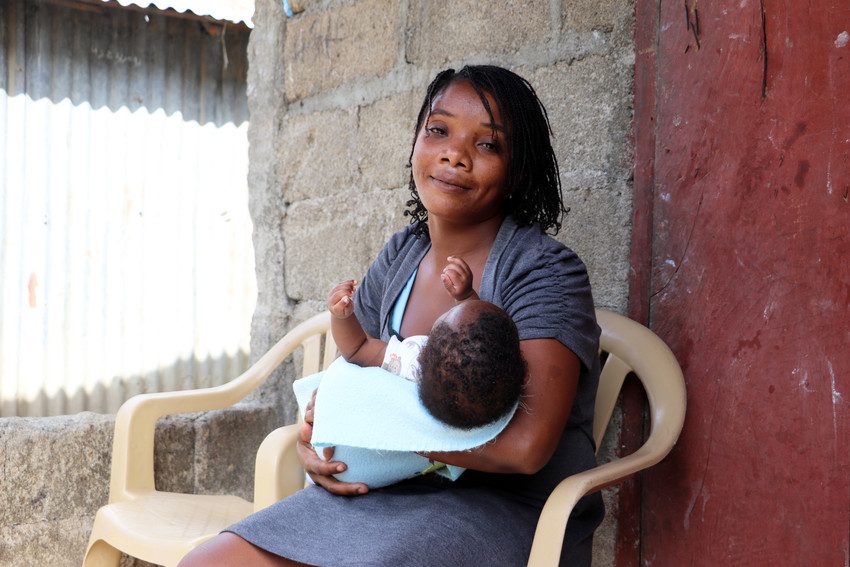 Despite its established benefits, breastfeeding is not the norm in many communities around the world. 
This week, as we celebrate World Breastfeeding Week (1 – 7 August each year), Plan International is committed to the ongoing promotion of breastfeeding in our early childhood development, parenting and maternal and child health programming around the world, in all contexts.
Low rates of breastfeeding mean that babies may not get the best start in life.
The World Health Organisation and UNICEF recommend that all babies should be exclusively breastfed for the first 6 months of life, and that breastfeeding should start within one hour of birth. Breastfeeding should also be maintained up to 2 years of age and beyond. Yet, globally, 3 in 5 babies are not breastfed in the first hour of life and only 44% of infants under 6 months are exclusively breastfed.
My own breastfeeding journey was challenging to begin with. But with the encouragement and support of maternal and child health nurses, my partner and my family, my son and I had a breastfeeding relationship that ultimately lasted more than 4 years. Breastfeeding gave my son and I the opportunity to bond and be physically close. Now at age 7, that strong physical and emotional bond remains. He still likes to fall asleep on me, just as he did when he was a breastfeeding baby.
Not all mothers have such support, and this is among the reasons breastfeeding practices can end early. 
Most women want to breastfeed, but sometimes breastfeeding just doesn't work out. 
Challenges with breastfeeding practices are due to a range of factors. This includes social and cultural attitudes and norms, insufficient promotion of breastfeeding on the part of health providers, lack of policies and facilities that support the maintenance of breastfeeding in the workplace for women returning to work, and the inappropriate marketing of breastmilk substitutes.
Breastmilk supports nutrition, brain development, immune system and healthy physical growth of babies and young children.
Breastfeeding also offers valuable protection against child malnutrition. Promotion of breastfeeding is important during food insecurity crises when babies and young children, and their mothers, are particularly vulnerable to malnutrition.
Breastfeeding is also a powerful way for mothers to bond with and comfort their babies. It is an opportunity for physical touch between mothers and babies, for mothers to learn how to respond to their babies' cues and to provide the responsive caregiving that is so important for the brain development of babies and young children.
Fathers and male caregivers are also key to successful initiation and maintenance of breastfeeding.
The support men give to their partners has been shown to improve breastfeeding rates, and so men too must be included in breastfeeding education and counselling. One way for men to be involved is to ensure that women have the time and energy to breastfeed, for example by doing domestic chores and caring for other children.
Plan International's programming and influencing approach around the world includes promotion of, and support, for breastfeeding because of its importance for the health and development of babies and young children.
Our work includes parenting programs, training of health workers, and engagement with government for improved guidance and policies that support breastfeeding, promoting infant and young child feeding, good hygiene practices and appropriate care and feeding during illness. We promote the importance of responsive caregiving, play and protection for all babies and young children.
We also support maternal health and wellbeing, including maternal mental health, and recognise the valuable role that breastfeeding plays in development of the relationship between mother and baby.
In food insecurity crises, we also recognise the importance of breastfeeding support groups
These help to address myths and misconceptions about breastfeeding and provide a safe environment for women to come together to learn and support each other to promote exclusive and continued breastfeeding.
These support groups are of particular importance for women experiencing breastfeeding difficulties or reporting milk insufficiency, mothers of lowbirth-weight babies or infants who are severely malnourished, first-time mothers and adolescent mothers, and mothers who are traumatised or depressed.
So, during World Breastfeeding Week 2022, it is important to redouble our efforts to promote breastfeeding, so that millions more girls and boys around the world can get the best possible start in life.