COVID-19's impact on access to and quality of education for children and young people all around the world grows daily. Girls, young women and the most marginalised will be the worst affected. We must not let them fall behind.
A blog by Kevin Nasciementio, Inclusive Education Advisor at Plan International USA.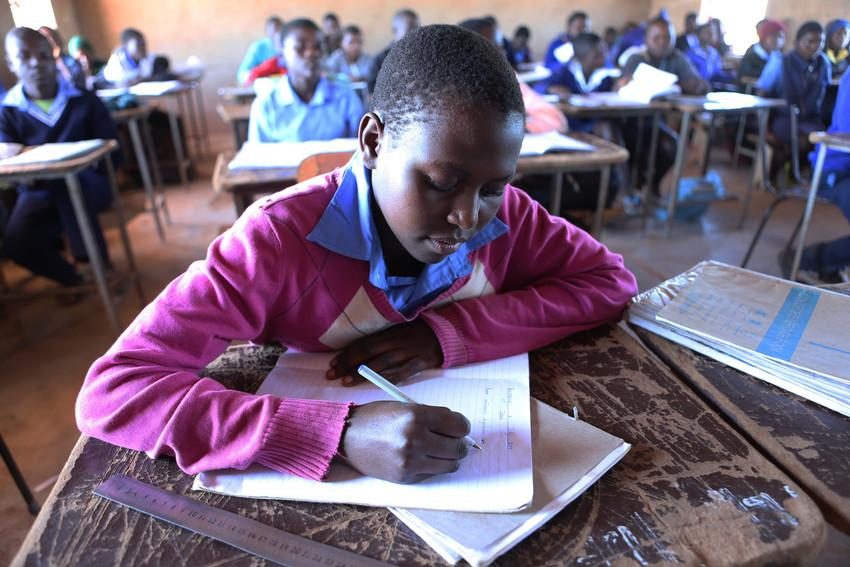 COVID-19's impact on access to and quality of education for children and young people all around the world grows daily. 191 countries introduced contextualised nationwide or localised early childhood care, school, and university closures during the pandemic affecting nearly 94% of the world's student population .
This leaves more than 1 billion children and young people at risk of falling behind.
COVID-19 learning losses simply exacerbate an existing learning crisis. Prior to the pandemic, UNESCO reported that 258 million children were out of school while 175 million pre-primary children were not enrolled in school at all. This is to say nothing of the widespread learning poverty faced by those lucky enough to be in school – approximately 750 million children between ages 5-16 lack age-appropriate literacy skills. In other words, it is approximated that over half of 10-year-old children in low- and lower-middle income countries are unable to read or understand a basic story.
Worryingly, UNESCO estimates that about "24 million students (from pre-primary to tertiary education) will be at risk of not returning to schools in 2020, including care centres, schools, universities or other training institutions". 11.2 million of these are girls and young women .
WHY PRIORITISE EDUCATION AMID A MULTIDIMENSIONAL CRISIS?
The long-standing learning crisis prior to COVID-19 will remain long after the pandemic subsides. However, universal access to a quality education and learning, especially during a pandemic, is enshrined as a human right by the United Nations Universal Declaration of Human Rights, a child right in the Convention of the Rights of the Child, and as one of the 17 Sustainable Development Goals (SDG 4 – Quality Education).
More practically, education is both lifesaving and life-sustaining. In the midst of a pandemic full of instability, schools remain a place of opportunities, a refuge for recuperating, and can provide a return to normalcy. Education can play a key role in protecting children and young people from exploitation and abuse, as well as helping to break down the cycle of intergenerational poverty. Girls are particularly vulnerable in the face of school closures, with rates of adolescent pregnancy and early and forced marriage expected to increase, alongside reported increases in increases of domestic and gender-based violence since the start of the pandemic.
WHAT IS PLAN INTERNATIONAL DOING TO MAKE SURE CHILDREN HAVE ACCESS TO EDUCATION DURING COVID-19?
Plan International recognises that COVID-19 is unravelling decades of progress for girls' equality – particularly as it relates to access to quality and inclusive education. In over 75 countries, Plan International has responded to the pandemic's impact on education in emergencies in three parts: preparedness, initial response and mitigation, and recovery – covering formal and non-formal education from early learning to secondary education. As schools resume operation our focus is on ensuring the continuity of quality education in a safe, protective environment – whether in schools or remotely. Additionally, we are taking this opportunity to ensure that as schools re-open, we are "building back equal."
Returning to normal isn't an option – we must advocate for the rights of all children and young people to access education, particularly the most marginalised and those already out of school, including girls and children with disabilities. Plan Finland, in partnership with Plan Zimbabwe, are dedicating a significant number of resources towards a multi-pronged education in emergencies response.
To ensure a safe return to school, we are currently developing inclusive, gender- and age-appropriate information, education, and communication materials on COVID-19 prevention and referral to cater for all students within 14 schools. Additionally, we will disseminate radio messages on COVID-19 awareness, comprehensive sexuality education (CSE), and the importance of continued learning. We will also conduct back to school campaigns, adapted for COVID-19 physical distancing measures, to garner community support for continued education and mitigate the exclusion of vulnerable learners, including children with disabilities and adolescent girls. Finally, through established mechanisms in Zimbabwe, we are providing educational fees to keep identified at-risk children in school.
Plan International recognises the overwhelming need to advocate for a child's right to education and a protective learning environment in the midst of this pandemic. Education is often the first service suspended and the last one to be restored during humanitarian crises. This approach is short-sighted and puts at stake the future of each child, particularly girls, impacted by the disaster. Our education in emergencies programming reaches beyond classroom education and aims to address the many needs of a growing child so that whatever the future looks like, they may thrive.