24 AUGUST 2021
Working with fathers and male caregivers to promote men's engagement in childcare and the household is a vital part of Plan International's gender-transformative approach, blogs Nicole Rodger.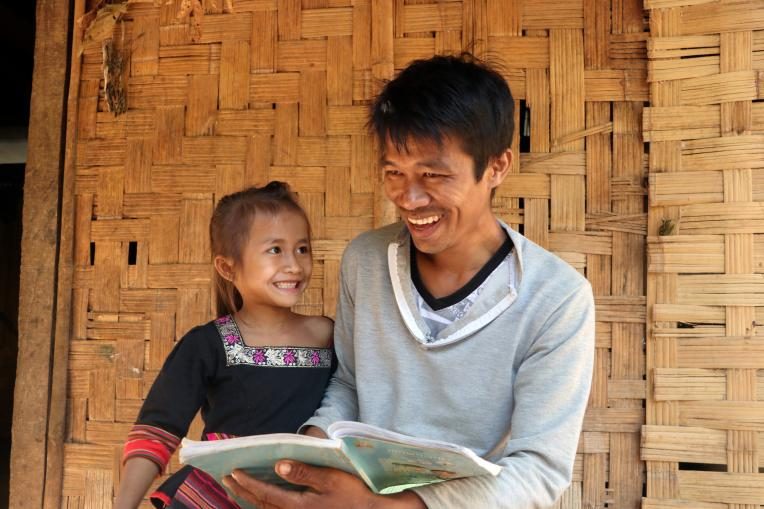 Plan International has a commitment to gender-transformative Early Childhood Development (ECD). We recognise the opportunities that ECD brings to promote the rights of young girls and boys and advance gender equality. As part of this approach, working with fathers and male caregivers, to promote men's engagement in childcare and the household is vital.
Plan International's global prioritisation of ECD recognises that early childhood, the period below the age of 8 years, is the most important phase of development in a person's life.
To be able to survive and thrive, young girls and boys need nurturing care.* They need adequate nutrition, good health, safety and security, opportunities for early learning and responsive caregiving.
They need to grow up free from discriminatory gender norms and stereotypes that limit their potential and can mean they are cared for and treated differently. They need responsive caregiving from both female and male parents and caregivers in non-violent households where relationships are respectful and equal.
Men's engagement can help tackle discriminatory gender norms
Yet in many countries around the world in which Plan International works, women are primarily responsible for childcare, have limited decision making power and autonomy and poor maternal health and wellbeing. This means ECD is important not only for children's health and happiness, but as an entry point to help transform discriminatory gender norms, roles and relationships in support of the rights and wellbeing of mothers and other female primary caregivers.
Working alongside our global partner Promundo, we are committed to supporting men to provide the nurturing care that their young girls and boys need to reach their full potential.
We work with men to strengthen positive relationships within the family, including non-violent communication and shared decision making.
We promote that maternal and child health services and preschools are welcoming and inclusive of men. We work with communities and leaders to promote men's caregiving roles and different ways of being a man that enable men to explore their behaviours, beliefs and biases around masculinity, power and gender.
Men's engagement in early childhood has multiple benefits
We do this because we know that men's engagement in early childhood has multiple benefits. It matters because of the positive impacts of caring, non-violent male involvement on the health, development, educational achievement and relationships of girls and boys across their life.
It matters because mothers who feel supported by their children's fathers experience less parenting stress, parent more positively and have higher life satisfaction.
It matters because of the improved father-child relationship, sense of wellbeing and emotional connection with others that it brings to men themselves, who are therefore more likely to adopt health-promoting behaviours, reduce physical punishment of children and learn new ways of interacting at the household level.
Our gender-transformative approach
We do all of our men's engagement in ECD work using a gender transformative approach.  By improving men's relations and behaviours with their children and partners, supporting change in the distribution of resources and allocation of duties between men and women and addressing power relations, it is possible to create long term positive change in families and communities. 
It is also possible to mobilise men to become allies with women and girls in promoting gender equality.
For more information on how to promote men's engagement in nurturing care for early childhood development, and why it is important, see Plan International and Promundo's Programming Package.
To find out about training opportunities to support men's engagement in ECD, please contact the ECD team at Plan International.