15 AUGUST 2021
A personal reflection from Dr Unni Krishnan, Plan International's Global Humanitarian Director following the earthquake that hit Haiti.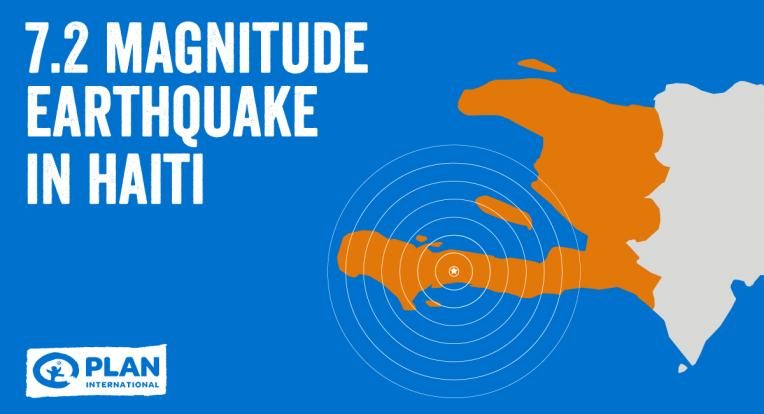 Twisted steel and debris are all that remain where once stood homes. The 7.2 earthquake that hit southwest Haiti on Saturday, 14th August, resulted in over 300 deaths, many injuries, widespread destruction and the fear of aftershocks has heightened anxiety particularly among children. Lives will never be the same again.
Disasters reconfigure landscapes and lives
This earthquake multiplies the saga of suffering for poor communities who have already been living through political uncertainty, a pandemic that has brought health services to their knees and a massive hunger crisis.
During a Plan International emergency coordination call within hours of the earthquake, my Haitian colleagues warned me of a deadly storm that is expected to make landfall on this Caribbean Island nation, the poorest in the western hemisphere. It is just the beginning of another deadly storm season in Haiti.
Collaboration is critical
We have already watched and heard about the heroic act of local volunteers and community organisations who are always the first responders. They are often the first on the scene to pull out survivors trapped in debris with their bare hands. Our work is often with such homegrown heroes, local stars.
All needs are not visible
Life-saving medical assistance and vital relief supplies such as clean water and food make a difference of life and death in crisis settings. However, not all needs of survivors are visible.
Imagine people cut off in far flung villages, children who have lost their parents, girls who are separated from their families and friends, children with disabilities and children who are traumatised, they all need special attention. Improving the participation of adolescent girls in decision-making often has the power to change the story of relief assistance.
Everyone gets affected but children and girls are more impacted and vulnerable than others. Children, specifically girls, are a priority for Plan International as they are more vulnerable in the aftermath of an earthquake as the emergency context amplifies their pre-existing vulnerabilities and makes them an easy target for abuse, trafficking and violence.
Compassion and solidarity
Humanitarian assistance is an act of compassion and solidarity. Relief efforts must recognise survivors as dignified fellow human beings and adhere to evidence-based humanitarian standards. Protecting children, tackling gender-based violence in all its forms and improving the security for adolescent girls are critical.
I have visited Haiti on numerous occasions for over the past 15 years during natural disasters such as earthquakes, hurricanes and mudslides, cholera outbreaks and political unrest. During such trips my Haitian colleagues, some of the most resilient I have ever come across, reminded me about the importance of investing in communities to strengthen their resilience and local teams to improve their readiness. This is the key formula to breaking the cycle of vulnerabilities and disasters. Such work should continue even after camera crews leave.
Everyone can make a difference
Compassion and collaboration are the twin engines to advance humanity in crisis settings. In a globalised world, everyone can make a difference by sharing messages of solidarity on social media, giving donations and campaigning for a focus on girls and children.
Disasters and monster earthquakes leave lasting footprints. In a crisis like the earthquake in Haiti, there are thousands of things to do but children need our support the most and are a great place to start.