Urgent assistance needed in Haiti to save lives
3 May 2023
Conditions in Haiti are deteriorating rapidly amid widespread hunger, gang violence, school closures and an ongoing cholera epidemic – with children, especially girls, particularly at risk.
Testimonies gathered by Plan International in Haiti's South East department paint a bleak picture of the human cost of Haiti's political crisis – which has fueled a sharp rise in living costs among already impoverished families.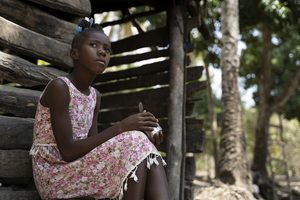 Gang violence has been disrupting supply chains across the country, limiting access to food and making it difficult for communities to reach schools and hospitals.
For 12-year old Chedeline, studying has become almost impossible. "When I'm hungry, I can't study," she says. "I haven't eaten anything this morning – for the rest of the day I hope to eat some rice."
Ongoing gang violence has now spread outside Port-au-Prince into regional areas, making it harder for families like Chedeline's to be able to afford or even access adequate food.
Half the country facing acute hunger
The World Food Programme (WFP) has warned that about five million people in Haiti – almost half the population – are facing acute hunger right now.
For 13-year-old Belladine, who lives with her father Jean in Haiti's South East department, the fear of gang violence is a constant reality. "The gangs prevent my family and other families in the neighborhood from eating well. I feel stomach pain, but then I look for something to occupy my mind, like studying, to forget about hunger," she says.
Belladine says she tries to eat two meals a day but there are days when she doesn't eat anything at all.
"Haiti is facing a humanitarian crisis like never before. The dangers facing children right now, especially girls, are unimaginable – and they're getting worse each day," says Daphne de Bordes, Acting Country Director of Plan International Haiti.
"Humanitarian needs are now higher than at any point since the 2010 earthquake. We are particularly concerned about the devastating impact of food shortages, because hunger has devastating consequences for children and adolescents. A lack of access to nutritious food creates a risk of stunting in young children, which has an impact on their growth and brain development and limits their capacity to learn."
Increase of funds needed urgently
Plan International is calling on the international community to urgently increase funding to match the worsening humanitarian crisis unfolding in Haiti, where nearly 90% of the population is living below the poverty line and a third are in extreme poverty.
The UN's Haiti Humanitarian Response Plan (HRP) requires $720 million by 2023, double the amount required in 2022 due to the worsening humanitarian crisis.
"Our response in Haiti has focused on providing life-saving assistance to children and adolescents, recognising and addressing that children, especially girls, are particularly vulnerable when violence is so widespread," de Bordes continues.
"Despite the huge challenges, Plan International Haiti's staff are reaching children with critical humanitarian assistance each day. But we need more support to scale up this life-saving work.
"The humanitarian situation in Haiti is deteriorating rapidly, and a scaled-up humanitarian response is urgently needed in the country. Haiti cannot wait another day."