The global campaign to transform girls' lives through education, Because I am a Girl, ran from 2012 to 2018. Together with girls and our supporters we were able to raise hundreds of millions of euros, change laws in numerous countries and, most importantly, support millions of girls to get an education.
Check out the timeline below to see some of the highlights from Because I am a Girl.
2003 – Establishing a girls' rights focus
In 1997, former Plan International Germany Director Marianne Raven was in Nepal discussing the challenges faced by a rural community.
She saw a girl called Sharmila who didn't have enough clothes on to keep her warm.
When Marianne asked her mother why she wasn't being cared for, the mother replied, "Because she is a girl," and the idea for a campaign, focusing on girls, was born.
In 2003, Plan International Germany was the first office to start a campaign dedicated to girls.
This marked the start of a growing focus from Plan International on the needs and rights of girls that resulted in Because I am a Girl transforming girls' lives in over 70 countries.
2007 – TRACKING THE STATE OF THE WORLD'S GIRLS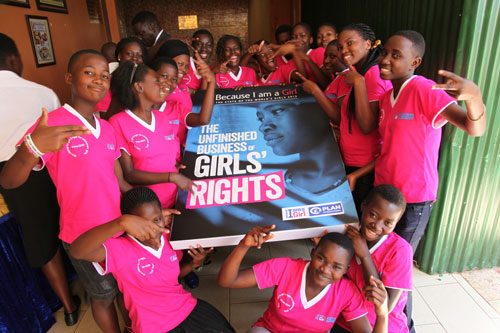 Between 2007 and 2015, we released a series of annual reports focusing on girls and young women in the world.
The State of the World's Girls reports brought together leading thinkers, activists and policy makers to provide a wealth of data and the experiences of marginalised girls from around the world on the major issues facings them.
The reports highlighted the double jeopardy girls face for being young and female and the concerted effort needed for real progress.
2002 – Securing an International day for girls
While there has long been an International Women's Day and an International Day of the Child, neither recognise the unique position of girls who are discriminated against simply for being young and female.
Plan International campaigned alongside girls for an international day that celebrates their power and highlights the issues they face.
With support from the Canadian government, we took our call to the UN who adopted 11 October as International Day of the Girl in 2011.
It is now celebrated globally with girls, their allies, governments, charities, corporations and the media increasingly focussing on the power of girls on the day each year.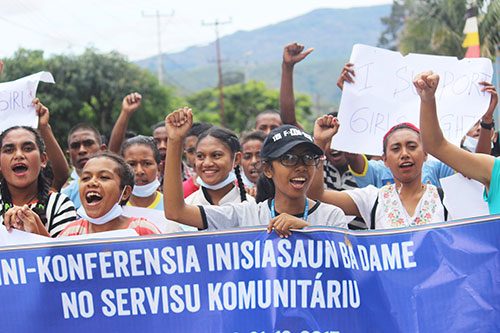 2012 – BECAUSE I AM A GIRL LAUNCHES
The Because I am a Girl campaign launched on the first ever International Day of the Girl in 2012. The targets of the campaign were to:
Directly reach 4 million girls through programmes
Indirectly reach 40 million children through programmes
Reach 400 million children through policy changes
Raise €500 million
Watch our award-winning stop-motion film I'll take it from here which explains the importance of girls' education.
2011 – Landmarks turn pink for girls' education
Every year on International Day of the Girl, famous buildings and landmarks were lit up in pink to raise public awareness of the importance of girls' education.
Among the sights that were turned pink over the years were the Empire State Building, the London Eye, Niagara Falls, Pyramids in Egypt and Real Madrid's Bernabeu stadium.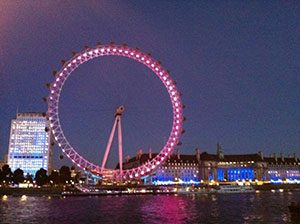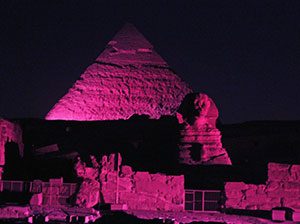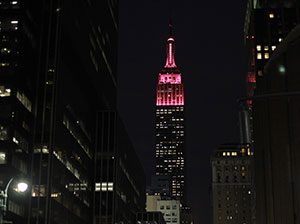 2013 – UN taken over by youth for the first time
In July 2013, Plan International supported 15 youth activists to join the first ever youth takeover of the UN.
They were part of a delegation of more than 600 young people led by Malala Yousafzai.
At the event, on the day of her 16th birthday, Malala made her famous speech calling for the urgent prioritisation of education around the world.
"One child, one teacher, one book and one pen can change the world. Education is the only solution," she said.
2014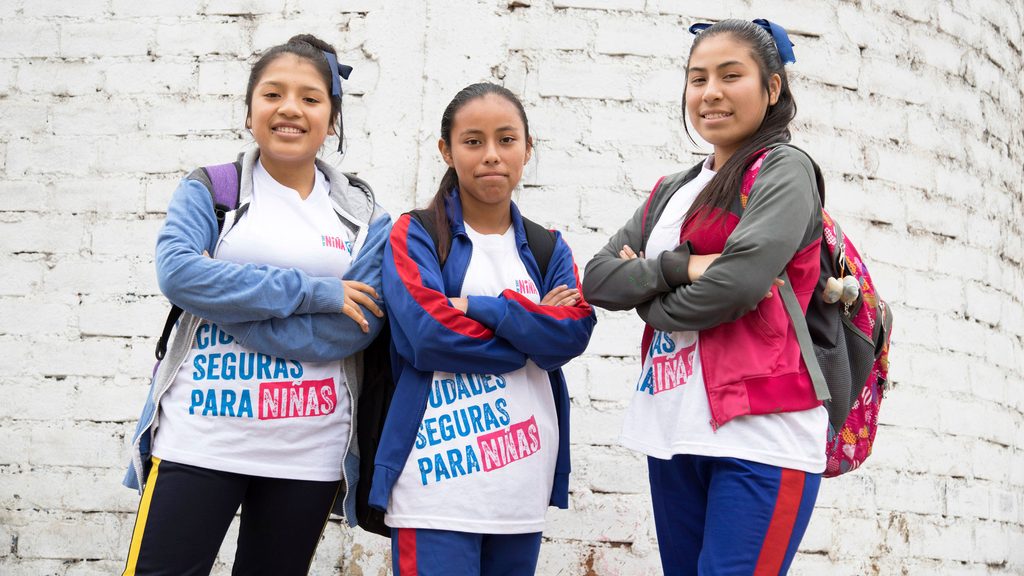 Smashing the barriers keeping girls out of school
As part of Because I am a Girl, programmes ran across the world to tear down the barriers preventing girls from getting an education.
We have been working directly to end child marriage and other forms of violence against girls, and to change communities' perceptions about what girls are capable of.
A number of our programmes have proved to be such a success that they have grown and are still improving girls' lives, such as our Safer Cities and Champions of Change initiatives.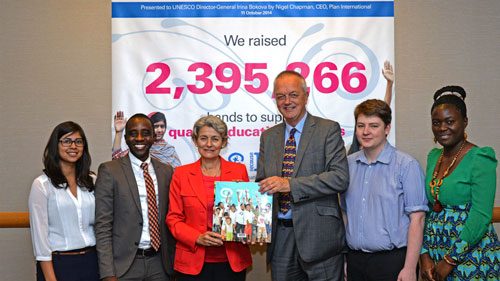 Raise your hand
In 2012, Plan International launched the Raise Your Hand petition to put pressure on the UN to prioritise girls' education in the Global Goals.
In 2014, the petition was handed over to the UN with over 2.3 million people globally having raised their hands for girls' education.
Among those who supported the petition were youth campaigner Malala Yousafzai, actress Freida Pinto and UN Special Envoy for Education Gordon Brown.
Norwegian child bride blog goes global
In 2014, Plan International Norway created a fictional blog about 12-year-old Thea who was due to marry 37-year-old Geir.
The story soon went viral with celebrities such as actor Ashton Kutcher and global media outlets sharing the story.
The campaign highlighted how child marriage stands in the way of millions of girls being able to go to school and follow their ambitions.
2015 – Campaign smashes targets
Just 2 years into the campaign, Because I am a Girl had become a powerful force for change. In that period, it had:
Directly impacted the lives of over 3 million girls, over 75% of the initial target
Raised over €436 million, over 87% of the initial target
Contributed to changing laws or policies in 17 countries
2015 – influencing the international development agenda for girls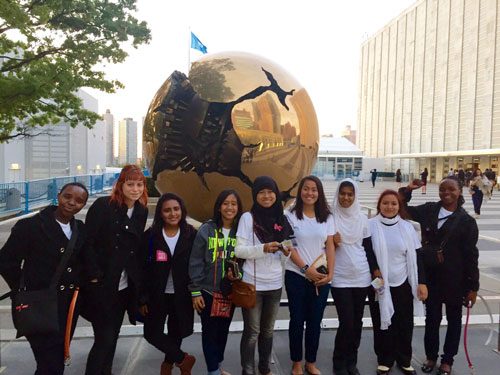 Our work to influence the Global Goals began in 2011. We wanted to make sure the issues faced by the girls were properly addressed, including their right to an education.
When the goals were signed in 2015, we supported 15 girls to go to the United Nations and call on leaders to hold to their promise to ensure quality education for all children.
The Global Goals, which include a target of achieving gender equality by 2030, now frame all of Plan International's work. We are working with partners to influence governments to localise the Global Goals and meet the needs and rights of girls.
2015 – Girls take over the world
International Day of the Girl 2016 saw the first global #GirlsTakeover. Girls stepped into the shoes of leaders in more than 50 countries to call on their governments to remove the barriers that deny millions their rights and stop girls going to school.
The President of Nepal was taken over along with the Vice President of Paraguay as well as Mayors in Madrid and Dublin, and the heads of media outlets and major corporations across the world.
2016 – making cities safe for girls
Girls' inability to move around cities safely is a huge barrier that stops them going to school.
That's why, in 2016, Plan International UK delivered a petition signed by people from over 90 countries to the UN calling on governments to improve the safety of cities for girls.
After the petition was handed over, UN member states signed the New Urban Agenda which commits them to guaranteeing girls' safety, access to public spaces and their ability to move freely in cities.
2017 – influencing laws to end child marriage
Child marriage is a huge barrier that prevents girls from getting an education.
Throughout the Because I am a Girl campaign, we have been working to end child marriage and as a result of our influencing work with partners, the first ever resolutions on child marriage were adopted by the United Nations Human Rights Council and the General Assembly in 2013.
Later in the campaign our work helped to raise the legal age of marriage for girls to 18 in Zimbabwe, Malawi, Honduras, Guatemala and El Salvador.
2018 – World leaders commit to fund education
In February 2018, $2.3 billion was pledged by donor governments to fund education in low-income countries between 2018 and 2020. This was an increase on the $1.3 billion pledged for the previous 3 years. In addition, developing countries increased their collective budget for education from $80 billion to $110 billion.
This pledge took place following our #WeAreTheNext campaign in which girls called on their governments to increase education funding.
The increased funding will support millions of girls to go to school and transform their futures.
2018 – Girls Get Equal launches
Plan International's new global campaign is Girls Get Equal. This youth-led social change campaign is about ensuring every girl and young woman has power over her life and the world around her.
Instead of focussing on a single issue, such as girls' education, we are aiming to change the way girls are valued in society so they no longer have to face injustice and oppression.
Girls Get Equal is about girls not holding back and conforming to what stereotypes dictate. It's about power, leadership and youth-led action to advance girls' rights and gender equality. And we're raising our voices to amplify theirs.