15 JANUARY 2018
Érika is the brightest girl in her school. She's even waiting to hear whether she's been offered a scholarship to study abroad. More than anyone, Érika knows that for girls to fulfil their dreams, governments must support and fund access to quality education.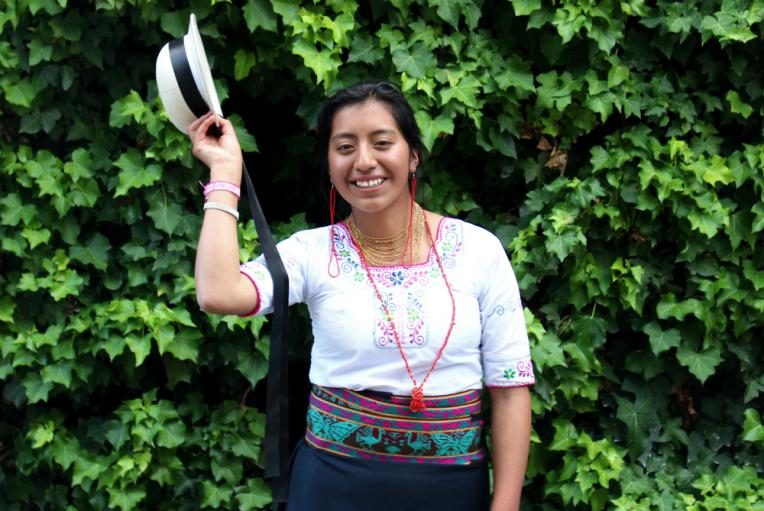 If Érika doesn't have 50 cents, she can't ride on the back of the pickup truck that drives to her school. When her pockets are empty, she has to run downhill for an hour, with a school bag full of books on her back.
Érika says she doesn't get tired because it has made her a great athlete and she only slows down on the harder days, when she has not been able to eat well either.
Despite her situation, the 17 year old indigenous girl is the brightest student in her entire school. She says that often she stays up late to do her homework and is only able to sleep for an hour before getting up at 5 am to help her mother make breakfast for the family or take the animals out.
"I had to stay up so late doing homework because they gave us so much and since I do not have a computer I have to do all the essays, which are more than 10 pages, by hand," she says.
Quest for success despite poverty
Érika is elated, even when recounting all the difficulties she has faced in her quest for success, because she was recently invited to apply to a grants scholarships for bright students to study abroad, in countries such as the United States and the United Kingdom.
These 2 countries are very far from her home of Chimborazo, an Ecuadorian province where the population is mostly indigenous and 66.5% of its inhabitants live in poverty.
"My father, who has 4 daughters, is always asked why he invests money in our education. He is told that we should be married and be good wives," says Érika, who dreams of becoming a cardiologist or a neurosurgeon.
According to Érika, as a poor indigenous girl, everyone in her community assumed that the best way out for her was marriage.
"Fortunately, my parents have always believed that with an education, we will go further, and we will be able to escape this poverty in which we live."
Funding education transforms lives
Érika's potential has been noted before. After verifying her excellent academic record, Plan International granted her one of nearly 3,000 scholarships that go to children and adolescents all over Ecuador. This allowed her family to buy school supplies, a uniform, and pay for her transportation to school.
Two years ago, Érika's dedication to her studies and her country, led her to become a member of the Youth Advisory Council of Plan International Ecuador, something that for Érika is, in her words:
"A real honour because it allows me to give back to the organisation a little bit of what it has given me. And with my experience of the realities faced by the children and adolescents of Ecuador, I can do my bit to change their lives."
Girls can change the world
Érika says the commitment she has to her community is so strong that she will always be there to help.
"You have to think about others and not just yourself. With a united group, you can find more solutions," she says with conviction.
She's still waiting to hear the results of the scholarships she has applied for both nationally and internationally, but Érika is smiling and hopeful. She has fought hard to open the doors to a better future.
"Being a girl, poor and indigenous should not be an obstacle to achieving your dreams. I have to do this!"
Education, child marriage, Financial literacy