2021 has been another year spent tackling COVID-19 and learning to adapt to the stress and change it has brought into all our lives.
Another year of our teams across the globe working tirelessly for children's rights. And of empowered young people speaking up and getting their voices heard!
We're thankful for you – our supporters – who have endorsed and amplified our work all year long. Your continued support shows us we're moving in the right direction and ensures these important messages about children's rights and gender equality reach even further.
Here are some of our most liked and shared moments from 2021:

JANUARY 2021 – GIRLS GET EQUAL LISTENING SESSIONS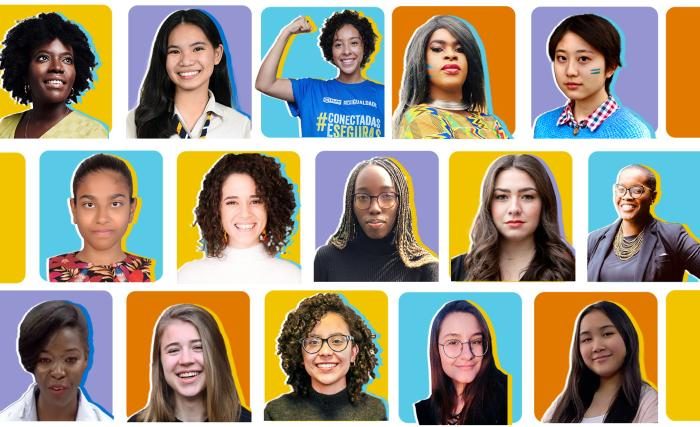 Your support helped girl activists' open letter receive 66,000 signatures.
The success of the #FreeToBeOnline campaign led to 15 change-makers, activists and advocates being invited to share their insights with Facebook, Instagram and WhatsApp in a series of Listening Sessions. The group called for greater action from social media companies to make girls safer online.
The platforms will continue to add languages to their content moderation, with girls invited to suggest new languages, to better reflect the diversity of cultures and contexts in which girls and young women face abuse.
A commitment was also made to continue hiring highly-qualified staff from underrepresented groups, including young women, to provide strategic input on products, policies, programs, and practices.
We're keeping in touch with the social media companies to ensure these commitments are turned into action and real impact.

FEBRUARY 2021 – COVID-19 VACCINE EQUALITY
In February you got behind our call for global vaccine equality as we urged the international community to recognise access to safe and effective vaccines as a fundamental human right.
Equal access to safe and effective #COVID19 vaccines must be seen as a fundamental human right 👊 pic.twitter.com/UjBy45YymK

— Plan International (@PlanGlobal) February 17, 2021
MARCH 2021 – INTERNATIONAL WOMEN'S DAY – RAISE GIRLS' VOICES
After the success of their open letter, in March you enjoyed hearing from the girls involved in the Girls Get Equal Listening Sessions. In this video we heard their take on the commitments made by the social media giants:
APRIL 2021 – HOW THE HUNGER CRISIS AFFECTS GIRLS' LIVES
Girls in crisis are some of the most marginalised people in the world. Their voices need to be heard now, more than ever.
In April you were interested to learn how the ongoing hunger crisis is affecting girls in South Sudan, in their own words.
MAY 2021 – MENSTRUAL HYGIENE DAY
In May we set about dispelling harmful and often sexist myths about periods from across the globe.
You were shocked at some of the stigma around periods that still exists!
JUNE – MAKING OUR ANTI-RACIST STANCE KNOWN
This year we have spoken out about racism and worked towards becoming an anti-racist organisation.
Your overwhelmingly positive support of this message shows that our supporters, too, stand in solidarity with those campaigning against racist violence, discrimination and racial injustice everywhere.
On this day, and every day, we stand in solidarity with those who are campaigning against racist violence, discrimination and racial injustice everywhere ✊🏿 ✊🏾 ✊🏽 #BlackLivesMatter. pic.twitter.com/scsMWeCh93

— Plan International (@PlanGlobal) May 25, 2021
JULY – #EDUCATIONSHIFTSPOWER
As part of our #EducationShiftsPower campaign we collaborated with activists from Transform Education, a youth group supported by UNGEI, on a virtual poem ahead of the Global Platform for Education. The poem demands funding for gender-transformative, climate-aware education for girls and marginalised young people across the world.
These impassioned young activists were a huge hit both on social media, and at the conference where the poem was played to power-holders:
AUGUST – PUSHING FOR AN END TO GENDER-BASED VIOLENCE
In August we spoke out about gender-based violence in support of activists who have been campaigning to end violence against women and girls for years.
As we'd expect from our supporters, you were fully behind this message:
SEPTEMBER – #ENDCHILDMARRIAGE
In September you supported our call to end child, early and forced marriage, in the knowledge that 12 million girls marry before the age of 18 each year – almost one every 2 seconds.
As ever, we demand that girls and young people are involved in the processes that seek to end child marriage, and seek to empower them to claim their rights.

OCTOBER – INTERNATIONAL DAY OF THE GIRL AND COP26
In October you supported girls' petition to governments to provide digital literacy education to young people to combat the spread of false information online. You also downloaded our flagship 'State Of The World Girls' Report, The Truth Gap, where 26,000 girls and young women from across the world spoke out about the impact that false information online has had on their lives.
With your support, this campaign led to commitments to take action from governments in Zambia, Philippines, Peru and more:
THANK YOU to everyone who's signed the girls' petition calling on governments to educate children in digital literacy. We've had over 33,000 signatures in 153 countries already! #FreeToBeOnline #GirlsGetEqual. Here's what you've helped achieve so far…. (1/6) pic.twitter.com/ETcKdUey8l

— Plan International (@PlanGlobal) October 18, 2021
Later that month, at the COP26 climate conference, you supported young peoples' call to world leaders that gender-transformative education be recognised as crucial in the pursuit of climate justice – the growing issue of our times:
Gender-transformative education is crucial in driving climate justice. Youth activists are calling on leaders to step up and ensure education is prioritised at #COP26 #ClimateEducation #EducationShiftsPower pic.twitter.com/Vl1qdEBhbl

— Plan International (@PlanGlobal) October 27, 2021
With your help, we'll keep fighting for children and girls' rights!
Here's to an equally driven and impactful year of pushing for children's rights in 2022 – with greater vaccine equality, gender equality, and even more youth voices heard and amplified in places of power.