1 JULY 2021
Facebook has invited girl activists to share ideas for creative campaigns raising awareness of how to report abuse, as part of ongoing efforts to tackle online gender-based violence.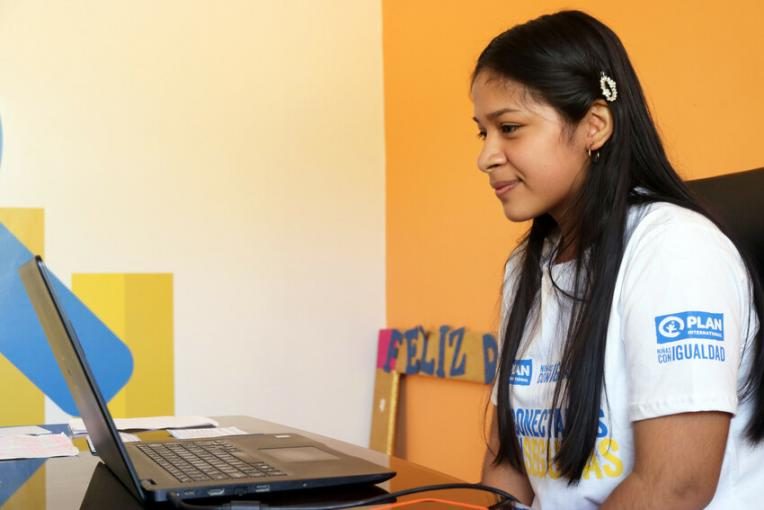 It comes after the social media company, which also owns the Instagram and WhatsApp platforms, completed a series of Listening Sessions with 15 girls and young women from around the world, following the launch of girls' rights NGO Plan International's #FreeToBeOnline campaign.

More than half of girls have been harassed online
Last year, a landmark survey by Plan International of 14,000 girls aged 15-25 in 22 countries found that more than half have been harassed online, and that one in five have left or significantly reduced their use of a platform because of it.
The platforms will also continue to add more languages to their content moderation, with girls invited to suggest new languages, to better reflect the diversity of cultures and contexts in which girls and young women face abuse, ranging from physical threats to cyberstalking and unwanted pornographic photos, on social media.
A commitment has also been made to continue hiring highly qualified staff from underrepresented groups of people, including young women, to provide strategic input on products, policies, programs, and practices.

Hire diverse young women
Hiring a diversity of young women into content policy and moderator roles was a top priority expressed by the girls during the sessions, which brought 15 young changemakers, activists and advocates into direct conversation with Instagram, Facebook and WhatsApp along with Plan International.
Ayumi, 17, from Japan, who took part in the Girls Get Equal Listening Sessions, said "I tried not to get too hopeful before the sessions, because these are big companies and I didn't know how much discussion we could have. But after I really felt heard and that we were being listened to, and that we were having a meaningful conversation. It was an actual dialogue. If we continue to voice the necessity to change things, step by step we can make significant change."
 
"With the mutual goal of making the online platforms safer, I'm glad that we were able to work together to seek tangible solutions. I am very excited and hopeful to see the result of the changes that will be implemented. Nevertheless, I also feel that this is not the end, I hope we can continue to explore ways to make the online environment safer for girls."
 
"Social media plays an essential role in girls' lives. I hope that social media platforms continue to collaborate with different voices and make the platforms a community where everyone can feel glad to be part of."

Facebook is committed to girls' safety
Cindy Southworth, Global Head of Women's Safety for Facebook, said "Hearing directly from a diverse group of young women around the world about how women's safety issues and gender-based abuse show up in different contexts and countries will help us define our impact. We are committed to continuing our work to create a safe place for young women and girls to express themselves."

During the Girls Get Equal Listening Sessions, which kicked off in November, the 15 young activists were invited to share their collective expertise and experience with Instagram, Facebook and WhatsApp, and crowd-sourced the views of hundreds of girls in their networks.

The platforms shared what they are already doing to tackle online abuse, and together they discussed ideas, solutions and priorities.
Plan International will also be supporting girls and young women to create a new training resource on gender-based violence.

Online violence causes real harm
Sarah Carson, Head of Youth, Movements & Campaigns at Plan International said "Online violence is serious, it causes real harm, and it's silencing girls' voices. Girls need to know that when they're abused, stalked and threatened online, they can report it to the social media platform. That they'll be listened to. That action will be taken, and perpetrators will be held to account."
"We are pleased that hearing directly from girls with a diversity of identities and perspectives has helped the platforms continue to strengthen their approach to women's and girls' safety online and look forward to building on this even further."