Literacy support for children with special educational needs
Bimal who has disabilities improved his reading and writing skills after attending remedial classes at his school.
Bimal is a 14-year-old child living with disabilities in one of the remotest parts of Nepal. It takes almost 4 hours to walk to the nearest market from his home. His community lacks the most basic facilities or health services.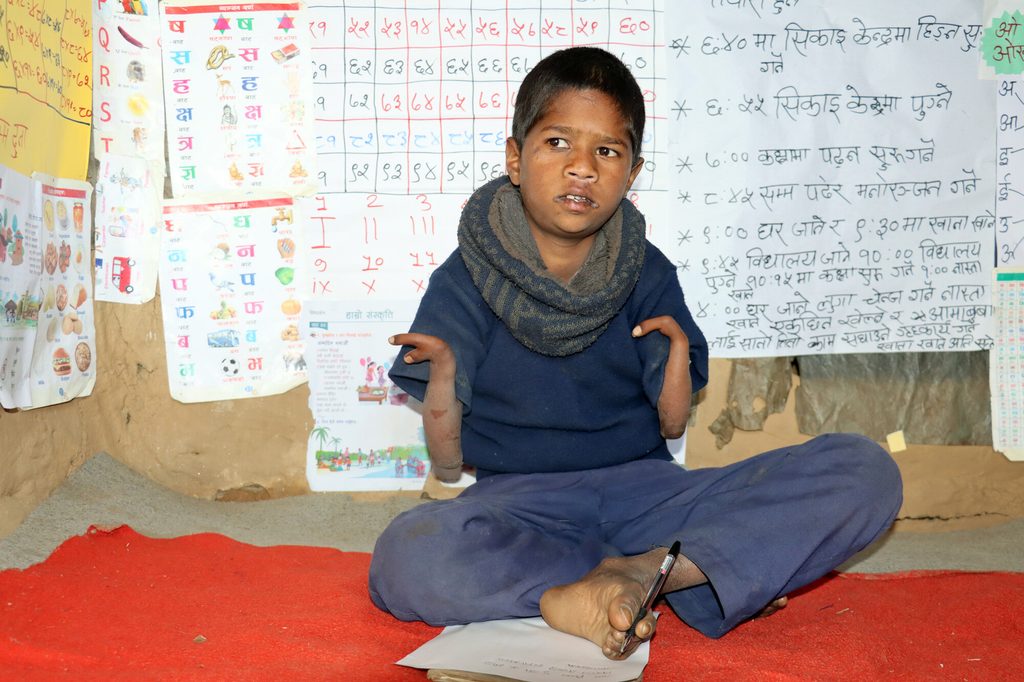 Family life
Bimal's father Siddha Darji married at the age of 18 to a girl of 16. Siddha had a lot of responsibilities, alongside being a husband, as the oldest child in his family he was also expected to support his 8 younger siblings. After 7 years of marriage, the family was delighted when their first child was born, however, 6 days after giving birth, Siddha's wife died due to complications with the birth – without any health services in the village, she could not be taken care of properly.
Two years later, Siddha remarried and Bimal became the third child of his father's second wife. Bimal was born with a disability and neither of his arms below the elbow had developed properly. "We were worried about his future," shares Siddha.
When Bimal was 3 years old, he lost his mother when she fell down a hill while collecting grass for the cattle. She sustained several injuries during the fall and the family was unable to afford to take her to the hospital for treatment.  
"After the death of my mother, my father often forgot to feed me. I used to wait for food to fill my empty stomach. The death of my mother brought many challenges to our lives," said Bimal.
Bimal explains that his father would often repeat his mother's words of encouragement, telling him to do his leg exercises to increase the strength in his feet which he used instead of his hands to manage his day-to-day activities.
"I don't remember my mother, but when my father talks about her, I feel motivated by her words. She was uneducated and had only attended adult literacy classes, however, she knew the importance of education," shares Bimal.
An unwavering desire for education
Although Bimal was enrolled in school, he lacked the educational materials he needed, didn't attend classes regularly, and often thought about dropping out. In addition, it was difficult for him to get to school as his family members were usually too busy to help him get ready in the morning. When he did go to school, he felt isolated in his classroom and found it hard to make friends.
When Plan International started working in Bimal's school as part of a project in Kalikot to improve the reading and writing skills of children in 12 schools across the district, Bimal was identified as needing extra support.
"In the beginning, it was difficult to hold a pencil. However, after several attempts, I was able to grip the pencil with my foot. I was so happy when I first wrote the Nepali alphabet," tells Bimal.
The project aims to reach 1,200 children with extra classes to help them complete primary school and prevent them from dropping out early.
Bimal's teacher Ganga says he has noticed a difference in Bimal since he started attending the extra classes. "Bimal has been continually improving. Lately, he has been regularly doing his homework. In addition to this, he makes sure to keep himself clean and is trying to make new friends."
The literacy project focuses on children from marginalised families, including children like Bimal, who have disabilities which often hold them back in school. With the new school supplies to help him with his studies, Bimal is starting to make good progress.
His father Siddha says he has seen a big change in his son and is grateful for the opportunity and support Bimal has received from Plan International and its implementing partner KIRDARC Nepal.
"If my parents hadn't encouraged me to write with my feet, I don't know if I would have been able to read and write," says Bimal. "I don't know where I would be if I had not been encouraged to write with my feet."
Education, Children with disabilities