12 JULY 2017
Life has not always been easy for Bibata, whose parents sent her to Burkina Faso after she had a baby. However, after completing vocational training with Plan International, she's now the only female plumber in her town and a budding entrepreneur.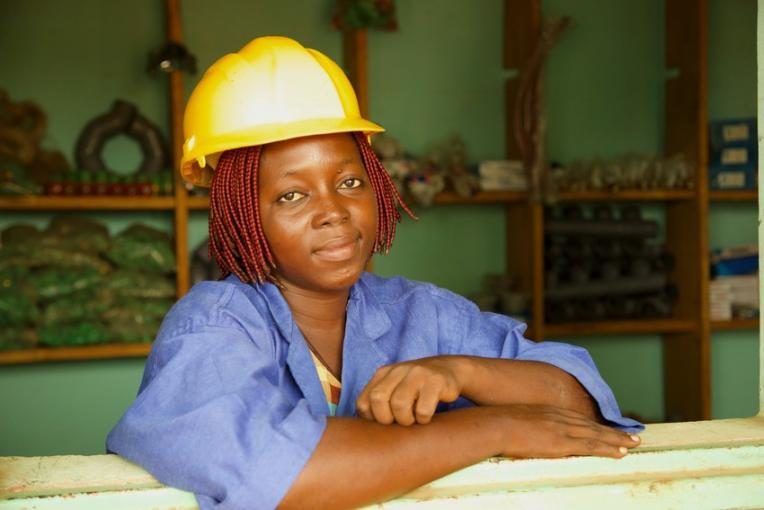 "I am proud of Bibata. She has broken down barriers for those who previously thought the plumbing profession was reserved for men."
This was one of the comments made by Regional Director Rotimy Djossaya after speaking to 28 year old Bibata Zabré who trained as a plumber at the Plan International supported vocational school in Kaya, Burkina Faso.
Sent away by parents
Bibata's is a unique story. Life has not always been easy for her. She was born in Ivory Coast but was sent to Kaya, Burkina Faso to live with her grandmother after falling pregnant in year 6 of primary school by a boy her own age.
Her parents were incredibly angry at the situation and Bibata was given 100 dollars and sent to a country she had never known, to manage her life as best she could.
Determination to learn
Bibata started selling groundnuts and mangoes to make a living and spent some of her earnings taking evening classes. It wasn't long until she passed her primary school completion exam.
When she found out about Plan International's vocational training courses for youths who are not in school, she immediately applied, with plumbing as her first choice. She embarked on the course with 22 other students, 21 of whom were boys.
Bibata continued taking evening classes in order to obtain her high school diploma – and with grit and determination, she eventually achieved both. She immediately started work as a plumber, the only woman in that capacity in her town.
Sexual harassment at work
Today, Bibata employs two young people like herself. Sadly, her daily challenges are not just work-related. She often finds herself confronted with unscrupulous clients who engage in sexual harassment and indecent proposals.
"I stop them by asking them if they would dare behave this way if I was a man."
In 2016, Kaya hosted the country's itinerant independence celebrations. Many new infrastructures were built and Bibata got several major plumbing contracts, which boosted her business.
Learning to lead and thrive
Her ambition is to touch on everything related to homebuilding "I want to become the most prominent female entrepreneur in Burkina Faso," she told Plan International's Country Director Rotimy Djossaya when he visited her workshop.
"Our ambition is to help 100 million girls learn, lead, decide and thrive," said Djossaya, adding "I think we have our first success story right here."
Quality, inclusive education is vital in order for girls become leaders in their careers and communities.
Education, Girls Get Equal, Skills and work, girls' leadership