With fears that COVID-19 has led to a global increase in gender-based violence, youth activist Aminata joined a round table discussion on combating early marriage and child abuse on national television in Guinea.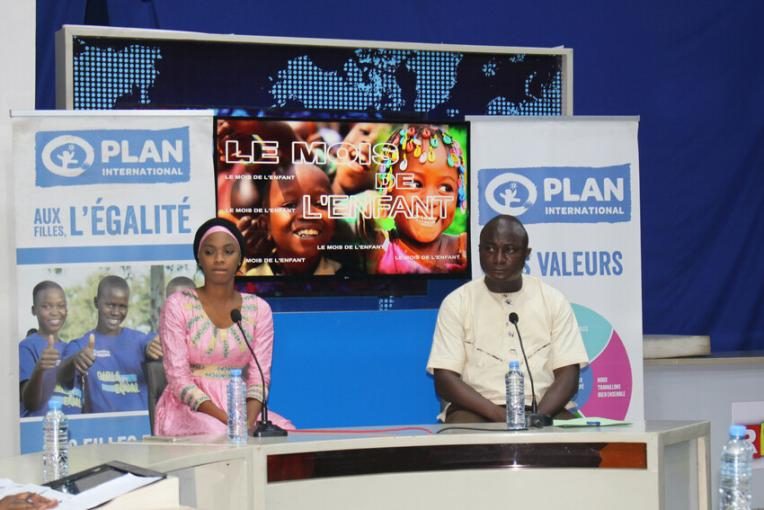 Plan International Guinea organised a round table discussion on combatting early marriage and child abuse amid the global pandemic. The debate was televised across the nation by public broadcaster Radio Télévision Guinéenne (RTG).
Youth advocate Aminata took part in the debate and highlighted the impact the quarantine measures put in place by the government to stop the spread of the coronavirus are having.
"Since the government declared a state of health emergency because of COVID-19, cases of rape have become numerous in Conakry and in the prefectures of the country."

Need for greater protection measures for girls
The debate, which brought together representatives from the government, NGOs and youth representatives, gave those involved in the fight against gender-based violence the opportunity to raise awareness of the need for additional protection measures, particularly around the area of child marriage. With many girls now out of school, early marriage is on the rise.
"Social and family pressure is very strong and silences many girls. Nevertheless, we must continue to encourage girls to have the courage to speak out. We would like to see parents take greater care of their children, girls in particular, and to integrate sex education into the education curriculum," Aminata explains.

School drop-out and early marriage
Education and ending early marriage is essential for the empowerment of girls and young women, enabling them to realise their full potential. The low level of schooling and high rates of early marriage profoundly affects girl's lives. Girls who marry young or drop out of school early are more likely to experience poor health, early motherhood, have more children and be unable to earn a decent income.
The roundtable discussion, organised as part of Plan International's Girls Get Equal campaign, amplified the voices of young people and informed, educated and raised awareness of the increased risks during the COVID-19 outbreak.
"We must prevent this pandemic from turning into an opportunity for some to celebrate early marriage and commit rape. It is imperative that governments, when planning social distancing and other responses to COVID-19, consider the unique dangers faced by vulnerable girls and children, including those who are subject to discrimination and stigmatisation," said Mr Akoi, National Director of Social Protection.
"It is essential to support children and girls who are at risk of temporary separation from their parents due to the pandemic and to prepare together for an increase in the number of children and girls seeking protection and mental health services," concluded Mr Akoi.

Violence against girls and women on the rise
With violence against girls and women taking on alarming proportions during the pandemic, youth initiatives to raise awareness about violence and the measures that they can take to protect themselves are becoming more important explains Aminata, who is the Communication Officer for the Girl Leaders Club of Guinea and is helping girls who have experienced violence.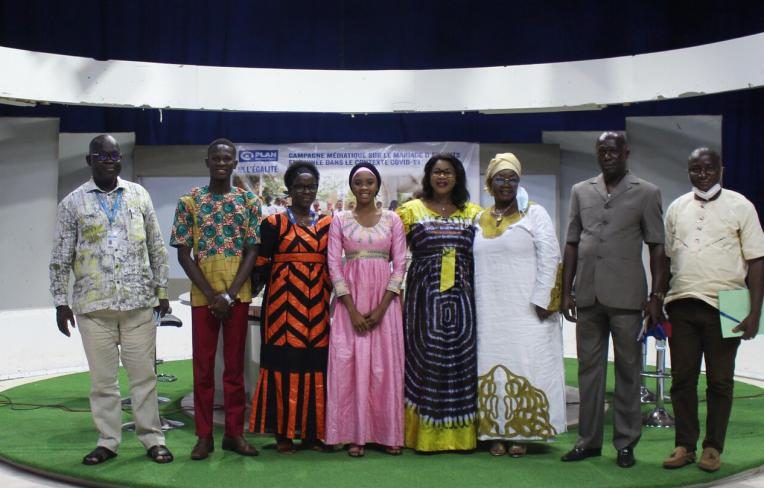 "Today we are overwhelmed by the management of this phenomenon. We have a total of 25 cases of rape. Out of these 25, we have accompanied 15 young girls to the courts to convict their perpetrators. The others have so far not denounced their rapists for fear of being rejected by their families, because most often the perpetrator is a member of the victim's family," said Aminata.
"I would like to ask national and international institutions, as well as the Guinean government, to make the fight against rape a priority, to protect young girls without forgetting that we risk our lives in this fight, when we accompany them."