Every refugee, every person, every girl counts
20 June 2022
To put children in all their diversity at the centre of refugee response will require hard work. It will take concerted cooperation and responsibility-sharing between states, rooted in strong partnership with civil society and refugee-led groups, particularly the ones led by young people, blogs Plan International CEO, Stephen Omollo.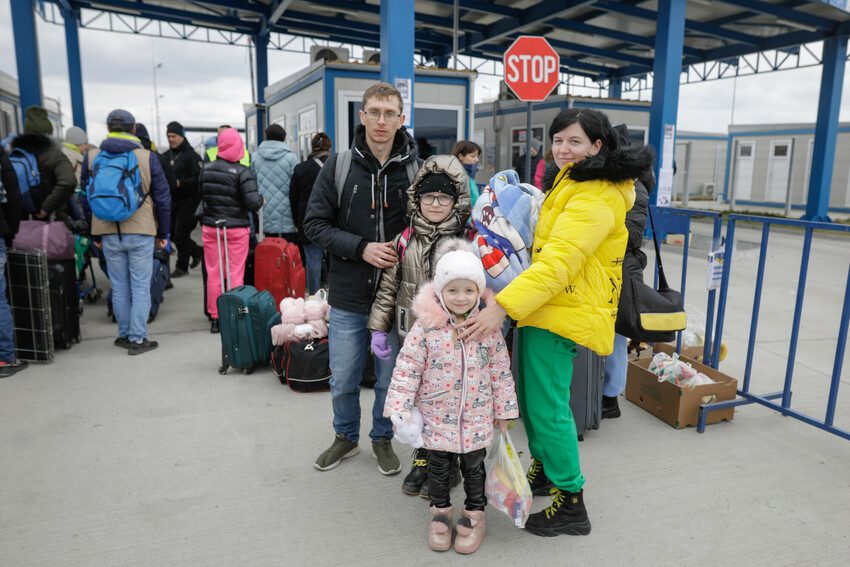 Alexander and Diana and their children Julia, 5, and Anna, 8, when they were forced from their home in Ukraine. They wait to cross the border into Romania .
Any person, at any time, could become a refugee, yet by sheer chance of birth, some people are safe and some are not. I sometimes feel, amid the bombardment of international headlines, images, videos, and tweets, that it's become all too easy to simply switch off and forget. We've all become de-sensitised to the trauma of conflict and crisis. We've forgotten what this word 'refugee' truly means.
Refugees are people like you and me
I think it's worth pausing to reflect upon the fact that 'refugees' is just a useful collective word for people – children, youth, women and men in all their diversity fleeing war, persecution or natural disasters. Children without a home, without a safe, warm shelter to sleep, without adequate food in their bellies or their families around them. Refugees are people like you and me, all with hopes and dreams, cut loose from their normal lives, uprooted by distressing situations that leave them no choice but to flee.
It's easy to get lost, too, in the figures – colossal and troubling as they are. According to the UN there's currently the highest number of refugees – 26.6 million people – that the world has ever seen in history. Add to this the over 6 million Ukrainian refugees from the current conflict ravaging that country. Children and adolescents make up almost half of all refugees globally, even though they account for less than one third of the world's population. Again, it's important to pause and take in these figures. We're talking about millions of children and adolescents uprooted from their lives and forced to survive in a situation no child should ever have to face.
Whether they've fled conflict, human rights violations, poverty or the climate crisis, or whether they've simply left their country in search of a better life, it's children, especially girls, who face the gravest risks to their safety and wellbeing. Girls are more likely to suffer from gender-based violence, lack access to sexual reproductive services, and face restrictions of movement which in turn fuels gender inequalities in already unequal contexts. Unaccompanied children, who don't have the immediate protection provided by parents, families or caregivers risk falling into trafficking and abuse.
With the right support, refugee girls can thrive
But despite the unimaginable hardships they face, refugee, asylum-seeking and migrant girls often show the most extraordinary resilience. With the right support, they can thrive. Plan International is working directly with refugee-led groups in many countries. From Colombia to Lebanon, Moldova to Bangladesh, we support refugees, asylum seekers and migrants from around the world.
For example, we have education, mental health and psychosocial support, child protection, and sexual and reproductive health programmes to support migrant children, especially girls, to integrate into their new communities and begin to rebuild their lives.
Last month, I had the privilege of visiting a classroom of a Romanian school which had opened its doors to refugee children from Ukraine. Many had witnessed the horrors of conflict, forced to flee bombings and missile strikes, their lives uprooted and becoming separated from family, friends and classmates. Getting refugee children back to school is a critical part of adjusting to life in a new country. Learning and playing alongside children from the host community creates a protective space and a semblance of normality.
I was humbled to meet with the Government of Romania as well as civil society and education, protection and psychosocial professionals who came together to share in a commitment towards fostering inclusive education and social services that welcome all children, whoever they are or wherever they come from.
Indeed, governments and ordinary people across Europe and beyond have shown solidarity and generosity towards children fleeing the conflict in Ukraine. But in too many places across the world, other refugee children are being failed, unable to access the services they need, and their basic human rights denied.
Many children will spend most of their lives as refugees
In most contexts, crises are increasingly long-lasting meaning that refugees are there for the long term. Children in those contexts, although granted asylum status, will spend most of their lives as refugees, and many of them are restricted to camps and denied access to national systems due to restrictive policies of the countries hosting them.
Priorities for policy-makers should be access to inclusive quality education, child protection, mental health support and the meaningful participation of refugee children in decision-making. There's a need to harness the potential of young people in forced displacement to ensure that they are equipped with necessary skills, knowledge and linkages to productive opportunities for their wellbeing. In addition, birth registration is an essential protection tool for displaced children, as it stops children from being treated as adults in asylum and judicial systems, supports with reunification efforts for unaccompanied and separated children who are unregistered, and prevents statelessness – the ultimate denial of basic rights.
I'm sorry to tell you that there is no easy solution. To put children in all their diversity at the centre of refugee response requires hard work. It requires concerted cooperation and responsibility-sharing between states, rooted in strong partnership with civil society and refugee-led groups, particularly the ones led by young people. Plan International remains committed and resolute to work with governments, donors and partners, local, national and international NGOs, and UN agencies, to ensure that global refugee responses are responsive to the needs of every girl, in every refugee setting. Because every refugee, every person, every girl counts.