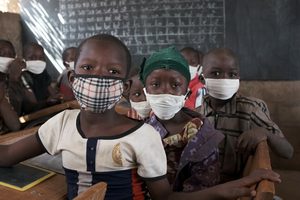 Authors:
Andrea Nunez-Flores, Humanitarian Advocacy and Policy Advisor, Plan International Global Hub
Yona, Nestel Quality Education Hub Lead & Policy and Advocacy Lead, Plan International Global Hub
Lara Biel, Specialist Influencing and Advocacy, Plan International Germany
Plan International is calling on G7 states to put age and gender equality and equity at the centre of their policies.
Plan International is strongly committed to promoting children's rights and equality for girls affected by humanitarian and climate crises in political and decision-making processes.
Next month, Germany will host the G7. Our priorities for the event have been guided by feminist principles – and here is what we'll be pushing for.
Pushing for gender equity in crisis settings and all contexts
Girls and boys have the same rights in normal contexts and during emergencies, for example to education, health or equal treatment. Unfortunately, they often do not have the same opportunities to exercise these rights. During humanitarian or climate crises, some underlying gender barriers tend to be exacerbated. To achieve the goal of gender equality worldwide economic, political and social power must be distributed equally. To anchor this systematically, a feminist policy approach is necessary.
Plan International has been a part of the Advisor Council for the Women7 process and worked together with 63 women from all over the world to raise political demands to the heads of state and governments of the G7 Countries. Plan International will take part in the W7 Summit where German Chancellor Olaf Scholz receives the W7 Communiqué.
Member States must understand and address the specific needs of girls in crisis
For the first time, Plan International has joined the humanitarian civil society group (C7) in order to mainstream age, gender and diversity perspectives in all decisions and commitments made by the states. This means taking into account and responding to the needs, challenges and experiences of all crisis-affected people; girls, boys, youth; LGBTQIA+ people; refugees and internally displaced people; and people with diverse disabilities.
Among the priority themes in this G7 process for Plan International, is the recognition of the need to prevent all forms of gender-based violence in humanitarian contexts as an integral part of civilian protection and of schools as a protective and protected spaces.
Promoting youth education and leadership in emergencies
Plan International, as a leader in promoting gender-transformative education, has also championed the inclusion of age and gender perspectives in the G7 Call for International Cooperation to Protect Children's Right to Education in Emergencies and Crises, and the commitment of states to support 40 million adolescent girls in school by 2026.
Youth participation in crisis contexts, both through education and leadership in emergency response, is another of Plan International's priorities, in line with our commitment to localisation, the process of better involving local and national actors in all phases of humanitarian action.
Addressing the global hunger crisis
Finally, knowing that during food insecurity situations, girls and women tend to eat last and least, and in a context of unprecedented hunger crisis, we call on states to fulfil their commitments to the G7 Famine Prevention and Humanitarian Crises Compact.
Plan International calls on G7 states to put age and gender equality and equity at the centre of their policies. Plan International's vision is that all children living in emergencies, regardless of gender, age, sexual orientation, displacement situation, disability and ethnic or social origin, can live equally and peacefully.
---
What do we mean by feminist foreign policy?
Feminist foreign and development policy supports the overcoming of stereotypical gender roles, combats the acceptance of gender-based and sexualised violence and aims to change social structures that disadvantage girls and women.
It is based on an intersectional understanding and thus considers that people can be affected differently and multiple times by disadvantages and relationships of violence depending on their social positioning, and that historically grown patriarchal, racist and otherwise discriminatory structures that are mutually dependent must be overcome.