14 SEPTEMBER 2021
One month ago, a 7.2 earthquake struck the southwestern regions of Haiti. With over 2,200 dead and thousands wounded, the impact has been felt by the whole nation. We must ensure recovery efforts respond to the needs of girls and young women, writes Monroe Lacerte, Emergency Response Manager on deployment in Haiti.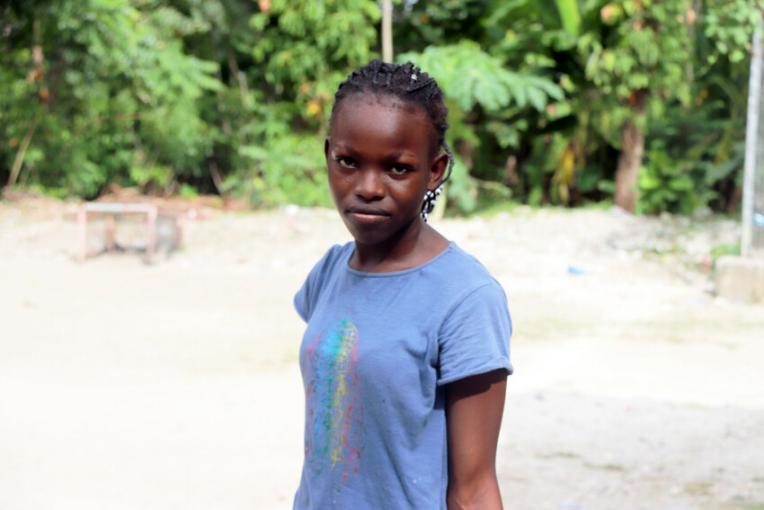 The earthquake struck at a precarious time in Haiti due to political turmoil and rising food insecurity. Gang violence has escalated in recent months following the assassination of the President in July 2021. The hurricane season brings with it further threat of damage and destruction. Haitian children, particularly adolescent girls, are increasingly vulnerable in the face of these issues.
Protection for women and girls must be prioritised
"The priority for me and my family is to find a safe place to sleep and a source of income. For now, we're sleeping near the main road. I don't feel comfortable in this situation with the noise of the cars, sometimes I feel that the cars are going to run over us. I feel worried." said 16 year old Joseline (pictured), whose family home was destroyed in the quake.
According to government and UN reports, at least 53,815 homes have been completely destroyed and 83,770 others sustained damage. Families became homeless overnight and are now sleeping near the rubble of their former homes. For those whose houses are still standing, many have made the decision to sleep inside without knowing whether it is structurally sound. Added to this, is the possibility of further damage from storms and flooding during hurricane season.
Women and girls report that sexual harassment and physical violence has increased since the earthquake. Many women and girls are living in difficult situations with increased risks, particularly at night. Many are afraid to sleep, feeling exposed sleeping in the open or in their damaged homes, not knowing who might come by in the night.
Adolescent girls also highlight the prevalence of early pregnancy due to gaps in health services that have been overwhelmed by the quake. Healthcare costs have also risen due to financial insecurity. This heightened risk to women and girls demonstrates the need for community level interventions, strengthened referral pathways and increased services for women in the region.
The earthquake has magnified challenges in accessing water and sanitation. Hygiene is a serious concern for women and girls, particularly as they try to manage their periods. Women have also reported a scarcity in sanitary pads since the quake.
Delivering for girls in crisis
Plan International and other humanitarian organisations are responding to the needs of girls and young women. We are working with some of the most affected communities in rural zones who are at risk of being overlooked for emergency assistance compared to urban areas which are easier to access.
Right now, families require financial assistance. Financial uncertainty can fuel harmful survival and coping mechanisms, including the sexual exploitation of girls in exchange for goods and food, and child labour. Cash assistance can mitigate these risks and enable families to start to rebuild their lives.
Plan International is delivering cash and vouchers to affected households so they can make their own decisions for their families and inject funds into the local economy.
To complement the financial support and mitigate risks for girls and young women, we are setting up safe spaces where counselling and support can be accessed. We're also strengthening community-based protection mechanisms to help keep all children safe as the country rebuilds from disaster.