14 APRIL 2021
More than half of South Sudan's population will suffer acute food shortages this year according to UN predictions. Families say this year is the most severe period of hunger in living memory, with girls, young women and mothers the hardest hit. Last month, Emergency Response Communications Specialist, KC Shreeram met some of the affected families.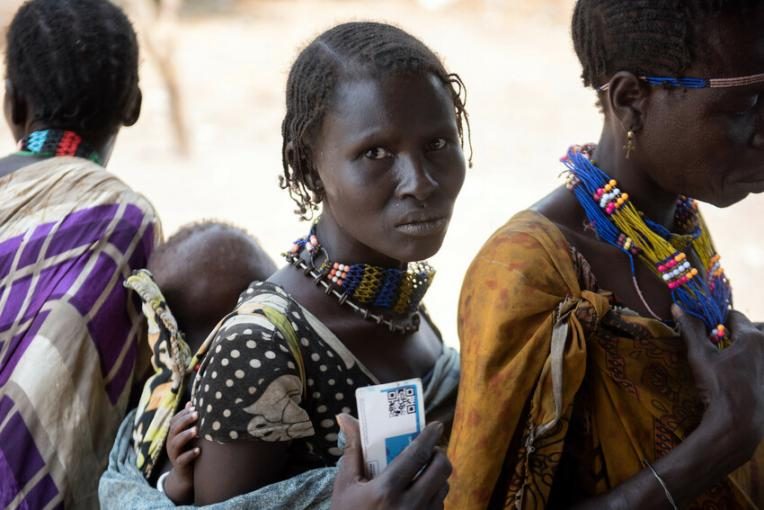 At the heart of the food crisis in South Sudan is Pibor County, about 350km northeast of Juba, the country's capital. Pibor County is roughly the size of the Netherlands yet lacks a single high school, functioning hospital or even a small bank. Clean water is scarce and there are few working water taps.
Most houses in Pibor town are covered by tarpaulin provided by humanitarian organisations. Many here rely on aid to survive, especially following devastating flooding in 2019 and 2020, which together with tribal conflict has forced thousands to flee their homes.
Girls, women and children bear the brunt of the crisis
Today, women carrying babies come to sell products in the market. They bring charcoal and small wooden poles, which people buy so they can set up huts. Mothers tell me they have walked nearly seven hours from Lekaungole to get here, along bush and muddy road, in their bare feet. They can expect to earn about 10 USD selling those goods, before making the same journey home. Young children can also be seen working in the market, a worrying sign that the food crisis means child labour is also increasing.
As is so often the case, growing hunger has placed huge burdens on adolescent girls and women, who take on more household chores such as collecting wild fruits and bush animals, while looking after children.
Fourteen year old, Yayo, wants to become a pilot but does not even know if she will go to secondary school. "My parents will marry me soon," she says.
Another, Lile, 13, says she has stopped going to school.
People in South Sudan are facing multiple crises
The scars left by the conflict are clear. Many know children who were abducted and taken away. Properties and warehouses were looted or destroyed altogether. Many that remained were later swept away by floods. People are so fearful of starvation that even the COVID-19 pandemic feels far away.
The government has shut down schools and discouraged public gatherings to prevent the coronavirus from spreading. Humanitarian organisations are following safety protocols and government instructions. But for most people here, the biggest fear is hunger.
I met a 24 year old mother of five, her youngest child just seven days old, preparing around half a kilo of sorghum for 11 family members. She told me it was the only food she and her family had. Her story is not uncommon and many families face the same situation. Having no food means children go to bed hungry, girls may be married off early or drop out of school, and women who are pregnant or breastfeeding do not get the nutrition they need to keep themselves and their children healthy.
Climate emergency causes cyclical droughts and flooding
On a Saturday afternoon in March, we visited the communities of Lekungole and Verteth, where despite last year's devastating flooding, land normally used for harvesting food was completely dried out. The temperature was 38°C.
It is a vicious cycle, in this area last year, the community faced the worst floods they had ever experienced, leaving many with nothing. They say that water levels from the Lothila River have increased year on year, taking away people's homes, belongings and livelihoods.
Despite the complexities, Plan International South Sudan is working urgently to deliver food supplies to communities in Pibor before the rainy season begins in April.
"If this opportunity is missed, the community suffers the most," says Richard Taban, Pibor Area Manager for Plan International. Our teams are putting huge efforts into prepositioning food before the rains make roads impassable.
As he prepares schedules to distribute food to the community, Taban adds "We have never given up our support to the community here. We are with them."
Without this urgent action, there is a real risk that we will see devastating levels of hunger.